In the RV world, fifth wheel RVs have sought after by many different demographics. They are loved by the motor-cross enthusiasts, preferred by full-time RVers, and the glamping crowd can't get enough of them. What makes this RV category so appealing?
In this exploration, we'll walk you through the pros and cons of fifth wheel trailers. While they're not ideal for everybody, you'll learn their history, standard features, ideal tow vehicles, and many other things to help you decide if this is the right RV for you.
Key Points
5th wheel RVs have upgraded features compared to travel trailers
The best truck for towing a 5th wheel RV are heavy-duty pickups
More full-timers prefer fifth wheels over Class A motorhomes
5th wheel RV hitches are more stable than travel trailers
The smallest 5th wheel RV is towable with a quarter-ton pickup truck
What is a Fifth Wheel
Fifth wheel travel trailers have raised front sections with kingpin hitches underneath. This hitch fits into a receiver designed for pickup truck beds or other hauling-type trucks. The main floor is lower, and the ceiling is higher than travel trailers, maximizing the headroom. Features and amenities can be at residential levels due to the square footage available.
You'll find big picturesque windows installed throughout the coach. Many have multiple slideouts or full-length off-door slides. A significant portion of fifth wheels have 2 bathrooms where the second one is either a half bath or full. 2 bedroom 5th wheels RVs for sale are the top-selling models in the category.
The master bedroom has suite-styling with big closets, direct access to the bathroom, and other creature comforts. Most floorplans place the bedroom in the front cap, but some of the more versatile configurations put it in the rear. Unlike many travel trailers, the bedroom is spacious and comfortable to walk around.
History of 5th Wheels
From a pure definition standpoint, the term "fifth wheel" comes from the hitch's configuration. The RV's 5th wheel hitch gets its name based on its design. In the 1850s, blacksmiths designed a wheel-like hitch that gave the carriage the most maneuverability ever seen.
The carriage or "truck" could pivot for tight turns from the horse team and adjust for elevations. Long-haulers that moved heavy cargo like logging, coal, and other materials found it easier to get their teams through rough trails with this new hitch because it moved around so well.
Once affordable motorized vehicles started replacing horse teams, Otto Neumann and August Fruehauf invented the floating coupler for semi-trucks and trailers. Their idea of a kingpin fitting into a U-shaped coupler that adjusts and has shock-absorbing benefits is the same basic mechanical technology of today's big rigs and 5th wheel RV hitches.
Early examples of 5th wheel RVs date back to Ford's Model T. The first commercially built fifth wheel started in Detroit, Michigan. Aircraft designer Glen Curtiss designed the Curtiss Aerocar Trailer in 1927. Production of the RV ran from 1929-1941.
Coupes and Roadsters with specially designed hitches pulled these luxury coaches. These aerodynamic wood and wire-framed RVs were top-end coaches selling for $5,000 in the mid-1930s. They were safe to tow up to 55 miles-per-hour.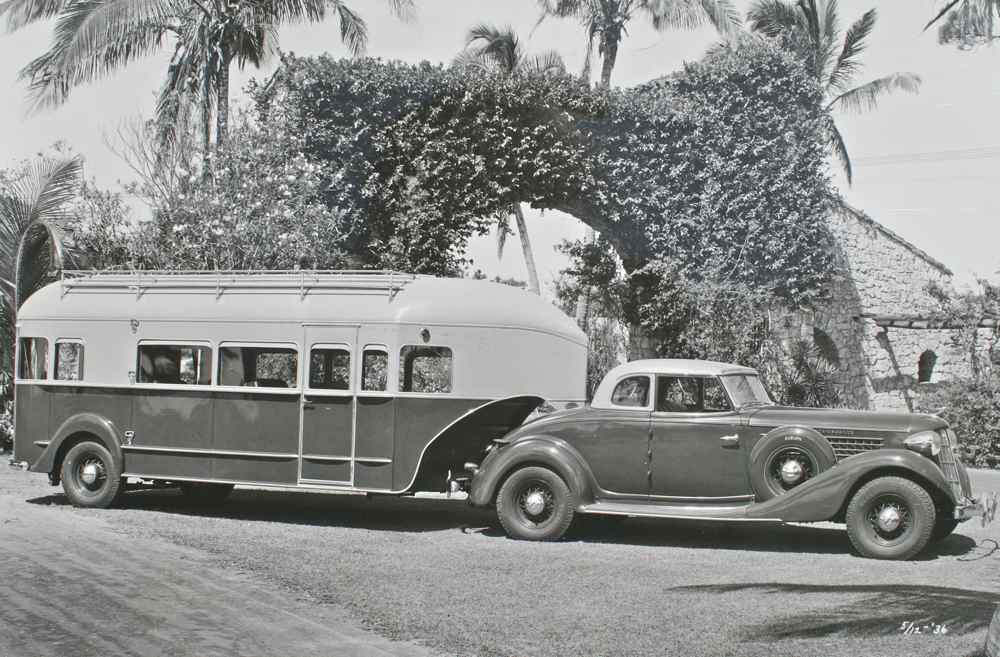 Fifth-wheel models were rare in post-war (WWII) America. Manufacturers would occasionally release one or two, but consumers focused on travel trailers, truck campers, and Class A motorhomes. It wasn't until the 1970s that the Fifthwheel would begin to shine.
Part of the problem had to do with pickup trucks having the chassis and horsepower to tow them. Once the automakers found the technology to improve their consumer pickups' muscle, RV manufacturers could make heavier products, including 5th wheels.
Fiberglass
Scamp RV created a 19-foot fiberglass fifth wheel based on its 16-foot travel trailer. It's a first for the fiberglass subset of the RV industry. It's so light; a quarter-ton pickup truck can easily tow it.
The front cap resembles a Class C motorhome loft space that measures to a queen bed. The rear dinette folds down for additional sleeping. In between are kitchen and closet space.
If you order the deluxe model, the wet bath water closet resides on the main floor next to the loft. If you choose the standard package, that space is a sofa that converts to additional sleeping space.
Mid-Profile/Half-Ton
Mid-profile fifth wheels are more budget-friendly than the luxury full-profiles. RV companies often label these models as "half-ton," which refers to the idea that 150/1500 series pickup truck can tow them. The features are toned down, and their weights are lighter than their counterparts.
If you plan on using a half-ton truck to pull one of these fifth wheels, you need to be very particular about the pickup you choose. Many of them can exceed the weight limits of 150/1500 series pickups. Domestic trucks with heavy-duty tow packages with limits up to 13,000 pounds will handle the gross vehicle weight (GVW).
See our discussion on RV weights to learn more about GVW and the other weight factors you need to know when towing a 5th wheel.
Full-Profile
Full-profile 5th wheels have the best furniture, features, and amenities. Without a doubt, 250/2500 and 350/3500 series pickup trucks are a must to tow these behemoths. RV manufacturers will finish the roof at the front cap so you won't feel short-changed where the two meet. You'll have full headspace to the wall.
The manufacturers put the latest and most remarkable technologies and innovations in these models. The 5th wheel RVs with outdoor kitchens have full features inside them for your tailgating needs. The outdoor entertainment centers have the most massive TVs and sound systems available.
5th Wheel RV Toy Hauler
Our feature article on toy haulers will further discuss 5th wheel RV toy haulers. The toy hauler crosses traditional categories like travel trailers, motorhomes, and fifth wheels. You'll see them most prevalently within fifth wheels because of the length and weight advantages the coach offers.
Since fifth wheels require tow vehicles with powerful tow capacities, and have the advantage of long lengths, owners can enjoy plenty of living space independent of the garage. Garages can hold multiple motorized toys without overstressing the truck towing the trailer.
Fifth Wheel Specification Ranges
| | |
| --- | --- |
| QUESTION ABOUT TEARDROP CAMPERS | ANSWER |
| Lengths | 19-45 feet |
| Sleep | 4-12 people |
| Dry Weight (empty weight of the RV) | 3,000- 14,000 pounds |
| Gross Vehicle Weight Rating (a.k.a. GVWR- the most weight the RV can safely hold) | 5,000- 20,000 pounds |
| Price | $25,000- $300,000 |
Ideal Tow Vehicles
The best truck to tow your 5th wheel RV should compliment the coach's gross vehicle weight rating (GVWR), not the dry weight. When you're towing your 5th wheel trailer, the coach will hold your camping gear, personal items, food, and other things. Your truck will have you and your camping companion too. All of this is added weight.
The dry weight is the weight of the RV when it's empty. According to the manufacturer and the RV authorities, the GVWR is the maximum weight the fifth wheel can hold safely. Never exceed this weight rating. Also, the more significant the gap between your actual trailer weight and truck's towing limit equals the more horsepower you have to handle the road.
Here are some examples of trucks worth looking at to tow your fifth wheel:
| | |
| --- | --- |
| MODEL | TOW CAPACITY |
| Chevrolet Colorado | 7,000 lbs |
| Toyota Tundra | 10,200 lbs |
| Nissan Titan XD | 10,990 lbs |
| Ford F-150 | 13,500 lbs |
| Dodge Ram 2500 | 15,040 lbs |
| GMC 3500 Sierra | 21,500 lbs |
| Freightliner Business Class M2 106 | 22,000 lbs |
Popular RV Manufacturers of Fifth Wheel
The list of 5th wheel RV manufacturers is primarily made up of the Big Four (REV Group, Forest River Inc., Winnebago Ind., and Thor Ind.) and their subsidiaries. There are some independents within the category. Since fifth wheels are the most expensive towable RVs, it's difficult to compete within this market space.
| | |
| --- | --- |
| BRAND | MANUFACTURER |
| Alliance RV | Independent |
| Coachmen | Forest River Inc. |
| Crossroads RV | Independent |
| Dutchmen | Thor Ind. |
| Forest River | Forest River Inc. |
| Grand Designs | Winnebago Ind. |
| Gulf Stream | Independent |
| Heartland | Thor Ind. |
| Highland Ridge | Thor Ind. |
| Ice Castle Fish House | Independent |
| Jayco | Thor Ind. |
| Keystone | Thor Ind. |
| New Horizons | Independent |
| Northwood | Independent |
| Outdoors RV | Independent |
| Scamp | Independent |
| Starcraft | Thor Ind. |
| Winnebago | Winnebago Ind. |
Fifth Wheel Standard Features Expectations
Smaller travel trailers have features that perform household functions well, but you have to get creative due to lack of space. For example, if you're cooking, due to lack of counterspace, the dinette becomes your main counter.
Smaller fifth-wheel RVs have three-quarter-sized residential amenities in them. In the balance between amenity sizing versus spacing, it may seem like they're leaning toward the sizing, but even the most stripped-down fifth wheel has better features than many mid-sized travel trailers.
Kitchen
In traditional fifth wheel floorplans, the kitchen sits in the mid-section. If you choose a 5th wheel RV with a rear kitchen or front kitchen instead, the features can be just as great. You'll find the biggest RV or residential refrigerators. Stovetops will have 2-4 burners, ovens can be full-sized, and microwaves are usually convection ovens.
Both mid-profile and full-profile coaches have floor plans with kitchen islands. Most of them have the kitchen sink and plenty of storage under them. Top-end models will place dishwashers on the island too. No matter where the kitchen location's location, you won't have to worry about counter space or storage due to their sizing.
Living Room
The smallest fifth wheels will have a living room section complete with sofa, TV, and other living room features to make the inside experience comfortable. Larger models have multiple seating complete with theatre seating, foldout sofas, fireplaces, and an entertainment center with your dream LED TV.
Front living room 5th wheel RVs seen in many of the Keystone models have opposing tri-fold sofas. The entertainment center sits against the front cap with the theatre seats place perfectly for optimal TV viewing. If you choose the power seating, don't be surprised if you fall asleep watching your favorite show as the massage and chair heat lull you to sleep.
Bedroom
To king or queen, that is the question. Many of the master suites place the bed on a slideout. If you choose the optional king-size mattress, you'll lose the nightstands. Manufacturers do their best to compensate using nearby areas in the closet or other creative solutions.
For maximum sleeping space, 3 bedroom RV 5th wheels maximize the placement of the mid-coach second room. Fifth wheels have an elevated level towards the front of the coach. The designers build the mid-coach room on the lower level giving the room plenty of headspaces.
They create an interior ceiling that creates a loft space between the RV's actual roof and the room ceiling. This loft area creates a third room for children or is great for attic storage.
Bathroom
Except for fiberglass fifth wheels, you'll find at least one fully functional dry bath in this category of RV. If you want a 5th wheel with a bath and a half or two full bathrooms, you can find them in at least 33-feet or longer units.
Luxury 5th whee RVs have master suite bathrooms with full tile, dual vanities, and spacious showers with real seating. Other units will keep the plumbing contained by placing the washer and dryer closet within the bathroom. If you don't need the washer/dryer, the ample closet space is excellent for linens.
Storage Tanks
5th wheels with 2 bathrooms may come with five holding tanks. There will be one central disposal pipe to connect your sewer hose, but one of the bathrooms may have a designated grey and black tank. The whole system works on gravity, so there isn't water pressure to push disposed water to one central tank.
Manufacturers are starting to add macerator toilets to RVs. These electric devices act like garbage disposals that you have in your residential kitchen sink. These electric devices grind up the solid waste and push the waste down into the black tank. As they become more common, you'll see single black tanks instead of dual.
Storage
The majority of storage in a fifth wheel is going to be inside the cabinetry and within the furniture. Some fifth wheels have exterior storage bays that are massive enough for four-year-olds to stand straight up, but this is the only outer space from a logistics standpoint.
A secondary bay may exist in the hitch area, but this contains the machinery for the jacks, generator bay, or other "organs" the RV needs to operate. Manufacturers like Alliance RV are starting to find storage space in the RV rear for long items in a pseudo-toy hauler space.
Power and Propane
Today's fifth wheels have designated storage bays for propane tanks. You'll find single or dual 30-gallon tanks that are easy to remove. The tanks power gas cooking devices and furnaces.
Manufacturers are installing inverters as standard components in 5th wheels. Power inverters for RVs convert DC power to AC. Transforming the current allows residential refrigerators and other electronics to function on the house batteries when the RV shore power isn't connected. Fivers may have second inverters that manage the refrigerator's needs.
Want to Connect With a Community of Over 1,078 RV Enthusiasts?
Sign up now and get access to our best content, absolutely free!
Fifth wheels don't come standard with gas generators. Manufacturers may make space for them within the electronics bay and have easy-to-install wiring already prepped. With their walk-on roofs, solar panels systems are an excellent alternative power source. You'll find solar ports on the side if you want to use portable solar systems instead.
Technology
RV makers prewire fifth wheels for all the latest technologies in entertainment and other electronics. Once you've installed your satellite, all TV spaces have co-axial cable hookups next to the reinforced wall sections. The multimedia entertainment center has speakers throughout the interior and exterior of the coach.
Creating a hotspot in your RV isn't much of a problem either. Cellphone or data signal boosters fit easily into fifth wheels. If you want to install an RV alarm system, you'll find many strategic points to place your cameras and alarms.
Climate Control
Except for the highest-end 5th wheels, you'll find that this category comes with one air conditioner and one furnace. Both components are very powerful and ducted.
In spring and fall temperatures, the single 15,000 BTU A/C unit will do a good job maintaining a comfortable interior climate, but the front space may not cool down too well during the summer. Secondary A/Cs come as optional features for the front of the unit. Some RV dealers will order 5th wheels from the manufacturer with the option since it's so popular.
Great Examples of Fifth Wheel
| | |
| --- | --- |
| The Smallest 5th Wheel RV | Scamp 19-foot Fifth Wheel |
| The Best 5th Wheel RV for Full-Time Living | Grand Design Solitude Series |
| The Best Lightweight 5th Wheel RV | Winnebago Minnie Plus Series |
| The Best Luxury 5th Wheel RV | DRV Mobile Suites |
| The Best 5th Wheel RV With a Bunkhouse | Highland Ridge Open Range 427BHS |
| The Best Insulated 5th Wheel RV | Heartland Bighorn Series |
| The Best 2 Bedroom 5th Wheel RV | Coachmen Chaparral 391QSMB |
| The Best 5th Wheel RV With a Front Kitchen | Keystone Alpine 3791FK |
| The Best 5th Wheel With a Front Living Room | Forest River Sierra 391FLRB |
Matching to Your Camping Style
Fifth wheel RVs aren't for everyone. If you desire a comfortable camping experience and have the money to afford it, this category is ideal for you. Fivers are the most expensive towable RV. Those that want more of a back-to-basics camping experience won't gravitate to these RVs because of the many features they offer.
Positive Fifth Wheel Reviews and Ratings
Those that already own (or want to own) pickup trucks, but want to live the part-time RV lifestyle, will find fifth wheels appealing. They already have the vehicle they need to pull it and enjoy the upgraded features. They could buy a longer and lighter travel trailer, but find the fifth wheel suits their comfort, storage, and travel needs better.
When surveyed, the best 5th wheel RV for full-time living scored higher than Class A motorhomes. Full-timers were willing to sacrifice the extra room to stretch out while traveling for the increased feature sizes and living space. Many 40-45 foot fifth wheels have residential level appliances and furniture pieces that aren't available in Class A RVs.
When it comes to campsites, fifth wheels have the same issues as Class A motorhomes. The best size RV for national parks is 27-30 feet. Some parks can fit a few 40-footers while others cut the limit down to 20-feet. Even if you can fit, if you are a foot over, they'll ask you to leave due to your tow vehicle.
If you plan on visiting the U.S National Parks, it's best to find a private park nearby. They'll have a campsite that will accommodate you better and have the hookups you need. State and county parks will be more accommodating since they don't have the modernization issues national parks have.
If there's such a thing as dry glamping (dry camping in luxury), fivers have that ability. Your massive storage tanks will keep you hydrated and sanitary for a week or more. Full-profile versions loaded with electronics will need a gas generator to keep everything working, but a multi-panel solar system can off-set your power needs very well.
You can find examples of people boondocking in their fifth wheels using solar systems for months at a time. With the right planning of energy use and a good supply/wastewater disposal routine, they love the experience.
Is A Fifth Wheel Worth It?
For those looking to "rough it" or keep low budget camping, the fifth wheel category may not match you well. You can find used 5th wheel RVs for great prices and powerful pickup trucks with plenty of life left in them. The upkeep and campsite logistics are more complicated than smaller towables like a teardrop, expandable pop-up, or small travel trailer.
Your apartment complex may let you get away with storing a small camper on location, but even the smallest fifth wheel RV will take up a significant amount of space. Fifth wheels are a real investment that needs to be cared for with the proper maintenance.
You'll probably need some tips on how to drive them. That's why we recommend checking out an online training course.
The Next Step
If you feel that the fifth wheel category will give you the RV lifestyle you want, we recommend trying some of them out. Using a peer-to-peer rental company like Outdoorsy, RVshare, or a local rental company in your area will give you the firsthand experience to compliment everything you just read.
The best strategy is to rent different brands with different floorplans. For example, one brand could have a traditional configuration. The next one could be a fifth wheel RV with a front living room. The third one would then be a fifth wheel RV with a front kitchen.
The great thing about peer-to-peer rental companies has to do with the owners. Real people own each unit. You'll get to experience what they're like and decide for yourselves what you like and don't.
After your rental experience, you can continue to explore the RV Troop website to walk through the latest fifth-wheel models on the market. We'll give you an unbias point-by-point feature on the best fifth wheels and their unique qualities.
Welcome To The RV Lifestyle!
QUOTE:
"Man cannot discover new oceans unless he has the courage to lose sight of the shore."
-- Andre Gide