Is an RV Barndominium Worth It?
The latest entry into the RV carport category is the RV barndominium, which combines a safe enclosure for your recreational vehicle and living and storage space. Some RV owners build a barndominium on their "home" property or have one made at a seasonal camping location.
What sets the barndominium apart from other RV carport covers, and is it something you should consider for your motorhome, travel trailer, or fifth wheel? The answers to your questions are below, so check it out and see if an RV barndominium is the perfect solution to your RV living and storage needs!
What Is an RV Barndominium
An RV barndominium is a blend of a barn and a condo. The ample space and tall ceilings inside a barn can easily house any size RV, while the efficient living arrangements of a condominium give camper owners the comforts of home.
Many of the first barndominiums were farm barn conversions, but any barn-like structure already on your property can work if you can get your RV inside, often by installing a taller garage door. In addition, you can choose from various RV barndominium blueprints or pre-fabricated buildings that let you customize the structure to your specifications.
The exterior can take on the design best fits the structure's location. For example, you can choose a log-cabin RV barndominium for a rustic look or a modern style that matches your home's exterior, so it blends nicely on your property.
You can also opt for fast-build pole barn styles that use steel and aluminum materials for the exterior construction. Metal barndominiums are the most cost-efficient but will require you to outfit the interior to make a cozy living space.
The interior of your RV barndominium can be as basic or extravagant as your ideas and budget. Some people opt to build a bedroom, while others use the beds in the RV for sleeping. The options are endless when finishing the interior of your barndominium.
RV Barndominium Pros and Cons
Only some RV owners will need a barndominium. This list will help you see if the benefits outweigh the cons for your particular needs.
PROS:
1. Protects RV from the elements – Let's face it, the biggest problem RV owners deal with is damage from UV rays, rain, snow, hail, wind, and dirt. Constant maintenance is required to stop leaks, protect exterior surfaces, keep tires from deteriorating, and so much more.
2. Expands living space during active RV use – When you can open your RV door and walk out into a spacious "room" that is private, it reduces that claustrophobic feeling that arises when you're inside a tight camper for days on end because of bad weather. The extra space is ideal for setting up zones for things you can't usually fit inside your RV, like a place to exercise, play games, craft, cook, wash clothes, or even shower. Not having to share the space with other guests means you can set it up just how you like it and leave it permanently.
An RV barndominium is an excellent option for people who own tiny campers, such as teardrops, pop-ups, truck campers, and Class B motorhomes or campervans. While parking your RV at the "barndo," you have tons of space for general living. However, you can still take affordable and convenient camping trips whenever you wish.
3. Space can work as guest quarters – If you don't use your RV during parts of the year, you can use the barndominium and camper for visiting guests or even rent it out to make extra income (if local laws allow.)
Provides direct storage space for camping gear – It can be a hassle to unload and store your camping gear in the house, shed, or garage, only to dig it out again before each trip. An RV barndominium allows you to have storage for all your camping equipment mere feet from your camper, and it won't get mixed up with your other household items, so things don't get lost.
Eliminates fees for outside storage – The average monthly rate to store an RV under a cover is nearly $120. While an RV barndominium is an investment, you will save a nice sum on storage costs over the long term of RV ownership.
4. The overall cost is cheaper than buying a home – Many full-time RVers love their camper but miss the feeling of having a home and, unfortunately, may not have the finances to purchase one. Building an RV barndominium is an affordable way to achieve a more "home-like" living situation.
5. Can be built faster than a home – Most RV barndominiums can be built in under a week if they are metal, but even wood structures can be under a roof in short order, so you aren't waiting months to have a safe place to park your camper.
6. You can provide temperature control – An RV barndominium is fully enclosed, which gives you the option to add heating and cooling. You can stay more comfortable during summer and winter, and temperature extremes won't stress your RV components.
CONS:
1. Not suitable for every RV owner – Building a large structure is not going to work for people who don't own the property for it. Full-time RVers may not find a campground that will allow such a building, while many RV enthusiasts prefer to true camping experience and don't want a "permanent" place to park their fifth wheel, motor home, or travel trailer.
2. Can Be Cost Prohibitive – Even the least expensive RV barndominium will put a dent in your wallet, while a custom top-of-the-line unit can run hundreds of thousands of dollars. If you don't plan to RV for decades, purchasing and installing one may not be the smartest way to spend your money.
Adding a barndominium will include running RV-supportive electrical and sewer lines and traditional plumbing and wiring, which will mean initial expenses and monthly utility bills for years to come.
Because of the design, you may have difficulty securing a loan to build an RV barndominium as a stand-alone structure.
Another consideration is how it will affect your house and property resale. Some regions may abound with RV owners looking for such a perk when buying property, while others may find it a burdensome waste of space.
Top 3 Problems When Financing A Barndominium (Video)
The Best RV Barndominium Features
If an RV barndominium is on your radar, please consider including these important features that will improve function and comfort:
Metal Construction
Choosing metal may seem less aesthetically pleasing than a wood building, but consider that metal structures go up fast, can easily last over 100 years with proper maintenance, won't warp or rot and pests like termites or carpenter ants won't take up residence.
Modern metal materials have durable coatings and take well to spray foam insulation for an air-tight seal against the elements. In addition, metal structure designs can add extra joists, framing, bracing, and tie-downs to boost stability so the building can withstand a hurricane or tornado-force winds.
Storage
Storage in your RV barndo should be specific to your needs but also include plenty of space for future additions to your camping equipment.
For example, if you have kayaks, think of how you want to store them when not in use. Would you want them at floor level for easy loading and unloading or strung up to the ceiling using a pulley system?
Putting doors on all your storage areas will help protect your camping items and improve the interior ambiance, so it looks more like a home and less like a garage. Remember to build storage close to where you plan to park your camper and in other areas that require standard places to hold items and supplies, such as the bathroom.
Laundry
A laundry area is essential since most RVs don't have room for such a convenience, and washing clothes at laundromats gets expensive and wastes time. A laundry room is also a great choice when using the barndo for guests or as a rental unit.
Even if your RV has a washer and dryer, the units are typically smaller and less efficient than residential versions. Having a set in your barndo will make your life much easier whether or not you're actively camping.
Living Area
Most RVs lack a big comfy couch or wide-screen TV, so providing these missing elements into a living room inside your RV barndominium will pay you back in pleasure.
Bathroom
Anyone who takes RV showers knows it takes skill to get it right before running out of hot water or banging knees and elbows on the walls. So a spacious bathroom with a large shower is a must-have addition in any RV barndominium.
An extra bathroom also alleviates waiting for the facilities when someone is using the one in the camper.
Lofted Master Suite
Want to Connect With a Community of Over 1,078 RV Enthusiasts?
Sign up now and get access to our best content, absolutely free!
The height of a barndo often allows you to put a bedroom suite in a loft. This design keeps the main floor area open for other features but gives you a place to create a haven from sparse camping life and expands sleeping capacity when having guests.
RV Barndominium Options
If you're looking for inspiration for your RV barndominium, check out these options:
House Plans Model 1070-121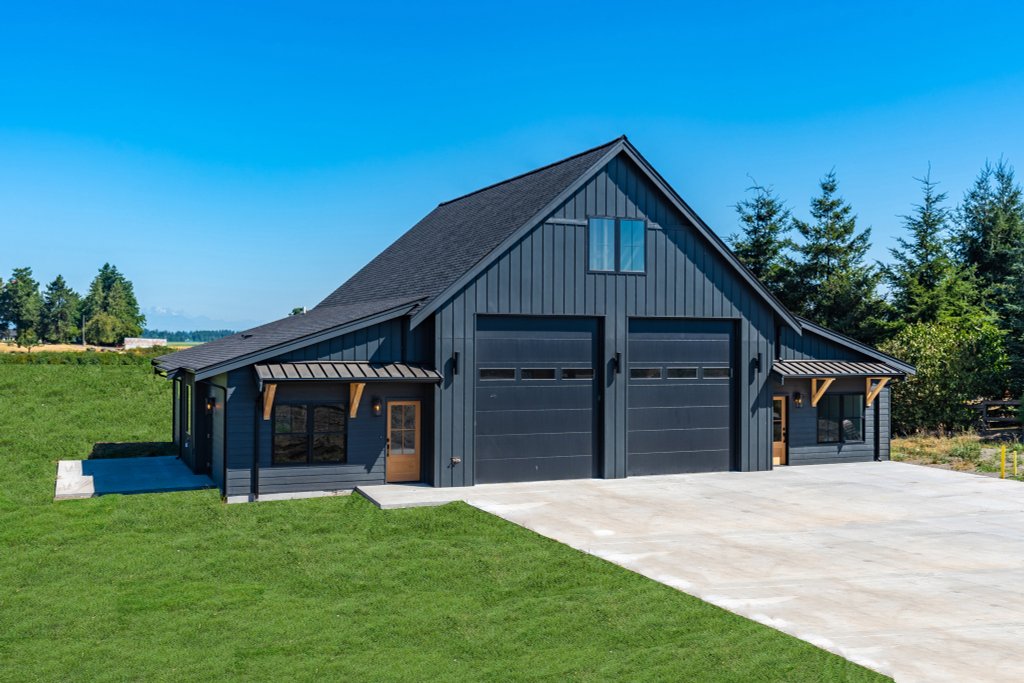 This RV barndominium plan #1070-121 on Houseplans.com has a charming exterior, and the interior design includes heated living spaces on each side with matching enclosed eaves for year-round use.
The main parking area for an RV is 44'W x 48'L x 15'H, so this model can fit large travel trailers and motorhomes that don't exceed the height limitation. In the rear of this room are hookups for a washer, dryer, and washtub.
You can also opt for a single RV and enjoy plenty of space to spread out. The basic 2,497-square-foot plan offers a single story with one bedroom, a bathroom, and a 15′ x 12′ living room with an attached 13′ x 11′ kitchen with an island.
There is a smaller garage door to park a golf cart or ATV, an open outdoor patio, and a 23'L x 16'W x 9'H covered parking area for your vehicle or to use for more outdoor living.
The cost for the professional set of plans ranges from $1250 to $1900, depending on delivery options.
Brady 42×50 by Big Buildings Direct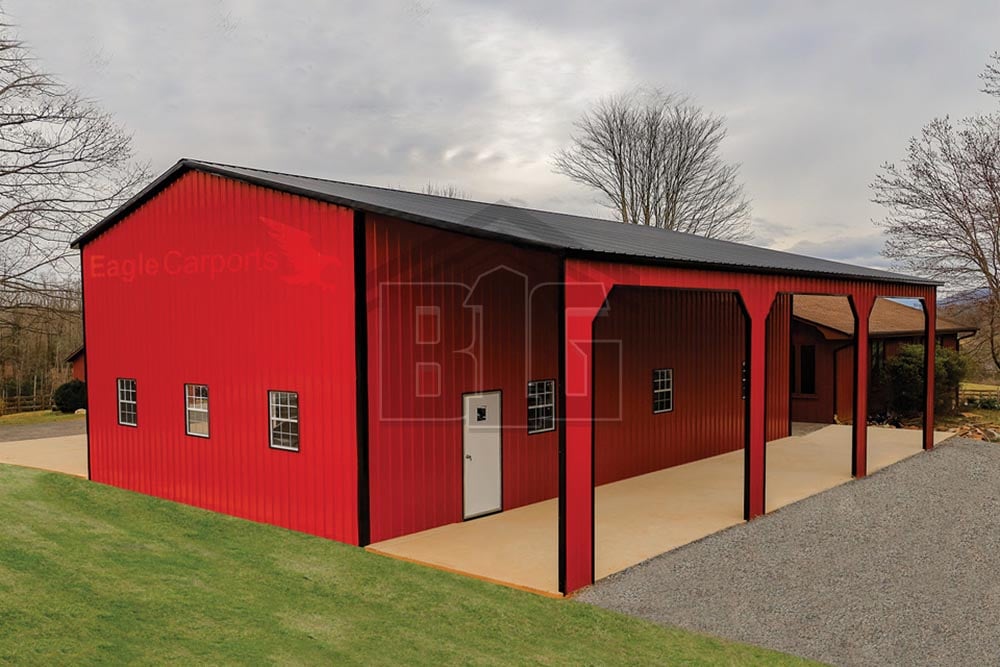 The Brady is a complete kit with 2,100 sq. ft. of covered space. The enclosed area is 30'W x 50'L x 16'H (at peak), and there is a 12′ overhang with four outer supports that add curb appeal to the overall design and is the ideal place to set up an outdoor kitchen and entertainment area.
Big Buildings Direct can customize each building to your specifications, which includes door and window locations and sizes, colors, certifications, and accessories. All plans will meet your local building codes, and the staff is adept at creating the most functional building for your needs.
All materials are of the highest quality, including superior, long-lasting metal roofing and panels and a strong steel frame that can withstand the harshest forces. The best part about using Big Building Direct is that they ship and install your building, offer a warranty, and have impressive turnaround times, so you can have your RV covered fast!
The cost for the basic Brady structure delivered and installed starts at $33,600.00.
Carolina Barn GB-442613CB
This metal barn has a classic look and can be modified to fit any size recreational vehicle. However, the 44'W x 26'L model is best for small to mid-size campers with a design that features a central garage to park your RV and two side wings for living and storage space.
You can leave the side sections without garage doors on the front or back for use as a carport or open covered patio space, or pay extra to have them fully enclosed for more interior living areas.
The team at Carolina Barn design, package, deliver and install your building quickly while keeping your costs as low as possible. In addition, having a solid structure to house your RV gives you time to finish off the interior to your liking as your time and budget allow.
The base model starts at $14,030, with free delivery and installation.
Final Thoughts
Building a barndominium for your RV is an upgrade to the standard RV carports or garages that do little but keep the weather from directly impacting your camper. A barndominium provides ample storage space for your RV and camping equipment and gives you extra square footage to have a roomy bathroom, kitchen, or living space that your camper lacks.
Now that you know what an RV barndominium is and the benefits it can provide, look for a great plan online, or work with a company that will bring your ideas to life. The RV lifestyle doesn't need to be unsafe or uncomfortable when you have a barndominium to call home!
60×40 Barndominium Walkthrough/Tour (Video)
QUOTE:
"Man cannot discover new oceans unless he has the courage to lose sight of the shore."
-- Andre Gide