If you're considering a new RV and have the Keystone Springdale travel trailer on your list, you'll want to read this review.
The Springdale line of travel trailers is extensive, and it's easy to find the perfect floor plan to suit your needs. However, the company also has serious issues with quality that may make you rethink investing in this model RV.
This guide will detail the Keystone Springdale travel trailers, standard features, the best models, and the pros and cons of the line to help you learn more about these RVs.
The best way to shop for an RV is to know each brand's good, bad, and ugly to you can make an informed buying decision. The right RV will make camping a pleasure, so please keep reading!
Keystone Springdale Travel Trailer History
Keystone RV began in 1996, with the manufacturing of the Springdale Comfort Travel Trailer line starting shortly after that.
The company sold Springdale fifth wheels and toy haulers up to 2021 but no longer lists them on its website. Unfortunately, there is no information about why Keystone quit production of those Springdale recreational vehicles.
The Springdale line is made in Goshen, Indiana, the heart of many RV manufacturing companies. Keystone offers tours through the factory to show the various steps to create a travel trailer, which is a cool experience if you're in the area.
What Makes the Keystone Springdale Travel Trailer Line Stand Out?
Excellent Floor Plans

Springdale excels at providing buyers with outstanding floor plans that can work for couples up to a large family. The variety of choices is impressive, and having the perfect layout makes every camping trip much more comfortable.
Dark Cabinetry and Window Treatments
The interiors of the Springdale models feature black or dark brown cabinetry that gives the camper a distinctive modern appeal. The upholstery is either a grey-tan, black, or dark brown that will hide imperfections.
The overall look includes black or brown valances and pleated shades, which look more contemporary than light-colored fabrics with oak-toned cabinetry.
Durable Flooring
The laminate flooring in the Springdale looks like wide-plank weathered wood slats, giving the camper a rustic vibe, and will do a great job hiding dirt and dust. But the best thing is that the flooring is Hyperdeck, a high-performance water-resistant material ideal for messy camping conditions.
Unique Features
The Springdale features some exceptional standard (for specific models) or optional features other RV brands don't, such as a laundry chute, freestanding table, ducted air conditioning and heating, a 12-volt refrigerator, a walk-in closet, outdoor shower, and so much more.
It's much easier to pick and choose which features you'll add to your camper instead of being forced into an "options package" with amenities you may or may not use.
Keystone Springdale Travel Trailer Models
There is a vast selection of Keystone Springdale camping trailer models. There are 37 different floor plans in their line of Comfort Travel Trailers and three models in their Springdale Destination Trailer line.
You can find all the 2023 floor plans and specs for all the Springdale travel trailer models by visiting keystonerv.com, but here is a quick look at the size, weight, and price ranges.
Keystone Springdale Travel Trailers
Length: 21′ 5″ to 38′ 11″
Dry Weight: 3,396 lb. to 11,100 lb.
GVWR: 4,400 lb. to 7,977 lb.
Sleeps: 3 to 11
Price: $25,095 to $55,928
Keystone Springdale Destination Travel Trailers
Length: 38′ 11″
Dry Weight: 8,860 lb. to 8,994 lb.
GVWR: 10,966 lb. to 11,080 lb.
Sleeps: 8 to 10
Price: $54,398 to $55,928
Keystone Springdale Standard Features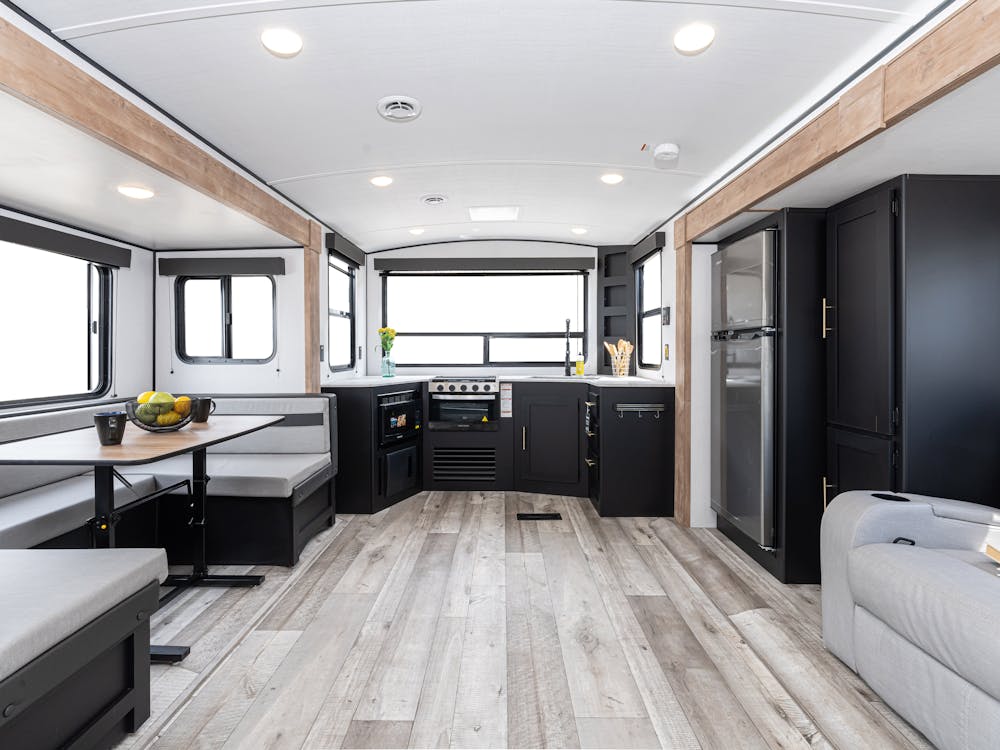 Springdale standard features vary depending on the floor plan you select. However, Keystone adds the following amenities on all their travel and destination trailers:
13.5-15K BTU Central Air Conditioner and 20-30K BTU furnace
I-beam framing with 12″ on center floor joists
SolarFlex 200 RV solar energy system
Girard tankless water heater
Dexter E-Z Lube axles
Kitchen with microwave, fridge, stove, oven, and sink
Bathroom with sink, shower and surround, medicine cabinet, and foot-flush toilet
Pleated night shades
MORryde StepAbove
Interior LED lighting60″ X 74″ queen bed
Pass-through storage compartment
Breakaway switch, fire extinguisher, smoke and carbon monoxide detectors
In-floor heating ducts
4G LTE and Wi-Fi prep
3-year limited structural and 1-year limited base warranty
Power awning with LED light strip
Solar prep
Visit the website to see all the model-specific and optional features available.
Best Keystone Springdale RVs
After going through the Springdale floor plans online and checking out a few in person, I think these models offer the most functionality for shorter camping trips and long-term seasonal or full-time RVing.
Please be aware that I am basing my picks on the pure ease of use when performing daily camping tasks rather than on how well any of the RV's components hold up over time.
Best Comfort Travel Trailer Under 25 Feet – Springdale 1810BH
Length: 22′ 9″
UVW: 4,435 lb.
GVWR: 5,200 lb.
Sleeps: Up to 6
Why it works: The smaller size will fit in any campground, be fuel-efficient, and be easier to tow and park. In addition, the floor plan includes permanent bunks in the rear, so a family of four can camp without needing to constantly convert the dinette to a bed, which I can highly appreciate.
The camper comes with a full bathroom and kitchen of appliances, and the queen-size Miller bed in the front easily converts into a sofa during the day. The main living area also benefits from the extra space the slide-out provides.
I like the pass-through storage compartment on the exterior, which lets you bring along bulky or lengthy camping equipment, and the 15-foot awning will create plenty of shade.
I also like the 1790FQ floor plan if you're traveling as a couple. This model places the bathroom across the rear of the trailer (my favorite feature in an RV), giving you the most room, and features a permanent queen bed instead of the Miller bed.
Keystone Springdale 1810BH (Video)
Best Comfort Travel Trailer Over 25 Feet – Springdale 281RK
Length: 32′ 5″
UVW: 7,411 lb.
GVWR: 9,620 lb.
Sleeps: Up to 4
Why it works: I really love the layout of this camper, with the rear kitchen, full RV-width bathroom, and two slide-outs in the main living area. In addition, the private bedroom in the front of the trailer has a walk-around queen bed, which is ultra-convenient.
When you walk into this model, the seven windows in the living and kitchen area fill the unit with light, making it feel even more spacious. Plus, there are two pantries for storage, so packing away supplies will be a breeze.
It has a smaller 12′ awning than expected for such a long unit, but it offers a beneficial pass-through storage compartment to carry along plenty of gear.
If you have kids, I also like the 335BH model with a private bunkhouse with an attached half-bath, dual entry doors, and an extra-wide slide-out for the dinette and sofa.
Springdale 281RK (Video)
Best Keystone Destination Trailer – Springdale 38FL
Length: 38′ 11″
UVW: 8,860 lb.
GVWR: 11,080 lb.
Sleeps: Up to 9
Why it works: The size and layout of this dual-entry trailer are ideal for a couple for long-term RV living, yet can accommodate up to nine guests.
The slide-outs in the bedroom and living area create the most interior space, and the kitchen feels residential. But, what I really enjoy is the cozy feel of the front room, with an L-shaped couch, fireplace, TV, and tasteful overhead cabinets.
I wish the designers had devoted more square footage to the bathroom, but the corner radius shower helps it be more functional.
Outside you get a massive 21-foot power awning with LED lighting, which creates an excellent zone for relaxing or entertaining.
Keystone Springdale Pros and Cons
Springdale camping trailers have quite a lot of reviews, and unfortunately, most of them are negative, especially with models from the past few years.
I am pretty shocked at the severity of the issues in the Springdale line versus other RV brand complaints, so let's dive into the good and bad, so you can see what I am talking about.
Keystone Springdale 38FL Travel Trailer (Video)
Keystone Springdale Pros
Easy to Tow
The consensus with Springdale owners is that the trailer does tow nicely. The unit remains stable and tracks well, reducing travel stress.
High Clearance
If you like to camp off-grid, Springdale has a higher ground clearance than many other travel trailer brands.
Great for Families
Want to Connect With a Community of Over 1,078 RV Enthusiasts?
Sign up now and get access to our best content, absolutely free!
The Springdale line has many bunkhouse models for families who want a separate space for the kids.
Keystone Springdale Cons
Poor Framing Materials and Construction
There are way too many complaints of bumpers or chassis framing that has rusted through in only a couple of years, which is unacceptable. Other note cracks in the frame at critical support points, such as under the axle.
Leaks
I'm not sure I have ever encountered more leak complaints than in the Springdale line of travel trailers. Over and over again, it was water damage caused by holes in the roof membrane or slide toppers due to bad underlying construction or loose plumbing fittings.
One person found their brand new camper had none of the plumbing lines connected to the drains at all!
Often, the water damage went unnoticed and would cause rotting walls, ceilings, or flooring underlayment. In addition, the moisture causes mold growth, giving some owners no recourse other than to gut and rebuild or scrap their camper.
Sales Lies
Salespeople and Keystone brochures lie about what the RV or company will deliver to entice you to buy. One person who off-grid camps was told (with specs stating the same) that the grey water holding tank was twice the size it actually was, making it difficult for him to boondock for more than two days.
Another person states the salesperson talked about how comfortable the beds were, only for the customer to discover the mattress platform was on an angle and it was impossible to sleep. When confronting the company about what they thought was a defect, Keystone said that is how they build them, and tough luck!
Bad Wiring
Another common problem with the Springdale is that the technicians hard-wire in the thermostat, so when there is no power connected, it beeps, and beeps, and beeps with no way to turn it off.
Other issues include refrigerator control panels going out and flickering lights from poor connections to switches and outlets.
China Bomb Tires
Keystone installs cheap tires from China on their new travel trailers, which means expect to be yet another customer who has a blowout soon after purchase. One poor buyer had all four trailer tires blow within a few week span, causing some damage to the camper frame as a result.
Poor Quality Control
Keystone highlights its quality control program during manufacturing, but here are only some of the recurring problems customers report:
Full freshwater tank FALLING OFF THE TRAILER WHILE DRIVING because it was attached with six short screws
Ceiling panels peeling loose
Sliding doors continually slipping off the track, or the entire track falling off
Awnings that would leak at the stitching seams
Malfunctioning electric tongue jacks
Refrigerator control panels failing within a few months
Horrible Customer Service
Here are two of a litany of Keystone customer service complaints:
After waiting for a response from Keystone, a customer took their new camper to a trusted RV tech and was told there were so many issues the camping trailer needed a complete rebuild to make it right. Unfortunately, even after providing evidence of problems Keystone should fix under warranty, Keystone is still ghosting the customer.
Another person was told their "lifetime" warranty and inspection on their destination trailer would cover all kinds of problems. However, yearly inspections were always "clear," yet things would constantly break, and Keystone would deny the warranty claim.
In Summary
I recommend you take a hard pass on any current Keystone Springdale travel trailers. With the extent of the bad reviews from customers, I'd be careful not to let the initial "wow" factor of the interior design and spaciousness sway your decision.
I know that all RVs need regular maintenance, but the issue with the Springdale goes far beyond the norm, and customer service support seems nonexistent.
The RV life should be about fun, carefree travel and not about headaches and continual repairs. So please, skip the Keystone Springdale and look for a more reliably built RV!
QUOTE:
"Man cannot discover new oceans unless he has the courage to lose sight of the shore."
-- Andre Gide