The Keystone Hideout travel trailers look fantastic and have many floor plans, but are they good RVs to purchase?
Buying a recreational vehicle is a major investment, so it pays to research different brands and models to ensure you buy one that will perform well and last for decades.
Unfortunately, Keystone has been losing ground in customer satisfaction in the last five years, and you need to know why. To help, I put together this guide with all the Keystone Hideout pros and cons, so you'll have a better idea of how useful they are while camping.
As a full-time RVer, I know what features make a camper functional and what level of maintenance should be required to keep it in good shape, so let's dive in and see if the Keystone Hideout is a hit or a miss!
Keystone Hideout History and Models
Cole Davis founded Keystone RV in 1996, and the Hideout was one of the original models in the lineup. The Keystone line now includes 16 different brands of fifth wheels, toy haulers, travel trailers, and destination trailers.
The current Hideout line consists of Comfort Travel Trailers and Destination Trailers. Keystone quit manufacturing Hideout-fifth wheels after 2021, and I couldn't find information about returning them to the market.
Keystone Hideout Travel Trailers
Keystone offers an astounding 53 Hideout travel trailer floor plans.
Many options omit the slideouts, which is unusual for modern camping trailers. However, it's a great move, as it does eliminate the possibility of slide-topper leaks or failure of the moving components.
Here is an overview of the Hideout Travel Trailer specification range:
Length: 21′ 5″ – 38′ 11″
UVW: 3,351 lb. – 8,394 lb.
GVWR: 4,440 lb. – 10,440
Sleeps: 4 to 11
Price: $23,198 – $55,268
Keystone has four Destination Trailers with these specs:
Length: 39′ 11″
UVW: 8,306 lb. – 9,350 lb.
GVWR: 9,970 lb. – 11,360 lb.
Sleeps: 8 to 10
Price: $54,435 – $59,258
Keystone Hideout Standard Features
Before I discuss how I feel about the Hideout floor plans and amenities, here is a list of standard features included in the line.
Power Awning with LED Lights
Power awnings are ultra-convenient to operate and give you a place to sit outside protected from light rains or intense sun. Integrating LED lighting makes your outdoor patio safer and more livable in the evenings.
Ducted heat keeps the camper floor warmer during cold weather and spreads the heat more evenly to all living spaces.
Color-Coded Unified Wiring
Having all wiring color-coded is a plus for DIY electrical repairs and reduces mistakes.
There are extra features standard on specific floor plans and optional features or packages you can add to your RV at purchase. For the complete list of standard and optional Hideout features, please visit keystonerv.com.
Keystone Hideout Best Features
Here are the features that I feel Keystone gets right:
Big Selection of Floor Plans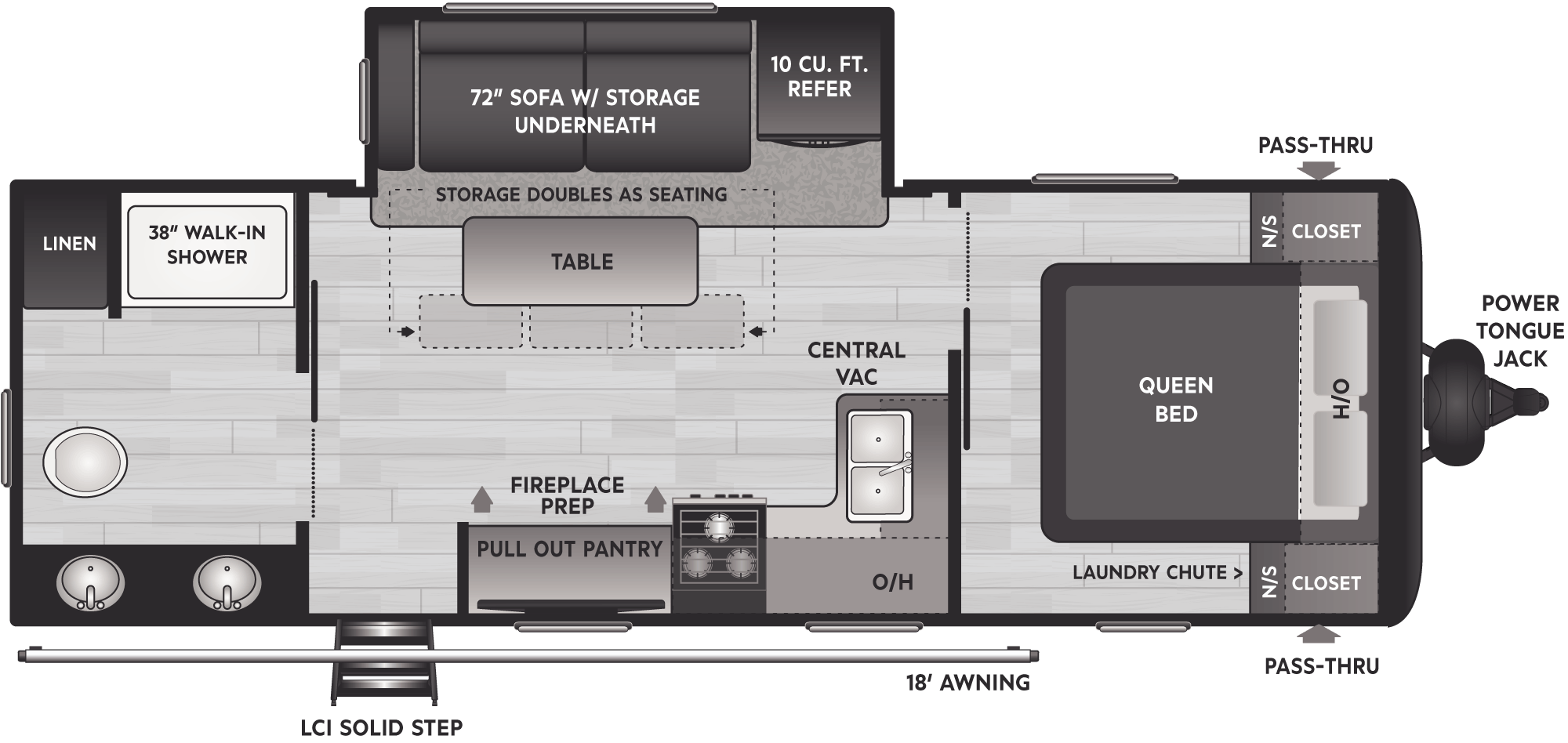 It is nice to have a wide choice when searching for a floor plan suitable for your camping needs. For example, some people want a compact travel trailer without slides, while others prefer permanent beds for the parents and kids to avoid converting the sofa or dinette every night.
Having a bunkhouse or a living area with plenty of seating gives families more room to spread out, which is a lifesaver on rainy days when you're stuck inside.
Extra Large Bathroom
Another excellent upgrade in the Hideout travel trailer's 234RB and 24RBWE floor plan is the extra-large bathroom with more square footage, a wide vanity with two sinks, and a residential-style shower.
Dinette Alternative
I like the table and seating in the 25DBWE, 25RLWE, 253RL, and several other floor plans that eliminate the booth dinette and instead place a long removable table in front of the sofa.
Underneath the sofa are storage ottomans that slide out and double as extra seating around the table or elsewhere in the RV. As a result, the design is much more flexible for eating, gaming, crafting, or working.
Murphy Bed Sofa
Some smaller Hideout units offer a queen-size Murphy bed that converts to a sofa. Having the bulky bed out of the way during the day frees up space, and the couch makes it more functional.
Bright Interior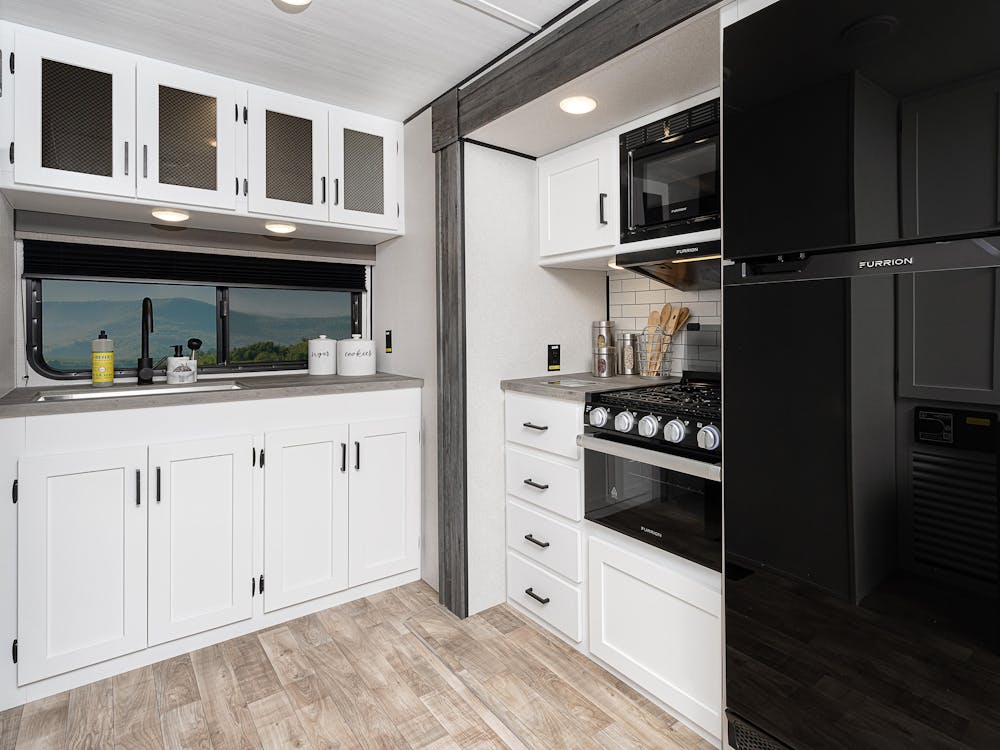 The Hideouts I toured feature soft white cabinetry, light taupe upholstery, weathered-wood countertops, and flooring that keep the space looking bright and cheerful.
Outdoor Kitchen
Most RVers love to relax outdoors, so an outdoor kitchen is very convenient. Many Hideout floor plans include this amenity, so you don't have to run inside to grab a drink or snacks, reducing stress and keeping your RV interior cleaner.
Keystone Hideout 22MLS – a Floorplan that You'll Want on Your List! (Video)
Keystone Hideout Floor Plan Issues
Many Hideout interior amenities will become irritating after several months of use. This list is strictly about Keystone design choices and not about the quality of appliances or furniture.
For someone new to the RV life, you may not think about how the following features will affect your camping comfort, but you should remember these concerns:
Small Bathrooms
Most of the Hideout bathrooms are very small. Sure, you can use the toilet, sink, and shower, but expect to bang your knees, elbows, or other body parts on the walls or fixtures.
While you may be happy that your camper has a full bathroom, I swear that using it daily will become highly frustrating.
There's a reason so many RVers use campground restrooms and shower houses instead of their RV bathroom. That is because most are tiny and difficult to maneuver in, especially if you're taller or larger.
My suggestion for anyone planning extensive use of their travel trailer for camping is to look for a model with a bathroom that spans the entire width of the trailer or stick to a Hideout model that offers the extra-large bathroom.
The Booth Dinette
One of the most renovated pieces of RV furniture is the dreaded booth dinette, which initially seems functional until you realize it's not. The Hideout lineup is full of floor plans with this feature.
The most significant issues with this type of dinette are that two people sitting side-by-side need more room to move their arms while trying to eat and that you cannot change the location of the seat to be closer or further from the table.
If you happen to be the correct height and weight to fit perfectly into the seat and comfortably eat, work, or play games, it's a miracle! But, unfortunately, for the rest of the kids and adults, it will become more and more frustrating until you finally tear it out and install something better.
While I can deal with a U-shaped dinette because it offers guests more room to spread out around the table, the best RV choice is to select a freestanding table and chair set so everyone can comfortably position themselves.
Low-Quality Mattresses
While you may find the queen mattress in the Hideout comfortable for a few months, most people realize the quality is poor and end up paying for a more supportive replacement.
When you look at the bunkhouse mattresses, they are often just a two-inch thick pad. That's hardly a soft place to sleep, even for a lightweight child.
Lack of Counter Space
Whether in the bathroom or kitchen, the small amount of counter space in the Hideout will create problems.
It's a shame Keystone didn't add pull-out or flip-up workstations to increase the kitchen's surface area or ensure the sink design included a cover.
The Carpeted and Lifted Slide
I need clarification on why Keystone puts carpet in the slideout floors, especially since it's under the dinette and in front of the couch, where foot traffic and spills will have it filthy in short order.
Other brands continue the solid-surface flooring into the slideouts, so you can easily wash the floors to keep them clean. Carpet and camping do not mix, and Keystone should know better.
I also don't care for the rise in many models that lift the dinette and couch up about six inches from the rest of the floor. The drawers at the bottom need to be taller to hold many camping supplies but are at least semi-useful.
My genuine concern is the difficulty and tripping hazard of getting in and out of the dinette. You must step up and swivel into the seat without hitting the table and remember the floor is an extra step down when getting out.
Keystone Hideout Pros and Cons
Now it's time to get into the good and bad mechanical and construction aspects of the Hideout travel trailers from past and present owners. The information is from speaking to fellow RVing friends who own a Hideout and from a compilation of online reviews.
This is the most important section to consider, as you want to take your RV and money on camping trips, not drop them both off at the shop to deal with repairs.
Keystone Hideout Pros:
Affordable Pricing
The Hideout offers nice-looking, spacious travel trailers at a lower price than other brands.
Tows Nicely
Most people agree the Hideout is balanced, lightweight, and tows well if you have the properly-rated tow vehicle to handle to load.
Modern Interior and Exterior
The inside and out finishes are modern, and the entertainment equipment, like the TV and speakers, work well with excellent sound quality.
SolarFlex RV Solar Power System
All Hideouts travel trailers come with a SolarFlex 200 package that includes a 200-watt solar panel, a 15-amp MPPT controller, and a Zamp solar panel charge port.
Want to Connect With a Community of Over 1,078 RV Enthusiasts?
Sign up now and get access to our best content, absolutely free!
This feature is ideal for boondocking and can run the camper's 12-volt appliances.
Keystone Hideout Cons:
Leaks
Leaks are one of the most common complaints with the Keystone Hideout models. It can be from the roof, slide toppers, plumbing fittings, waste tanks, or the toilet.
The problem is so prevalent that it must be the company cutting corners on hiring skilled technicians for the building process and skipping through their "quality control" checks.
Shoddy Construction and Finish Work
Another big complaint is the poor quality materials and construction that become evident after you get a few hundred miles on the camper.
One friend of mine that owns a 2021 Hideout said that the trim work around the doors kept popping off until they used longer nails and glue to keep them in place.
People frequently mention floors or wall panels bulging, doors not shutting correctly, wobbly faucets, and flickering lights.
The considerable concern is the people who had their tongue or stabilizing jacks break, which could easily lead to a serious injury.
Appliance and Electrical Failures
There's quite a list of complaints about new Hideouts needing warranty repairs on the air conditioner, water heater, water pump, microwave, refrigerator, fuse box, and furnace not long after purchase.
I don't know if Keystone intentionally uses cheaper appliances in the Hideout or if the companies they usually use are cutting corners when manufacturing them.
The bad news is that a Hideout purchase will most likely include a major appliance breaking or faulty wiring blowing the fuses, and you will hope it happens before the warranty runs out.
Tire Failures
Keystone equips most, if not all, of their new travel trailers and fifth wheels with cheap tires made in Asia to save a few bucks.
Why any RV manufacturer would place their entire reputation on the line by skimping on the one thing that carries the camper's weight down the road is beyond my comprehension, but the Hideout is prone to flat tires and blowouts.
In the RV world, these cheap tires are known as "China Bombs," as blowouts happen very often within the first few times you take the trailer out camping. So if you buy a Hideout or any other Keystone RV, please immediately replace the tires with the best-rated brand you can afford.
Clogged Plumbing
There are numerous complaints about clogs in the Hideout's wastewater lines, and I can verify that dealing with sewer backups is never pleasant!
This issue stems from poor alignment and drainage from the black and grey water tanks, which allows toilet tissue or grease to settle in the pipe until it piles up and forms a blockage.
Other times the valve components break, partially blocking the drain pipe, so it catches tissue or other debris flowing down the line.
Flooring Separation
I read many complaints about the Hideout flooring becoming separated from the subfloor, causing the material to bubble up slightly and cause an annoying sound when you walk across it.
Some owners found the separation was from water leaking under the vinyl, while others indicated it was from a lack of adhesive. Trying to fix the problem means pulling up large sections of solid sheets of vinyl to diagnose the cause, which can damage the material.
In Summary
The Keystone Hideout looks great and offers plenty of floor plans and sleeping capacity. However, when the complaints to the Better Business Bureau, online forums, and RV review websites are so long you can only read some of them, you know this is a brand to avoid.
I don't see any value in purchasing a Hideout travel trailer that has a reputation for being unreliable, with a customer service staff that gives you the run around when you want to repair the unit.
Keystone needs to do better for its customers, and until they do, I suggest you pass on this brand.
Keystone Hideout 175BH Walkthrough (Video)
QUOTE:
"Man cannot discover new oceans unless he has the courage to lose sight of the shore."
-- Andre Gide