What's the best-selling travel trailer? For over 15 years, the top spot has gone to the Jayco Jay Flight, and its popularity is still strong.
If you're looking for a new RV for the upcoming camping season, there's much to appreciate about the Jayco Jay Flight line of travel trailers. However, the travel trailer does have a few concerns, which is why I break down the pros and cons in this guide.
You'll find Jayco's history, the latest Jay Flight model specs, and what features, amenities, and price tags to expect below. In addition, I provide honest opinions about the brand and highlight floorplans that are best for solo, couple, or family travelers.
Is the Jayco Jay Flight the right RV for you? Stay here to find out.
Jayco History
Jayco RV began in 1968, with Lloyd Bontrager at the helm of his Northern Indiana shop.
Lloyd was the designer of a pop-up camper lifter system that changed the RV industry. Lloyd partnered with Al Yoder in 1969 to build and market their camping trailer and sold 132 that first year.
Jayco hired more employees and expanded their recreational vehicle product line to add travel trailers in 1972, fifth wheels in 1973, and Class C motorhomes in 1977. As the company grew, it acquired smaller RV companies but remained a tight-knit, family-run business.
Unfortunately, in 1985 Lloyd and his son were killed in a plane crash, and Al Yoder became President. Luckily, the company remained at the top of its game regarding innovative designs and quality builds and continued to expand.
The now-famous Jay Flight travel trailer model debuted in 2001, and it only took a few years to become the best-selling recreational vehicle.
In 2011, Jayco was the world's largest privately owned RV company. In 2014, the company started manufacturing Class A motorhomes.
However, in 2016, Thor Industries acquired Jayco RV, adding it to their impressive list of brands, including Airstream, Keystone, Tiffin, Heartland, and 12 other well-known RV companies.
Through it all, most RVers automatically think of Jay Flight when they hear the name Jayco because you see them in every campground across the US.
Jayco Jay Flight Models
Jayco has ten models in their 2022 lineup of Jay Flight travel trailers and 27 models in their 2023 line, but only some US regions offer all 27 for sale. In addition, four models in their 2023 line are dealer stock only and will no longer be available once the dealership sells them.
Jayco Jay Flight 2022 travel trailers range from 28′ 10″ to 40′ 6″ in length, weighing 5,335 lbs. to 8,825 lbs. Floor plans have one to three slideouts and can sleep from five to 14 guests.
The Jay Flight 2023 models range from 25′ 8″ to 40′ 6″ in length, weighing 4,290 lbs. to 8,970 lbs. Floor plans have one to three slideouts and can sleep from four to 14 guests.
However, after a close look at the floor plans that sleep 14 (32TSBH, 38BHDS, 33RBTS, and 32BHDS), I can only find accommodation for up to 12 at most. These models may have the option to install an extra bunk bed instead of other furniture in the camper to reach this figure.
The significant increase in floor plans available from the 2022 to 2023 model years is shocking, and the reason is for Jayco to give customers more options in size and layouts to meet their demands and increase sales. The main difference is that four shorter and four larger trailers, plus a toy hauler, are in the 2023 line.
I like the large selection of 2023 Jay Flights, as it gives buyers a better chance of finding the perfect floor plan for their needs. And I am sure the 2022 models will be selling at a discount to clear the old inventory, which is great if you're on a budget.
MSRP for the 2022 Jay Flight models ranges from $40,664 to $49,133, with the 2023 models going for between $31,640 and $54,443.
Some of the standards Jay Flight features on all models include:
Bathroom with toilet, shower, and sink
Private bedroom with king or queen-size bed
Kitchen with fridge, oven, stovetop, and microwave
Residential-style kitchen countertops
Power awning
81″ interior ceiling height
Exterior LP quick-connect
Axles with self-adjusting electric brakes and easy-lube hubs
Magnum Truss Roof
Fully integrated A-frame
You can find the extensive list of all standard and optional features at jayco.com under the Jay Flight tab.
Overall, standard Jay Flight models have all the features and amenities campers demand, which is another reason they are so popular. And the 2023 models have integrated USB charging stations standard, making them even better.
Jayco JayFlight Pros
Superior Framing and Construction
The benefit of buying a Jayco RV starts with the high quality of the frame. The company uses a one-piece laser-cut frame that forms a solid base that can distribute the weight of the trailer box above.
The way Jayco constructs the Jay Flight reduces vibration during travel to keep the structure from incurring damage and weakening the frame. In addition, the extra strength of the Magnum Truss Roofing System keeps the trailer roof from sagging over time, so your RV remains in excellent condition and is always safe to walk on.
Jayco Jay Flight's craftsmanship in both materials and construction means all components will hold up for decades. Exterior features like seamless fiberglass front caps, vacuum-sealed sheathing, and fully-welded aluminum superstructure increase longevity and maintain value.
G20 Dark-Tinted Windows
Tinted windows are an outstanding feature many new RV buyers need to consider. The benefit of the Jay Flight dark tinted windows include:
More privacy when shades or curtains are open
Protects furniture and upholstery from fading and damage from UV rays

Helps regulate heat transfer so interior temperatures stay cooler
Jaycommand Smart RV System
JayCommand is an optional feature worth the upgrade because it allows you to monitor and control your Jay Flight trailer's heating, cooling, slideouts, lights, water heater, and more through a mobile phone app.
The system gives you peace of mind when you're away from your camper, especially if you have pets inside during your absence.
Ample Storage
Part of what makes the Jay Flight travel trailers so functional is the amount and layout of the storage areas. There is more than sufficient cabinet space in the kitchen and bathroom, roomy closets and drawers throughout the units, and large exterior storage bays to safely hold all your belongings.
Efficient Floor Plans
Jay Flight floor plans excel at being super-efficient for guests. The location of various appliances, cabinets, and amenities gives the interior a great flow, so cooking or showering can be a smooth and comfortable process.
The layout of the main bedroom provides adults with privacy from the general living and bunk areas for the kids. The convertible sofas and dinette booths provide superb function during the day but expand sleeping capacity at night.
Rooftop Solar Prep
Adding solar panels to the RV roof is the best way to generate power for off-grid camping trips.
Having the wiring connections in place to add a solar power system to your Jay Flight means you can quickly connect panels on the roof. Then, you can connect the battery and inverter to your bank without drilling a bunch of holes in your camper.
Industry-Leading Warranty
Jayco stands behind its products, and your Jay Flight purchase comes with a two-year or 24,000-mile hitch-to-bumper warranty and a three-year structural warranty that covers floors, walls, and roofs.
Jayco Jay Flight Cons
Jay Flight trailers have a few issues that customers point out, even if Jayco fixes them through the warranty.
Leaky Plumbing Fittings
One common complaint is the plumbing fittings under the kitchen, and bathroom sinks tend to leak. Checking the connections can be a pain, so most owners dealing with this problem have the leaky fittings replaced with Sharkbite or similar connections that seal better.
However, many RVers are unaware that all standard plumbing fittings will loosen over time, especially after extreme cold snaps, so this issue happens with all brands of recreational vehicles.
Awning Fabric Tears
Jayco has an active recall on Jay Flight and other lines of their RVs that have an electric retractable awning with welded seams. The fabric at the seam may separate and let the awning drop down further than expected, which could cause injury.
Customizations Become Costly
All the Jay Flight models provide great value for the price, but if you want to start customizing the unit through the dealership, the cost will rise significantly.
Don't let a salesperson pressure you into thinking you need a specific feature if you're new to RVing or that you may as well get the most expensive options package. Please remember that the more components you add to your RV, the more repairs you may have to pay for and fix in the future.
Unless you're sure you'll use an optional feature or package often, bypass the additional cost and stick to the standard included features. It's easy to renovate or add a feature in the future once you use the RV enough to understand your needs.
Verdict: Jay Flights have a low number of complaints, considering how many units are on the road.
I have dozens of RVing friends with Jay Flight travel trailers who are happy with their purchases. Most choose to keep their older units and update them instead of trading them in for a newer model with modern features, as the structure and appliances remain in good condition.
Best Jayco Jay Flight Models for Solo, Couple, and Family Travels
If you're new to RVing, it can be helpful to hear from long-term RVers what Jay Flight models they think are great options for single, couple, or family travel. Of course, camping for the weekend or going full-time will require the space and amenities to keep you and your guests comfortable.
My best advice is to stick to a trailer around 30 feet long if you love to camp at state and national parks, as most have size restrictions ranging from 27-30 feet.
I have been in plenty of Jayco Jay Flights with different floorplans, and I think these are the best models to check out from the 2022 and 2023 lineup:
Jay Flight for Solos
2023 Jay Flight 240RBS
Length: 27′ 4″
Weight: 5,465 lbs.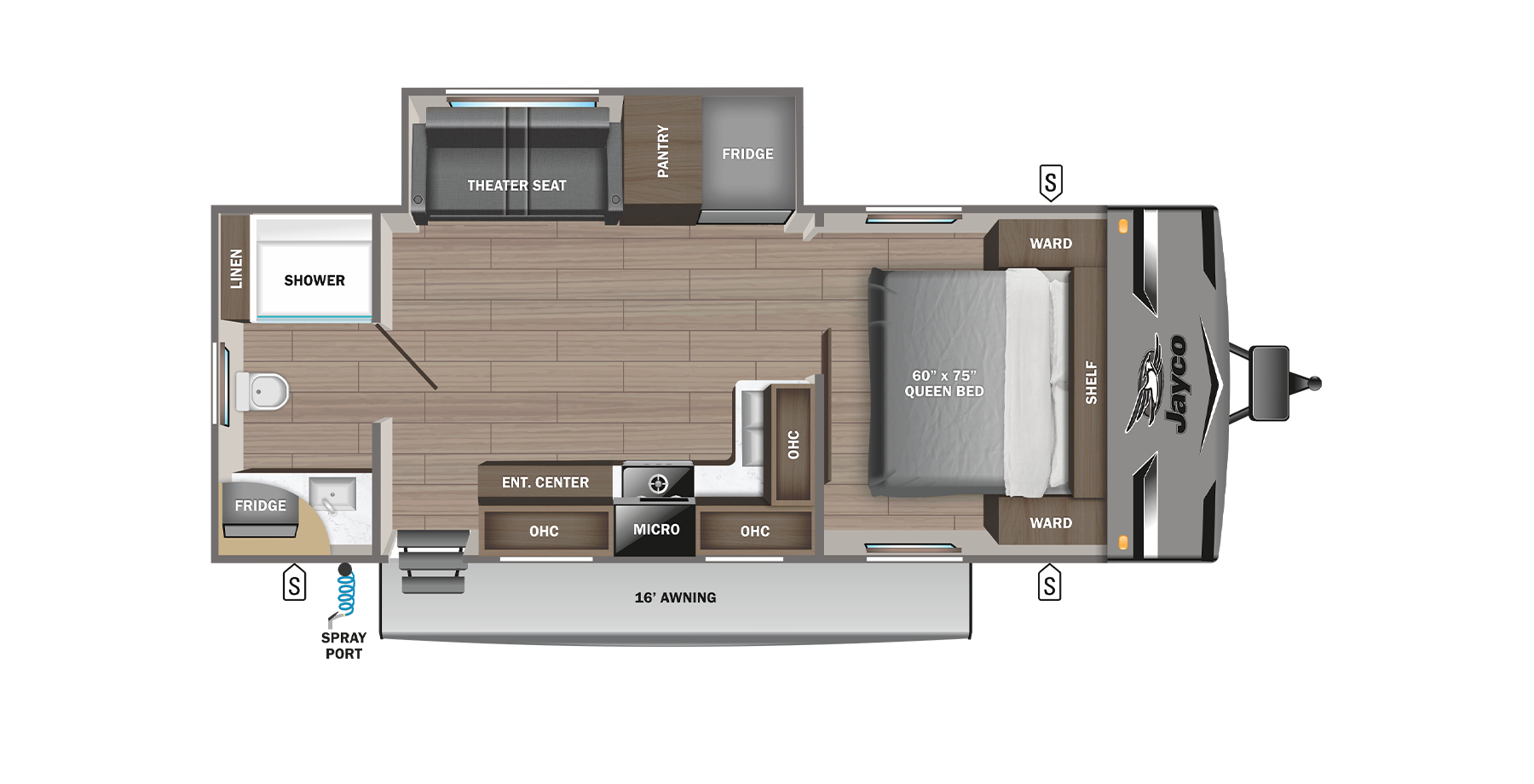 Why it works: The unit sleeps up to four, so you can accommodate guests, and the front bedroom is cozy. Having the rear bathroom span the width of the trailer makes it much more spacious, and the slideout opens up the kitchen and living area where you'll be spending the most time.
Jayco Jay Flight 240RBS (Video)
Jay Flight for Couples, Families, or Solos Who Want Workspace
2023 Jay Flight 284BHS
Length: 33′ 7″
Weight: 6,265 lbs.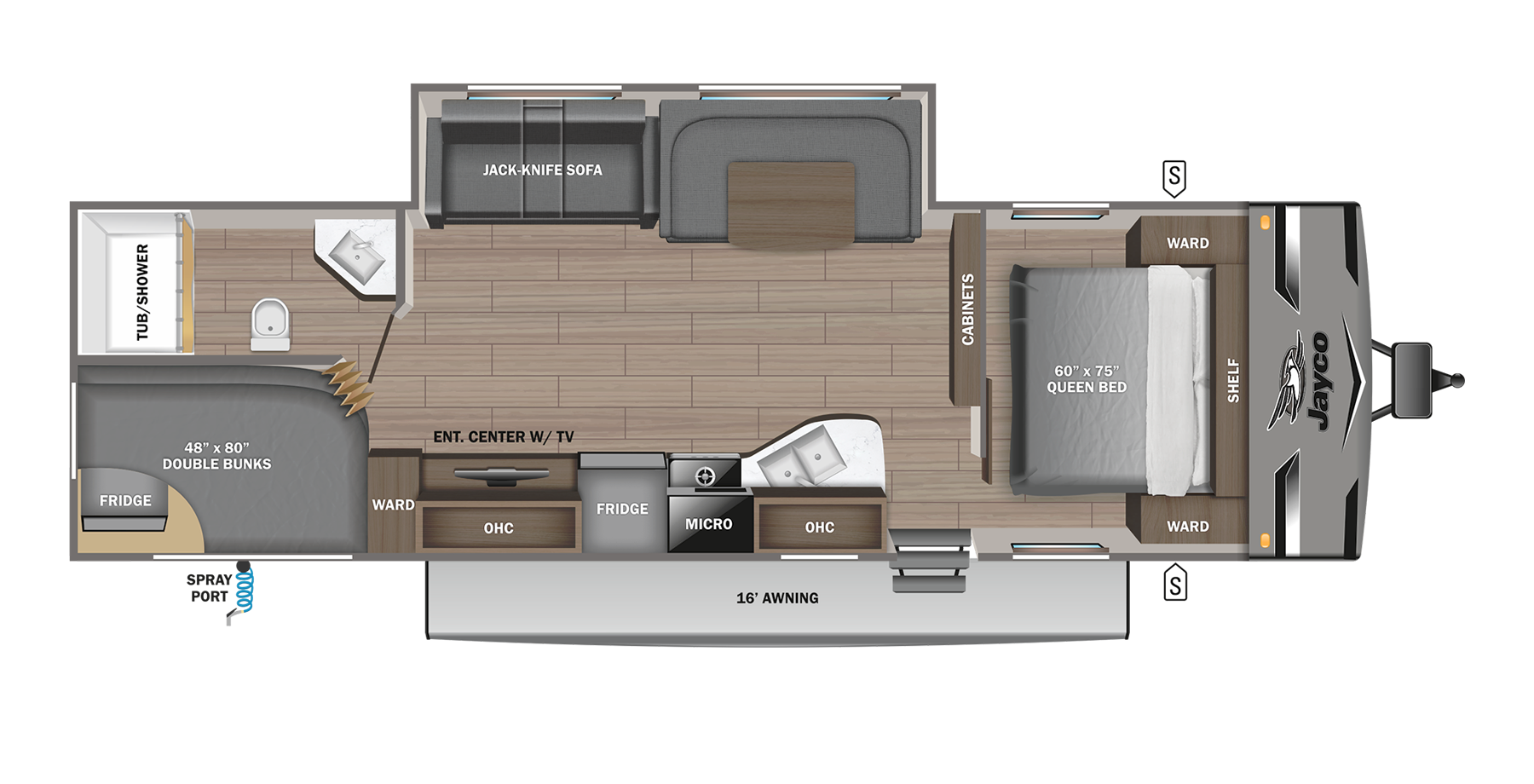 Why it works: The floorplan separates the main bedroom and the rear double bunks. The back bathroom allows kids to get up at night and use the facilities without bothering the parents, and there is plenty of seating in the kitchen and living area with the slideout.
The camper can sleep up to nine with the bunks, allowing comfortable trips for even bigger families.
What I like best about this floorplan is the ability to remove the bunks in the rear and add a desk and furniture to make a mobile office or create a hobby room for couples or solo travelers.
The option to convert the dinette or use the jack-knife sofa for sleeping allows you to entertain up to four overnight guests, so you still have flexibility.
Jay Flight 284BHS (Video)
Best Jay Flight for Large Families or People Who Want Workspace
2022 Jay Flight 32BHDS
Length: 36′ 4″
Weight: 7,915 lbs.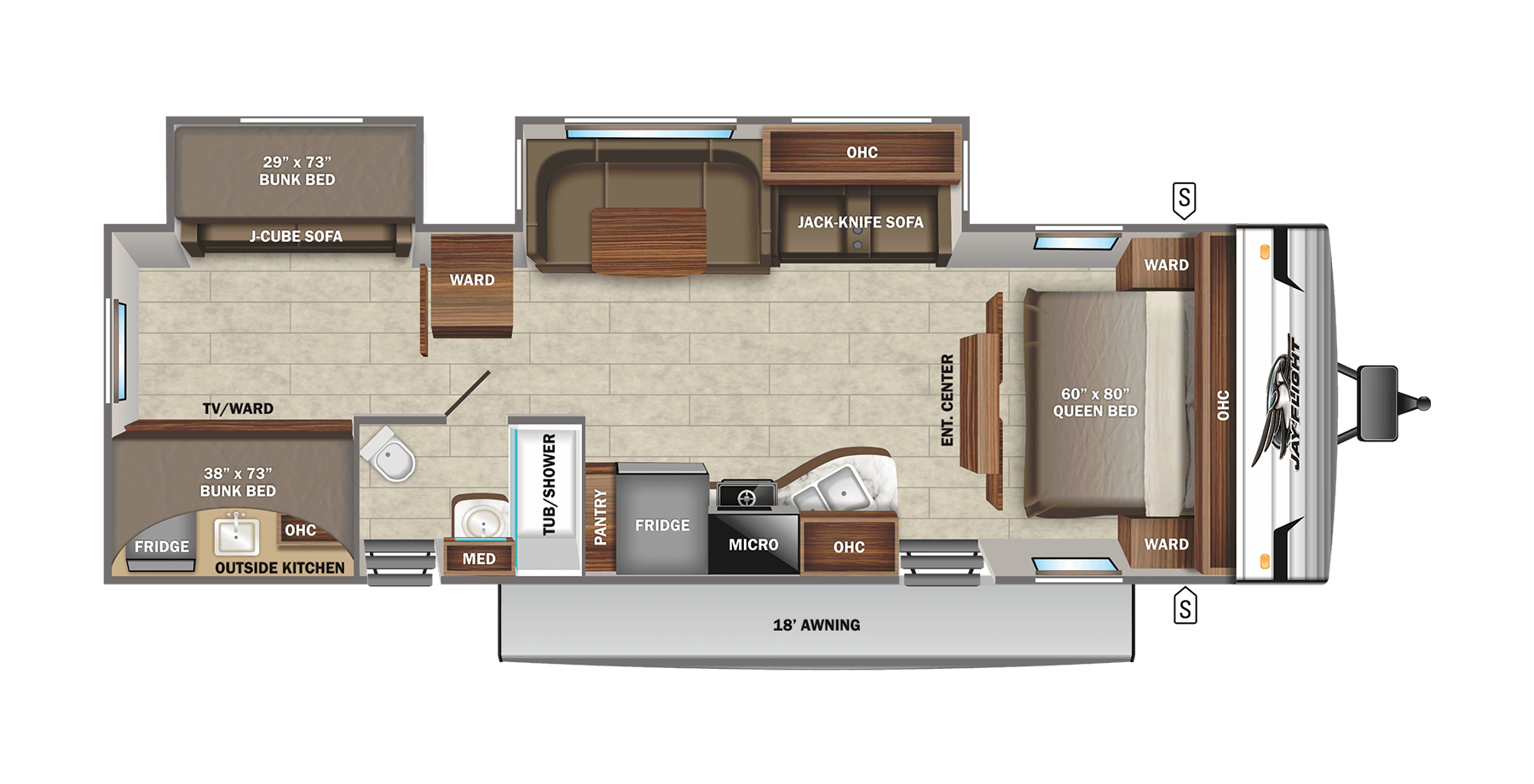 Why it works: Two slides open up the living areas, and the rear bunkhouse easily alters into a crafting or office space. There is plenty of storage, and the bathroom has dual interior and exterior access, which is wonderfully convenient.
Another excellent family option, if you can locate one, is the 2022 32TSBH model, which is dealer stock only but features a slideout in the bunkhouse for even more space, but you will sacrifice bathroom roominess.
Jayco Jay Flight 32BHDS
In Summary
My long-time RVing friends will only own a Jay Flight and swear by the brand for reliability and ease of use.
After taking a tour of the 2022 and 2023 Jay Flight models, I am impressed with the modern design, luxurious features, and efficient layouts that are highly functional and provide plenty of storage.
If you're shopping for a comfortable, functional, affordable camping trailer, a Jayco Jay Flight must be on your list!
QUOTE:
"Man cannot discover new oceans unless he has the courage to lose sight of the shore."
-- Andre Gide