If you're searching for a travel trailer that's built for comfort, look no further than the models offered under the Jayco Jay Flight banner.
History of the Jayco Company
The Jayco Company was founded in 1968 in Northern Indiana by Lloyd and Bertha Bontrage. In the company's first year alone, Lloyd sold over 130 Jayco-branded travel trailers.
In the 1970s, the company expanded into international markets; by the 1980s, Jayco had built its 100,000th RV.
Lloyd entered the RV hall of fame in 1994, and by 1997, he had built and shipped more than 300,000 RVs.
The Jayco Jay Flight model was introduced in 2001. It's one of the most successful models developed by the company.
Jayco Jay Flight Travel Trailer Models (Specifications)
Type of RV
Travel Trailer
Weight
Dry weight: from 5,335 lbs to 9,165 lbs.
Wet weight: from 7,500 lbs. to 11,350 lbs.
How many bathrooms do they have?
Yes, all models have bathrooms; see the floor plans here
How many people can a Jayco Jay Flight model sleep?
The largest Jayco Jay Flight can accommodate up to fourteen people — 4 models: 38BHDS, 33RBTS, 32TSBH, and 32BHDS;
the smallest one was built for 4 people — 1 model: 34RLOK
How many bedrooms do they have?
Some Jayco Jay Flight models come with a queen-sized bed, and some even have two bedrooms
Dimensions
External height: from 10 ft 5-inches to 11 ft 3-inches
Exterior width: from 8 ft to 8 ft 1-inch
Manufacturer-Prices for New Jayco Jay Flight models
From $40,664 (a 2022 Jayco Jay Flight 24RBS) to $49,133 (a 2022 Jayco Jay Flight 38BHDS)

General Overview of Jayco Jay Flight
Jayco Jay Flight models have a unique design comprising good floor plans that are suitable for all family sizes. The outdoor design is excellent and has enough interior space that allows for easy movement. All Jayco models contain high-quality equipment that will meet or exceed your expectations.
Jay Flight 24RBS
The Jayco Jay Flight 24RBS is one of the least expensive Jayco travel trailers with a starting price of $40,664. It has a floor plan that can accommodate up to five people. It also comprises a kitchen space with a microwave, fridge, and sink.
Floor Plan for the Jay Flight 24RBS Model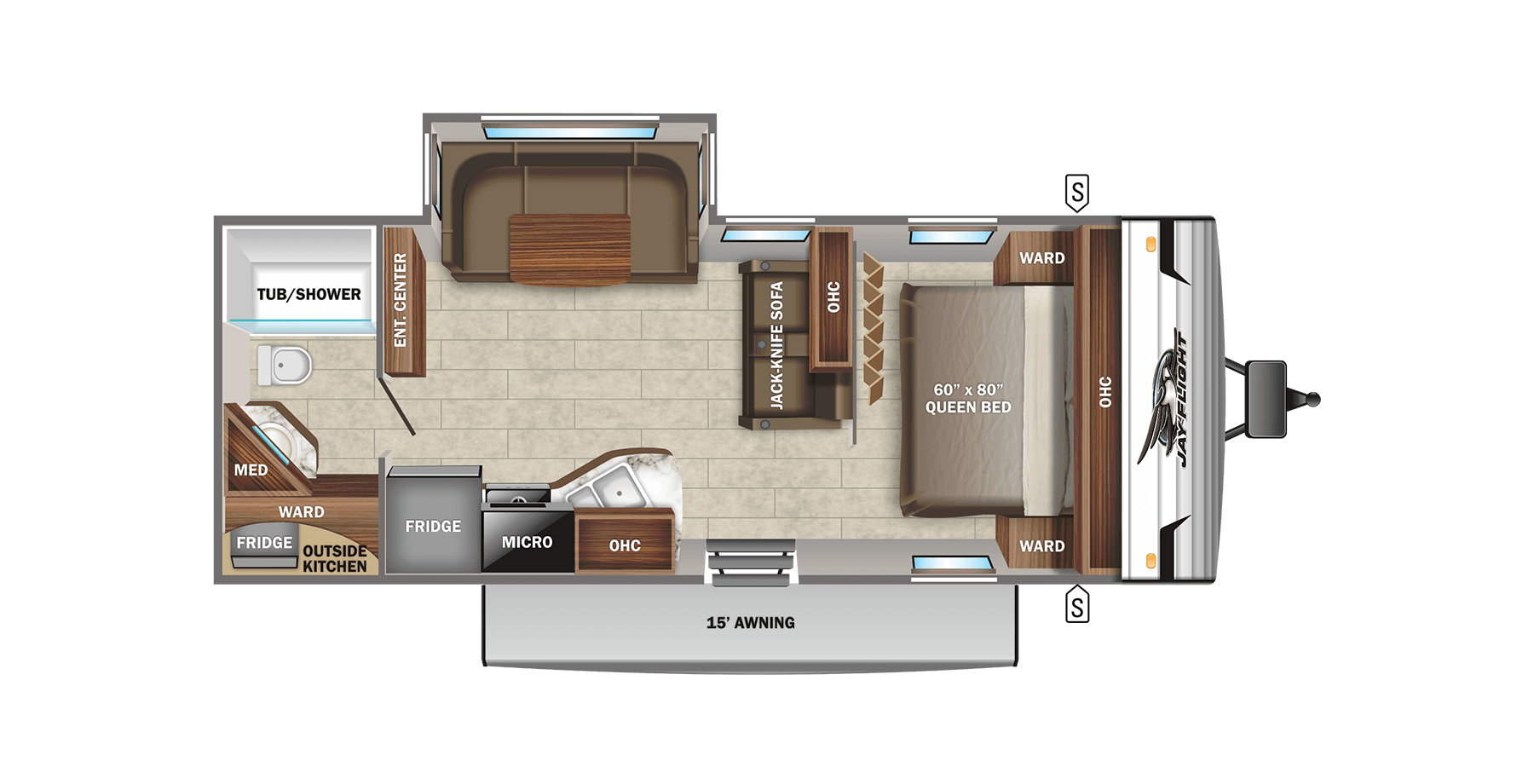 Other main features of this travel trailer include:
Queen bed
Tab/shower
Entertainment space
Jack-Knife Sofa
Toilet
Jay Flight 24RBS (Video)
Jayco Jay Flight 28BHOK
The Jayco Jay Flight 28BHOK travel trailer comes with an inbuilt bunk space measuring 48″ by 8″ — ideal for kids of all ages as it provides a private and spacious sleeping area.
Floor Plan for the Jay Flight 28BHOK Model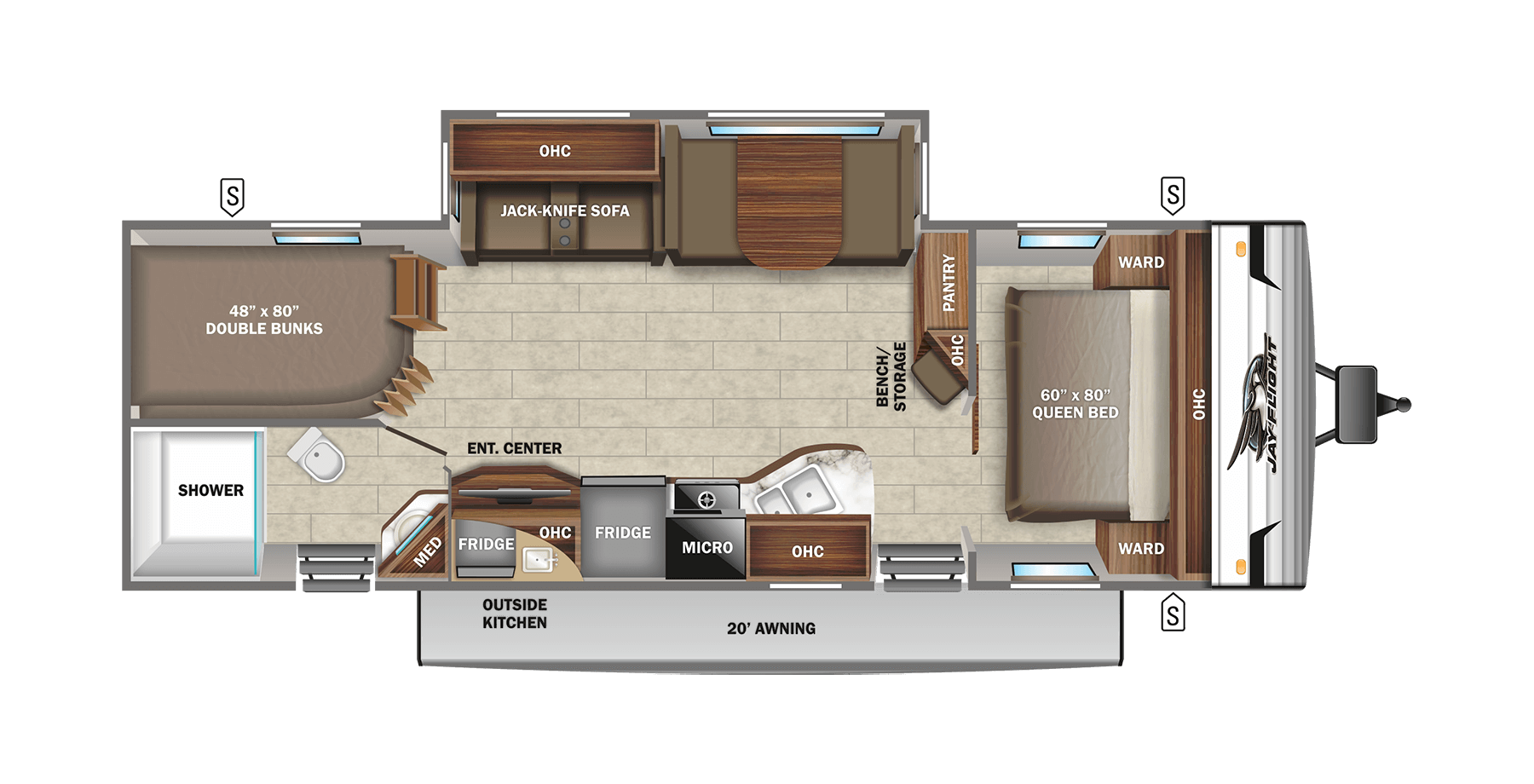 Other main features of the Jay Flight 28BHOK include:
Kitchen space with microwave, fridge, sink, and washing space
Bathroom and Toilet
Storage space
Queen size bed
Jack-Knife sofa
Exterior kitchen space
Pantry
Jay Flight 28BHS
The Jayco Jay Flight 28BHS has a floor plan that's spacious and can accommodate upwards of ten people. The family can watch the latest TV shows on an installed LED TV during their holiday and the double bunks provide enough space for children. Parents also have a separate room with a queen-size bed for privacy.
Floor Plan for the Jay Flight 28BHS Model
Other key features available include:
An inbuilt shower and toilet
Jack-knife sofa
Kitchen space
Jay Flight 28BHS (Video)
Jay Flight 29RKS
The Jayco Jay Flight 29RKS is, in my opinion, the best trailer for a family. It can sleep up to six people as it even has a separate bedroom with a queen-sized bed to provide parents full privacy.
Floor Plan for the Jay Flight 29RKS Model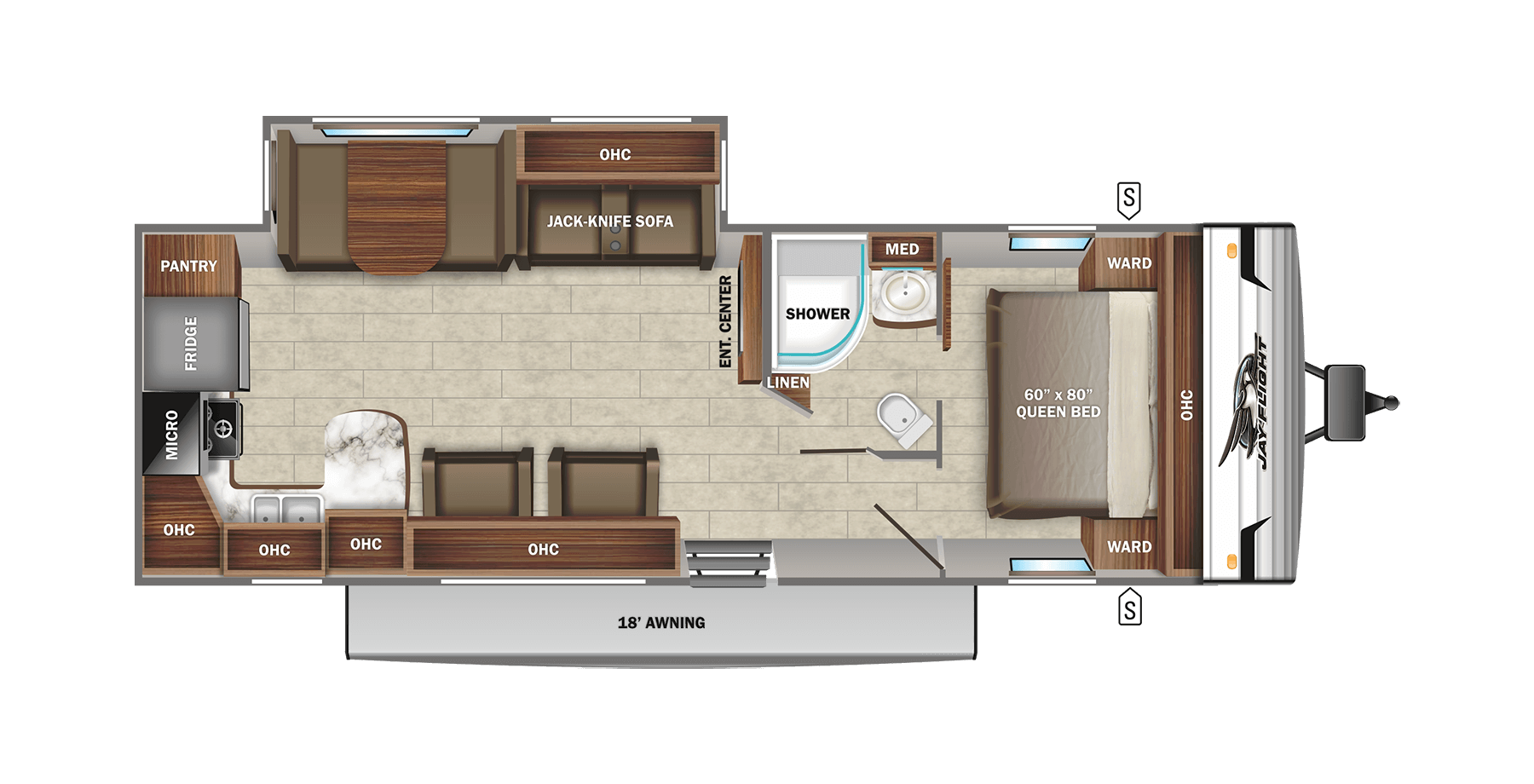 Other key features on the Jay Flight 29RKS include:
Five seater jack-knife sofa
Pantry
Kitchen
Bathroom and toilet
Jay Flight 29RKS by Jayco RV Review (Video)
Jay Flight 32BHDS
Jay Flight 32BHDS is one of the largest RVs in this series. It can house up to 14 people and costs an average of $48,858. It has two bunk beds measuring 29''x73″ and 38''by 73″. The main room contains a queen-size bed.
Floor Plan for the Jay Flight 32BHDS Model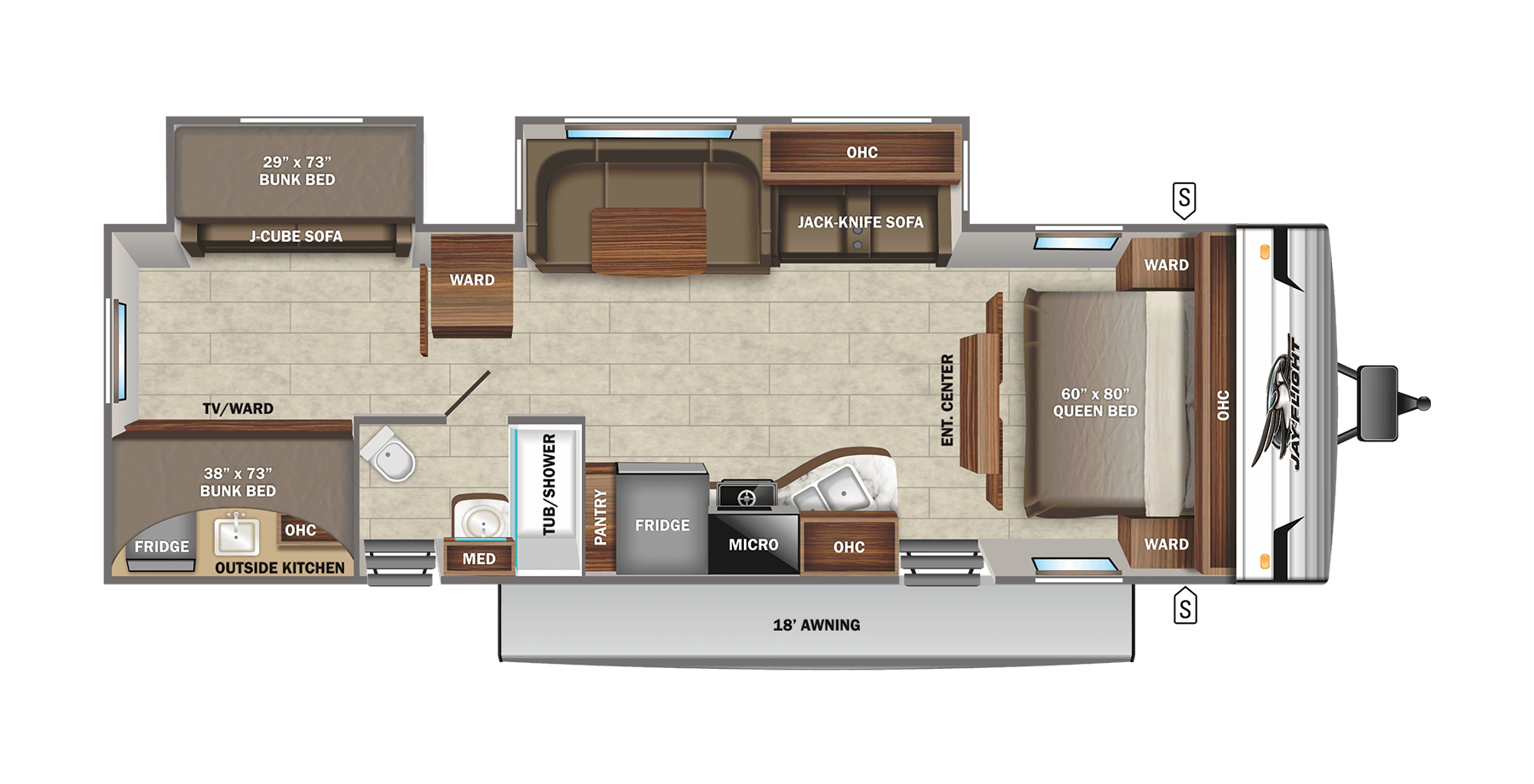 Want to Connect With a Community of Over 1,078 RV Enthusiasts?
Sign up now and get access to our best content, absolutely free!
Other features of the trailer include;
Indoor and outdoor kitchen space
Bathroom and toilet space
Jayco Jay Flight 32BHDS (Video)
Jay Flight 32TSBH
The Jay Flight 32TSBH is a more advanced version in the series. Children can enjoy their best TV programs without interfering with their parents. The trailer contains two entertainment centers, one in the bunkhouse and the other in the main lounge.
Floor Plan for the Jay Flight 32TSBH Model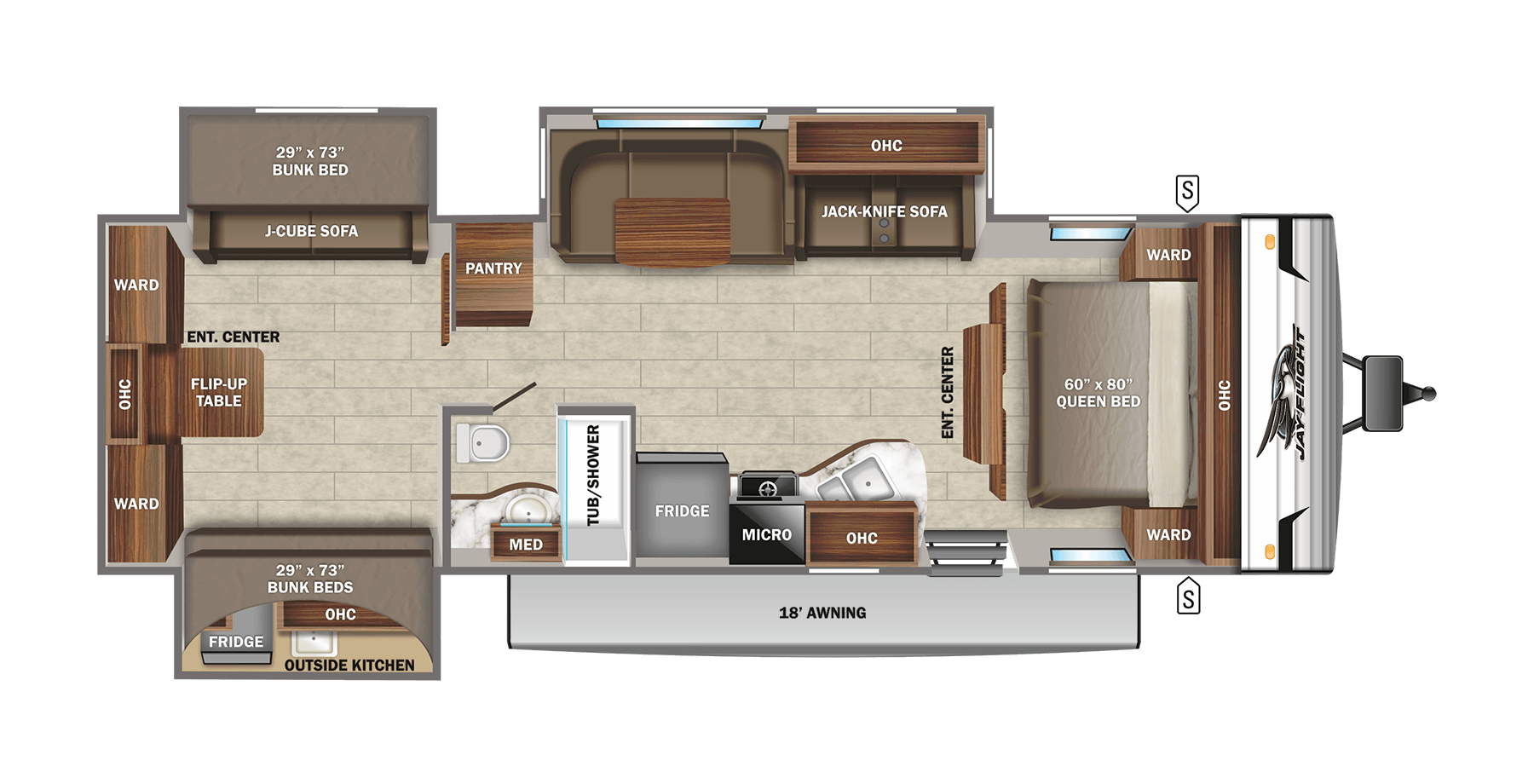 Other key features include:
Interior and exterior kitchen
Tub/shower and toilet
A flip table in the bunkhouse
Jack-knife sofa
Queen size bed
Other models of the Jayco Jay Flight include:
Jayco Jay Flight 32TSBH | Walk Through Tour (Video)
Pros and Cons of the Jayco Jay Flight
Pros
Top-quality interiors
Each model of the Jayco Jay Flight comes with already installed amenities in the market. It comprises well-designed lighting systems. Each kitchen contains a fridge, microwave, and washing sink. The bedroom contains a queen-size bed with a high-density foam mattress.
They also comprise an entertainment room to keep you entertained during your holiday.
It has the best Craftsmanship
Jayco Jay Flight is popular because of its high-quality craftsmanship. It consists of fiberglass front caps, vacuum-sealed exteriors, and the fully-welded aluminum superstructure that adds value to the trailer.
Cons
Poor electrical designs can become fatal in case of an accident
Fragile doorknobs that can easily get damaged
Frequent leaks from the bathrooms and kitchen sink
High maintenance costs
Customized RVs are more expensive
Final Verdict on Jayco Jay Flight 2022
Jayco Jay Flight is one of the best RVs in the market. Despite the few disadvantages, the different models are durable and reliable. One can travel with it to any destination since they are highly flexible. The exterior design is flexible and can fit in tight spaces allowing you to enjoy your weekend and holidays anywhere. They have a big interior space enough for any family size.
QUOTE:
"Man cannot discover new oceans unless he has the courage to lose sight of the shore."
-- Andre Gide