Jayco JAY FEATHER travel trailers are a subsidiary of Jayco trailers. The American-made trailers come with stylish fixtures, flooring, and a solid fiberglass body. It doesn't matter whether you want a small or large trailer; Jayco has something for you and your family.
History
Lloyd and Bertha Bontrager founded the brand from their home in the early 1960s. They used their Northern Indiana home as the base of operations to launch the first camping trailer.
By the end of 1969, the company had sold more than 132 units and had 15 employees. It went international in the early 70s, which also saw it launch new models such as the fifth wheel and travel trailers.
The brand sought to offer innovative products to a fast-changing consumer market. Its dream to remain a market leader helped it stay ahead of the times. Its trailers were the first to feature a stand-up area in the front bedroom and surround sound system.
To date, the brand has shipped more than a million units and continues to embrace technology as it emerges. With over 50 years in the RV market, the Jayco brand has become revered for connectivity and comfort.
Specs of the 2019 Jayco Jay Feather 24RL
Type of RV
Travel Trailer
Weight
Dry Weight: 5,285 lbs.
Wet Weight: 6,500 lbs.
Does It Have a Bathroom?
Yes, see the floor plan here or the image later in the article
How many people can a 2019 Jayco Jay Feather 24RL model sleep?
It can accommodate up to 6 people
How Many Beds Does It Have?
1 queen-sized bed and two sofa/ convertible beds
Dimensions
Length: 28.42 ft. (341 in.)
Height: 10.83 ft. (130 in.) Width: 8 ft. (96 in.)
Manufacturer-Prices for New Jayco Jay Feather 24RL
$22,901
General Overview of the 2019 Jayco Jay Feather 24RL
Jayco travel trailers are popular with families and couples looking to take cross country tours and sight-seeing trips. Every lightweight 2019 Jayco Jay Feather 24RL comes with many excellent features designed to meet your traveling and residential needs.
Floor Plan for the 2019 Jayco Jay Feather 24RL Model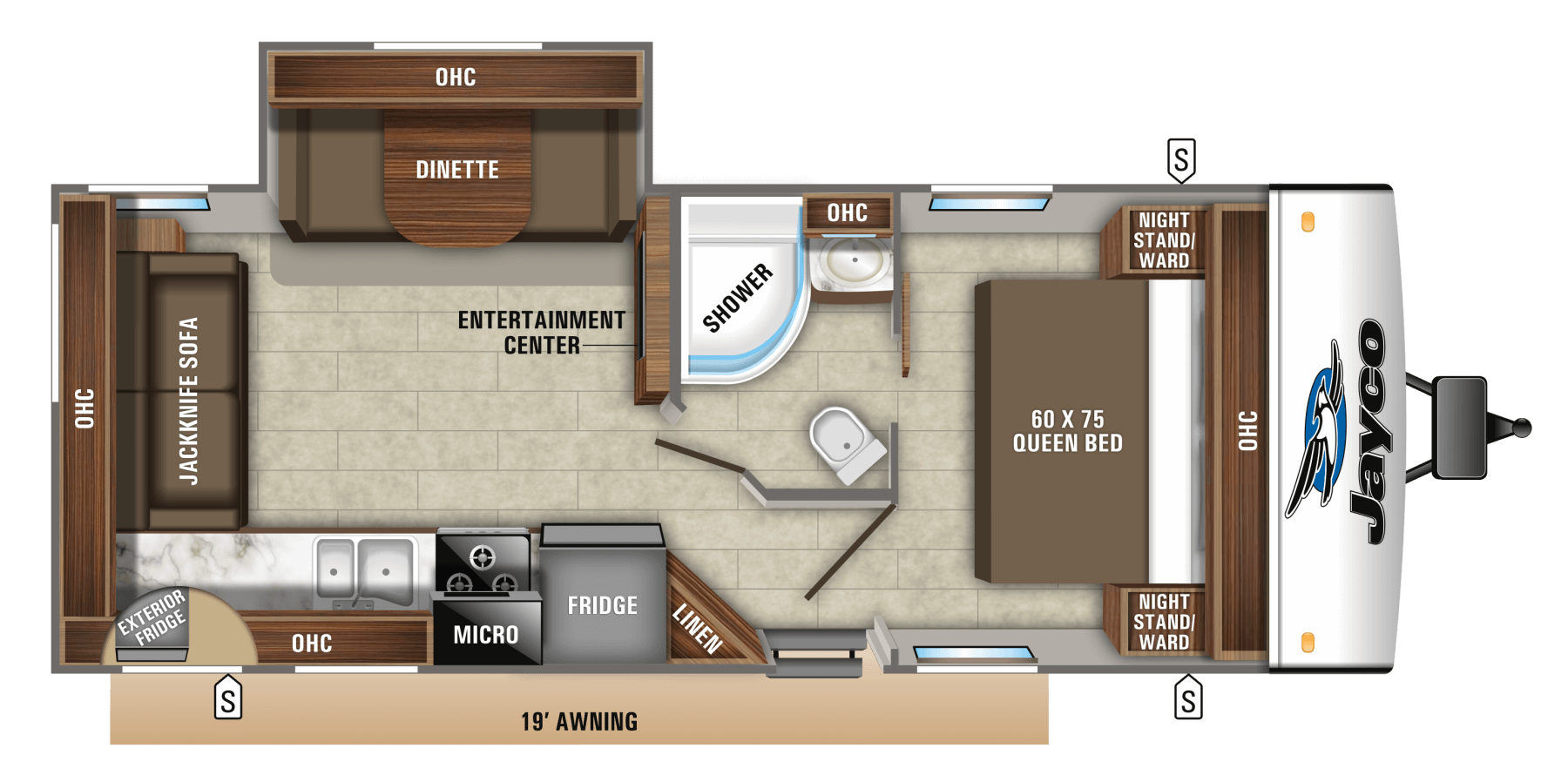 The ability to choose your desired floorplans and accompanying amenities is one reason you'll love this model. Different floorplans are present to meet your family's requirements. Remember to select a plan keeping in mind the number of people who will use the RV.
2019 Jayco Jay Feather 24RL (Video)
Top Features of the 2019 Jayco Jay Feather 24RL
No one wants to travel in a cramped space when roaming around the country, and more so when you have toddlers traveling with you. It's why you need to consider a trailer that offers lots of breathing room and other accompanying amenities.
Standard features in the 2019 Jayco Jay Feather 24RL:
1. Bathroom
The spacious bathroom features a built-in ceiling vent and skylight to keep your family feeling refreshed throughout the trip. Each bathroom comes with a pre-installed sink and shower. Its presence means you don't have to make countless bathroom stops along the way.
2. Lightweight Design
The 2019 Jayco Jay Feather 24RL not only looks good from afar, but it has a lightweight towable design that enables you to travel with it to any location. Its designers have included an excellent frame and a durable body that can withstand all road conditions.
It's a trailer that you can take to any camping location.
3. Beautiful Bedroom
Nothing beats falling asleep on a comfortable, spacious queen-sized bed at the end of a long day. The bedroom in the Jay Feather features a queen-sized bed that can comfortably sleep two people. Each bed has side cabinets.
The multiple windows will give you a perfect morning view of the outdoors after a full-night sleep. You can use the manufacturer-installed nightstands to store some of your clothes instead of leaving them inside your travel bags.
4. Bunk Beds
The Jayco Jay Feather series provides several floorplans depending on the size of your family. Consider buying a 2019 Jayco Jay Feather 24RL with enough space for multiple bunk beds if you have a large family. The bunk beds offer enough room for your travel companions to rest or sleep.
5. Indoor Kitchen
The chosen layout will determine your kitchen design. Some configurations come with a beautifully finished kitchen featuring a three-burner cooktop, cabinets, and shelves to hold your groceries and cooking appliances.
The makers have provided a glass covering for different countertops and shadings. It assists in enhancing its internal design and beauty.
6. Outdoor Camp Kitchen
Every family trip doesn't have to be the same. The purpose of taking these trips is to create memories and have fun as a unit. If the camping location allows it, you can use the outdoor camp kitchen to enhance your camping experience.
Please note that this kitchen is only available in select models. With it, you can BBQ and watch the sunsets with the family as you participate in outdoor games.
7. The Interior Décor
The team at Jayco Jay Feather has done its best to offer you a cozy and super comfortable interior. It comprises a white, bright environment with immaculately finished floorplans. Clients can request the manufacturer to include any additional features they may want.
8. Detailed Lounging Area
The RV has a detailed lounging area featuring decorative items, placing, and wooden cabinetry with firm screws. Overhead storage areas and a wide flat-screen TV are available to enhance your movie experience.
2019 Jayco Jay Feather 24RL Travel Trailer (Video)
Pros and Cons of the 2019 Jayco Jay Feather 24RL
Pros
LED lighting in its ceiling
Lightweight design makes it towable on all roads
The model comes with an inbuilt water filtration system
The kitchen has a pre-installed oven and glass cooktop
Aluminum tread entry steps to prevent slipping
Cons
Costly to maintain
Some clients have complained of poor service from the dealerships
Final Thoughts
The 2019 Jayco Jay Feather 24RL are some of the best campers from Jayco. From the general description we have given above, it's clear that the manufacturer has gone above and beyond to provide a comfortable trailer.
Its built-in features such as the stand-up bathroom and wide flat-screen TV will help keep you feeling refreshed and entertained. We recommend choosing a model with a larger space to accommodate the bunk beds if you intend to travel with the kid or other family members.
With a starting price of $22,901, the 2019 Jayco Jay Feather 24RL is one RV you should check out the next time you're shopping for an RV.
QUOTE:
"Man cannot discover new oceans unless he has the courage to lose sight of the shore."
-- Andre Gide