The Transcend Xplor travel trailer by Grand Design is getting great reviews for its high-end look and top-notch amenities and features, but how does it perform during real-life camping trips?
What seems appealing on the showroom floor doesn't necessarily work when you're towing, parking, and using the travel trailer in real life. So, I'm here to analyze the Transcend Xplor floor plans, features, quality, and price to help you understand more about the brand.
Stay here for my honest feedback on whether or not the Grand Design Transcend Xplor travel trailer line is a good fit for the RV lifestyle!
Grand Design Transcend Xplor History
Grand Design is a family-owned and operated RV manufacturer that began in 2012. The company has nine lines of RVs, including travel trailers, fifth wheels, and toy haulers.
The Grand Design Transcend Xplor is a newer member of the company's line of travel trailers and offers spacious interiors and high-end features for people wanting a more luxurious camping experience.
Grand Design Transcend Xplor Travel Trailer Models
The Grand Design Transcend Xplor offers 13 efficient floor plan options and two limited dealer-stock-only models. There's enough variety in size, length, and sleeping capacity to meet the needs of many campers, but overall the selection is much less than other brands offer.
Here is an overview of the Transcend Xplor Travel Trailer specification range:
Length: 24′ 11″ – 36′ 11″
UVW: 4,915 lb. – 7,980 lb.
GVWR: 6,995 lb. – 9,995 lb.
Sleeps: 4 to 10
Price: $35,755 – $49,408
Most models are 30 feet or longer, making the Xplor more suitable for families, couples, or solo travelers who want more living space.
However, if you're looking for a compact camping trailer, even the smallest Xplor is still quite spacious, and you may want to look into the Grand Design Imagine line instead.
The Transcend Xplor travel trailers have a mid-range price tag for the size and features they offer, which I like as it gives RVers a chance to upgrade without breaking the bank.
Grand Design Transcend Xplor Standard Features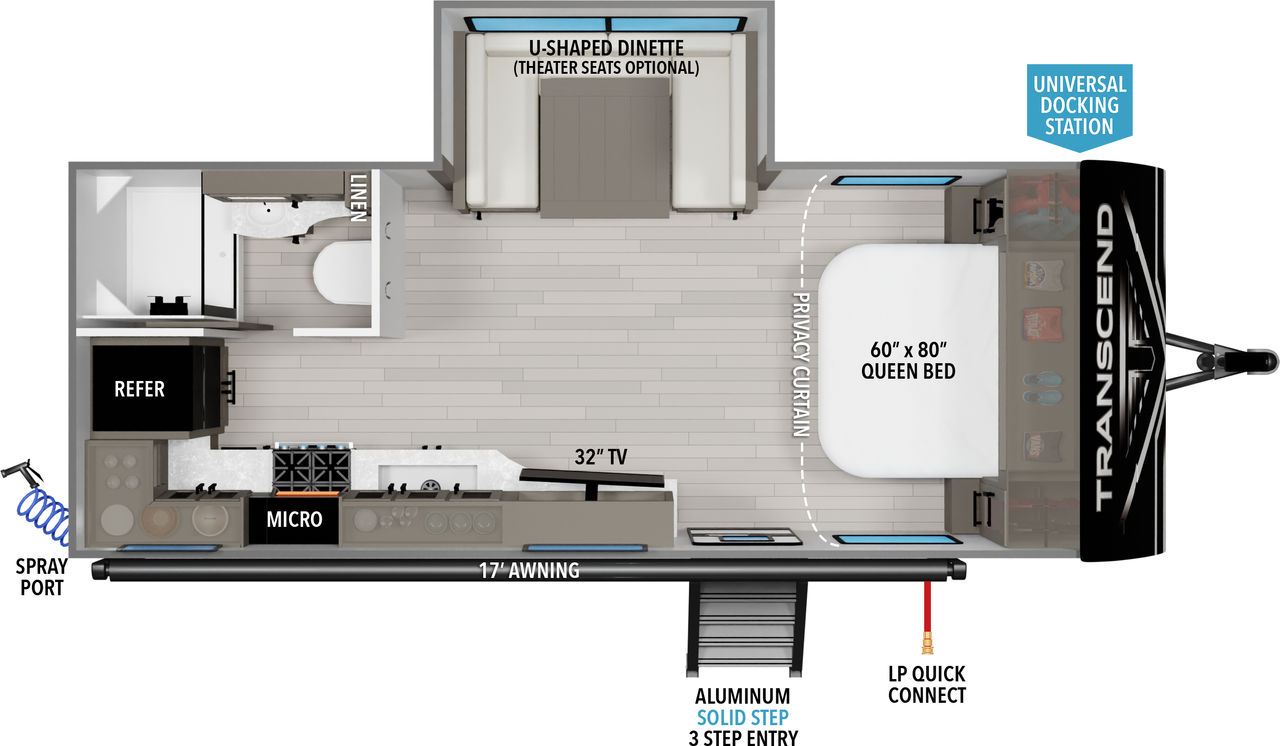 The Grand Design Transcend Xplor travel trailers include numerous standard features. Visit granddesignrv.com for the complete list, but here are some of the highlights:
LED Lighting
All the lights inside and outside the camper are LED, which is more energy efficient and does not emit heat like standard fluorescent bulbs.
Kitchen
All models come with a microwave, a 3-burner range with oven, a sink with high-rise faucet, and a modern and super efficient 12-Volt 8-cubic-foot refrigerator.
Bathroom
All bathrooms will include a walk-in shower with ABS tub surround, a medicine cabinet with mirror, a power vent fan, and a foot flush toilet.
Sleeping Options
Expect each trailer to include a queen or king-size bed with EZ-lift under-bed storage, bunk beds, a convertible dinette, a tri-fold sofa, or a sleeper sofa for guests.
Entertainment System
Each travel trailer includes a TV, DVD player, speakers, and built-in satellite and antenna for connectivity in more locations.
Outlets and USB Ports
Expect two USB ports in each Transcend Xplor trailer and extra 110-volt outlets. You also get a battery kill switch and a detachable power cord to prevent damage when your RV is not in use.
Heating and Cooling System
Each unit comes with a 35K BTU high-capacity furnace, EvenFlow ductless heating, ducted air conditioning, and an attic vent to keep your RV comfortable in any season.
Plumbing Systems
Inside each Transcend Xplor, you'll find a high-capacity water pump, a 6-gallon DSI quick-recovery water heater, oversize fresh water and waste water tanks, an E-Z winterization setup, and an all-in-one utility center.
Power Awning
Every awning in the Xplor line operates with the push of a button, making it fast and easy to open and close the unit. In addition, the awning includes integrated LED lighting for nighttime use.
Solar Power Package
Every Transcend Xplor comes with a 165W roof-mounted solar panel and 25-amp charge controller, allowing for easy off-grid camping, which is a huge bonus.
StongWall Aluminum Exterior
The Grand Design exclusive sidewall design is 25% thicker than other RV brands, making it stronger and more durable.
Insulated Walls, Floors, and Roof
The Transcend Xplor has R-40 insulation in the front wall and roof, R-11 insulated floor and enclosed underbelly, and R-9 residential insulated walls. The extra insulation will keep the travel trailer cooler in summer and warmer in winter.
Grand Design Transcend Xplor Top Features
The Transcend Xplor has some great features that will make camping trips enjoyable. Here is a list of the things I think Grand Design did right:
More Counter Space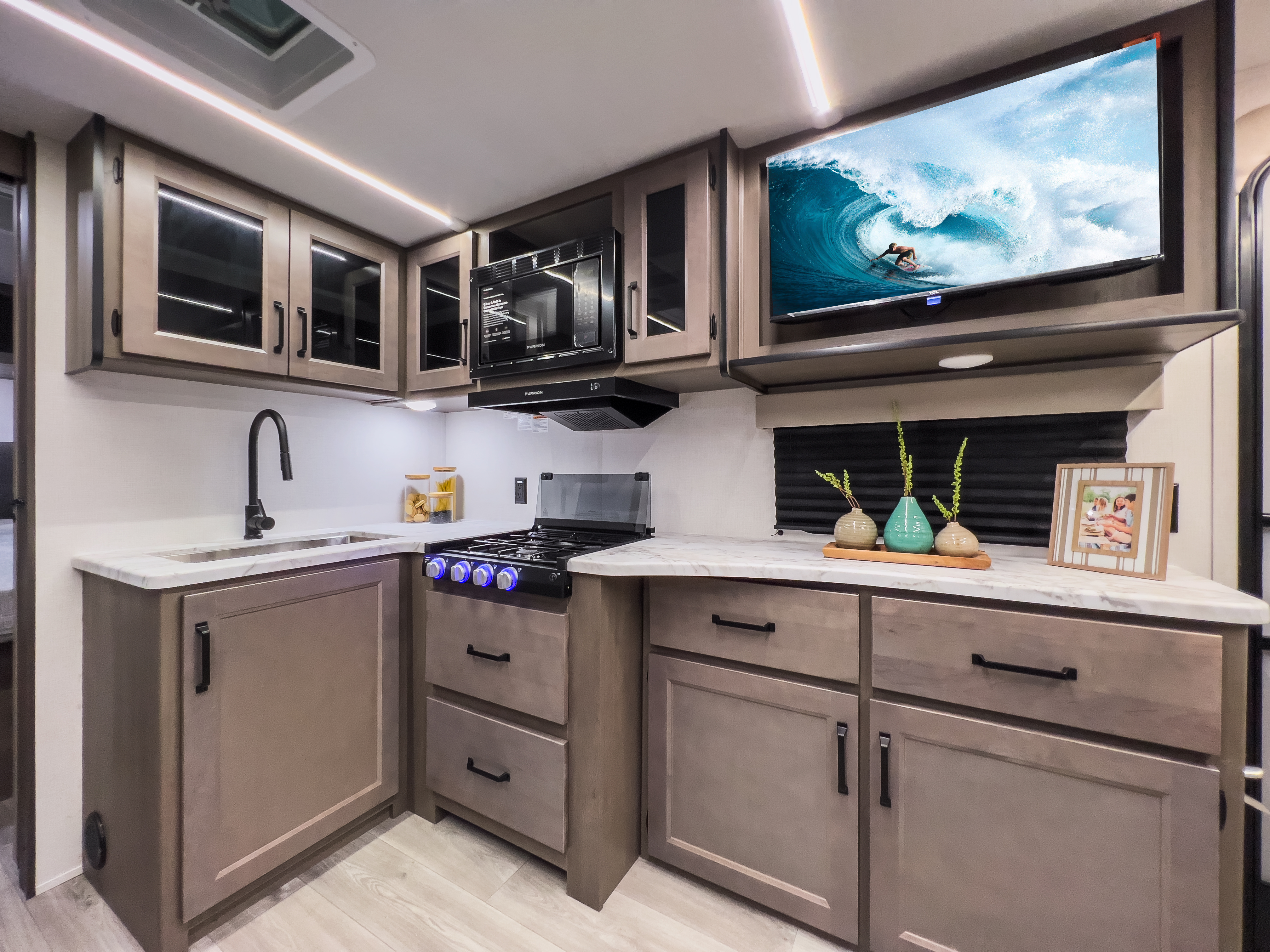 I like how the Transcend trailers have longer/larger counter sections in the kitchen around the sink and stove, which provides more surface for food prep or serving. The bathroom counters are also more extensive, giving you more room for toiletries or laying out a towel or clothing.
Many of the models also have countertops in other areas, such as right inside the door (with a shoe rack underneath, no less!) I know it doesn't seem like a big deal, but these extra inches of counter space will make daily tasks much more manageable.
Bunkhouses
There are six models with bunkhouses, and one even includes a half-bath making it ideal for family camping trips. I like the variation of bed choices, such as a full-size bed with a twin bunk over, double-size bunks, or dual sets of twin bunks.
Upgraded Furniture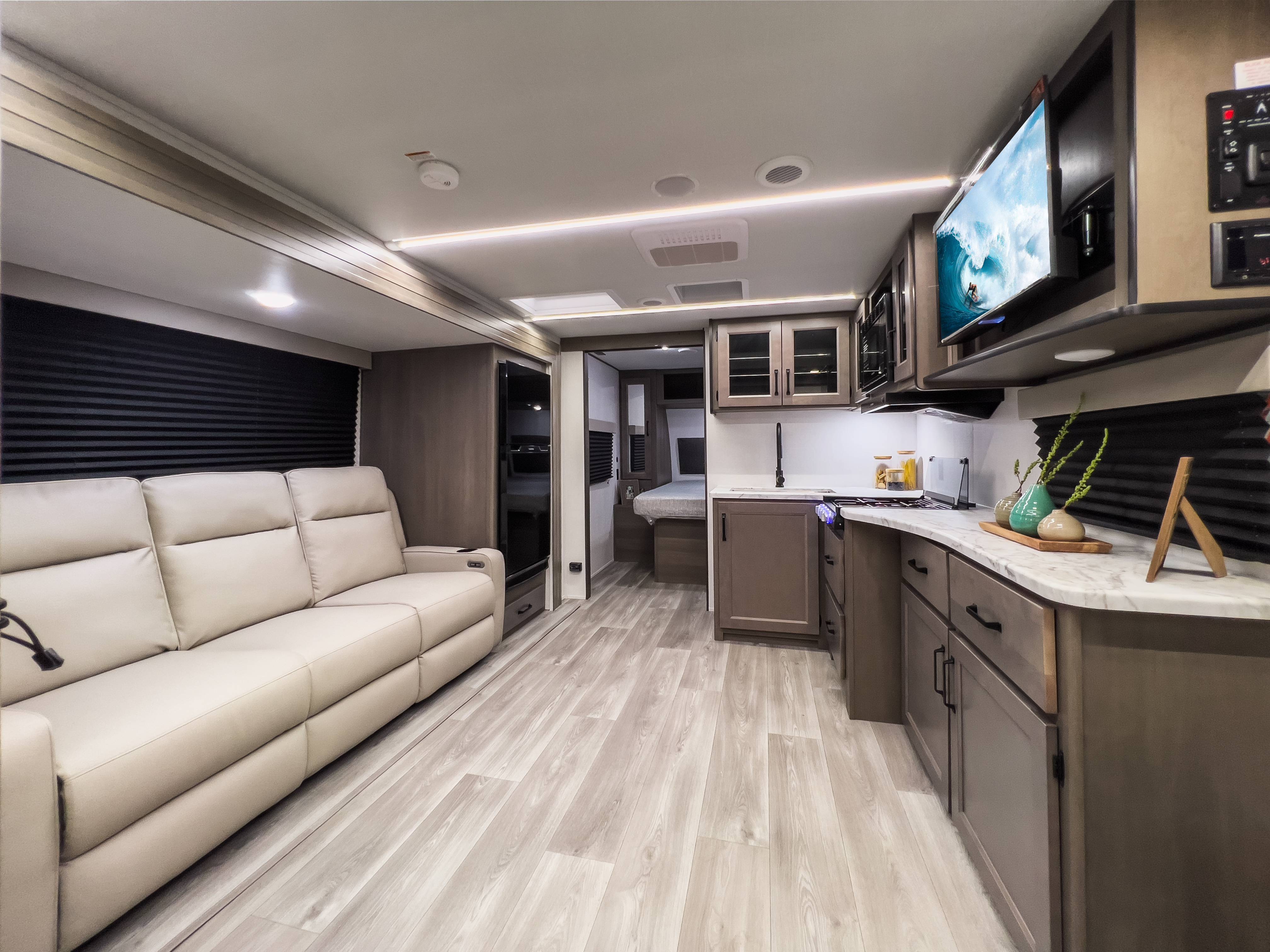 The interior furniture of the Transcend models has a high-end look, with some of the couches featuring decorative stitching, thicker cushions on the dinette and bunks, and well-made cabinetry and hardware.
The camper has a residential-size fridge, solid-surface countertops, and a solid-core bedroom door on units with a main suite.
Quality Materials
You can instantly tell the Transcend Xplor is made with superior materials versus other RV brands. In addition, the craftsmanship of the interior and exterior components means they will hold up better to the stress of travel and be easier to maintain.
You often don't find a TPO Roof Membrane with an 18-year warranty or a power tongue jack standard on any recreational vehicle, but the Transcend has it. I feel the build quality feels like a much more expensive RV, which is surprising at this price point.
Excellent Towing
The Transcend travel trailers get exceptional reviews for how well they tow due to the well-balanced weight distribution and aerodynamic front-end design.
Exterior Spray Port
Each unit features an exterior hose with a sprayer, which is ultra-convenient for rinsing off dirt, sweat, or sand after a day of play, washing pets or camping gear, or cleaning up after cooking out.
Storage
The designers took the needs of RVers to heart and added drawers, a pantry, overhead cabinets, and shelving where ever possible so you can keep your belongings organized. However, the way the company implements the storage keeps the interior feeling spacious, which is a nice touch.
Access When Slides Are In
Want to Connect With a Community of Over 1,078 RV Enthusiasts?
Sign up now and get access to our best content, absolutely free!
During travel, it's common to pop into the trailer to grab something from the fridge or to use the bathroom. However, if you're RV has slides, it may be challenging to access the things you need without some awkward maneuvering.
Luckily, the designers of the Transcend Xplor thought about this and made sure they left the room to walk through areas with a shut slide and that you have access to any drawers or cabinets.
Best Little Features of the Grand Design Xplor Travel Trailer (Video)
Grand Design Transcend Xplor Cons
There are some issues with the Transcend travel trailer line, but the complaints are less widespread than I found with other brands of RVs. Here are the problems I came across most:
Water Leaks
Some customers report leaking around windows and in some slide toppers, causing water damage to the structure and interior furnishings.
The use of corrugated aluminum sheathing for the exterior walls versus a smooth laminate found in other RV brands is one possible reason the window frames aren't sealing as tightly as they should.
Limited Exterior Storage
What the Transcend does well with storage on the inside, it lacks on the outside. The outside storage compartments aren't as plentiful or spacious as other similar-sized travel trailers.
Small Oven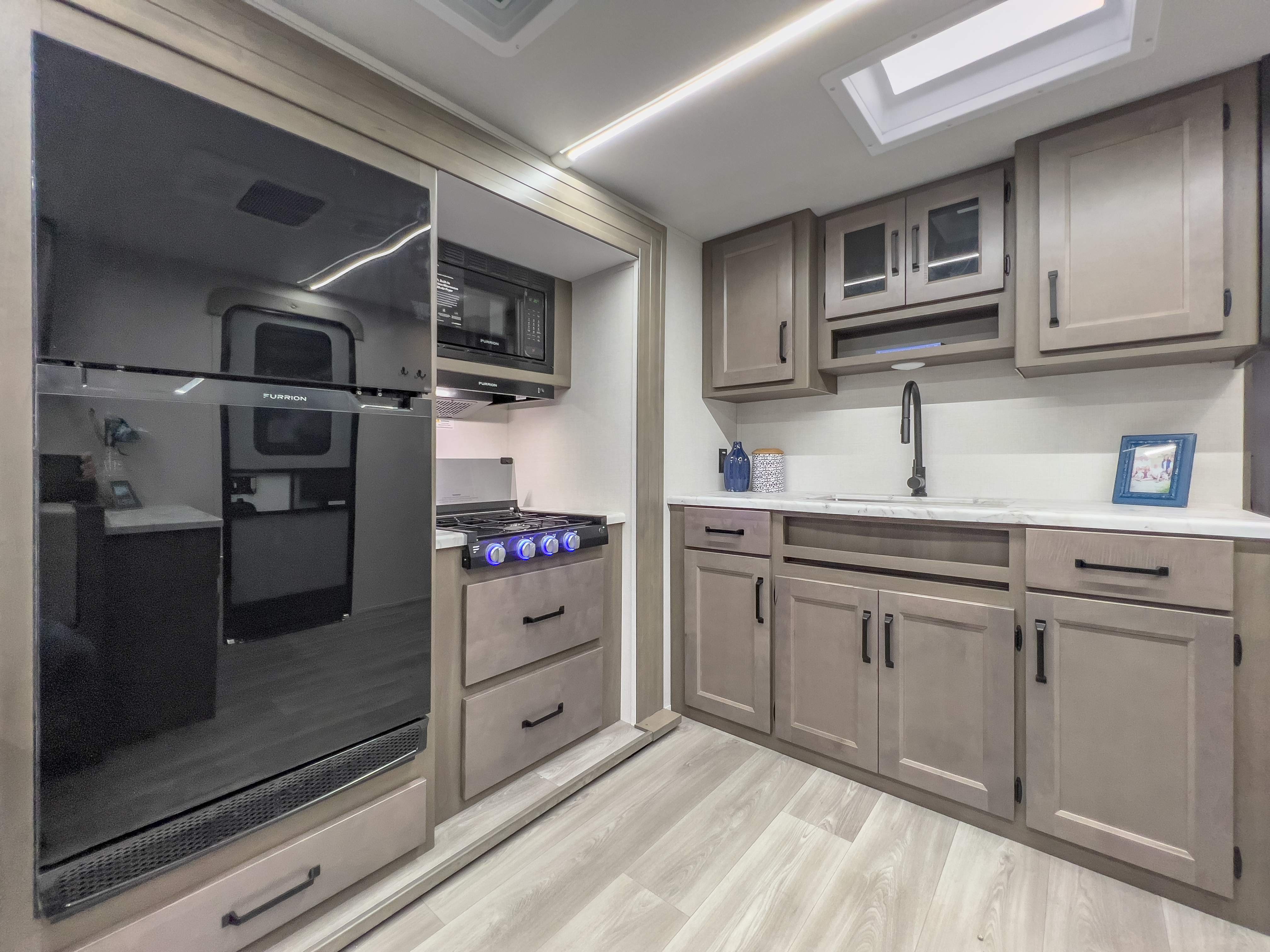 For the Transcend models with an oven, the capacity is far from the size of a residential unit, which can lead to problems if you're trying to cook for a large family or group.
I get it that most RVers prefer to grill outside or enjoy local restaurants, but if you love to cook or bake on camping trips, this camper line may not be for you.
Sticking Entry Door
I find numerous complaints about the entry doors on the Transcend Xplor travel trailers getting stuck. The issue appears to be from swelling of the wood framing around the doors when the weather gets warm and humid.
The issue is more challenging than pushing firmly on the RV door to get it to open or shut. Some of the doors are jammed so tight the owner couldn't get in or out of their camper, and they had to use a window to escape.
Unfortunately, getting this issue resolved through Grand Design customer support can be a new problem, as owners state they were getting stonewalled on getting it repaired under warranty.
Emergency Exit Window Screen Falls Out
There are numerous complaints about the screen falling out of the emergency exit window since the tabs in the screen frame must be perfectly aligned with the slots to engage and hold it in place.
This issue is more of an annoyance, but if the screen pops off while traveling down the highway, it could pose a danger to other drivers and prevent you from using that window for ventilation while camping.
Everything That Was Wrong with Our Grand Design in the First Year (Video)
In Summary
A recreational vehicle needs to function efficiently and be comfortable while camping for it to be a smart investment. Otherwise, frustration will lead you to trade your new camper for a travel trailer that suits your needs better.
If you're in the market for a mid to full-length travel trailer, look at the Grand Design Transcend Xplor and see if it has a floor plan that suits your needs because the features and quality are impressive.
While Grand Design has its share of negative reviews for other RVs in its lineup, the Transcend Xplor is solidly built, reasonably priced, and worth a closer look!
QUOTE:
"Man cannot discover new oceans unless he has the courage to lose sight of the shore."
-- Andre Gide