Is the Grand Design Reflection travel trailer or fifth wheel on your RV shopping list, but you're wondering if it's a good investment?
The Reflection camping trailers are more expensive than other RV lines, but that doesn't necessarily mean the floor plans or amenities match the expectations of the higher price tag. That's why I am breaking down the different Reflection models, including all the pros and cons of the brand, so you can decide for yourself if it's a good match for your needs.
So please stay here if you want an honest review from a full-time RVer, including what owners say about the Grand Design Reflection features and customer support, to ensure your final decision is the right one!
Grand Design Reflection History
In 2012, Grand Design RV was born with a partnership between close friends Ron and Bill Fenech and Don Clark. In a unique move, Winnebago bought the brand in 2016 yet let Grand Design operate as an independent manufacturer.
The owners had decades of experience in the RV industry and wanted to provide an upgrade to standard recreational vehicle amenities, construction materials, and customer service.
The Reflection line of camping trailers came to market in June 2013 and continues to be a top seller for the company.
Of all the Grand Design lines, the Reflection is mid-range in terms of price, with the Solitude fifth wheels and Momentum toy haulers the company's luxury line and the Imagine series their most economical campers.
Grand Design Reflection Travel Trailer and Fifth Wheel Models
Reflection Travel Trailers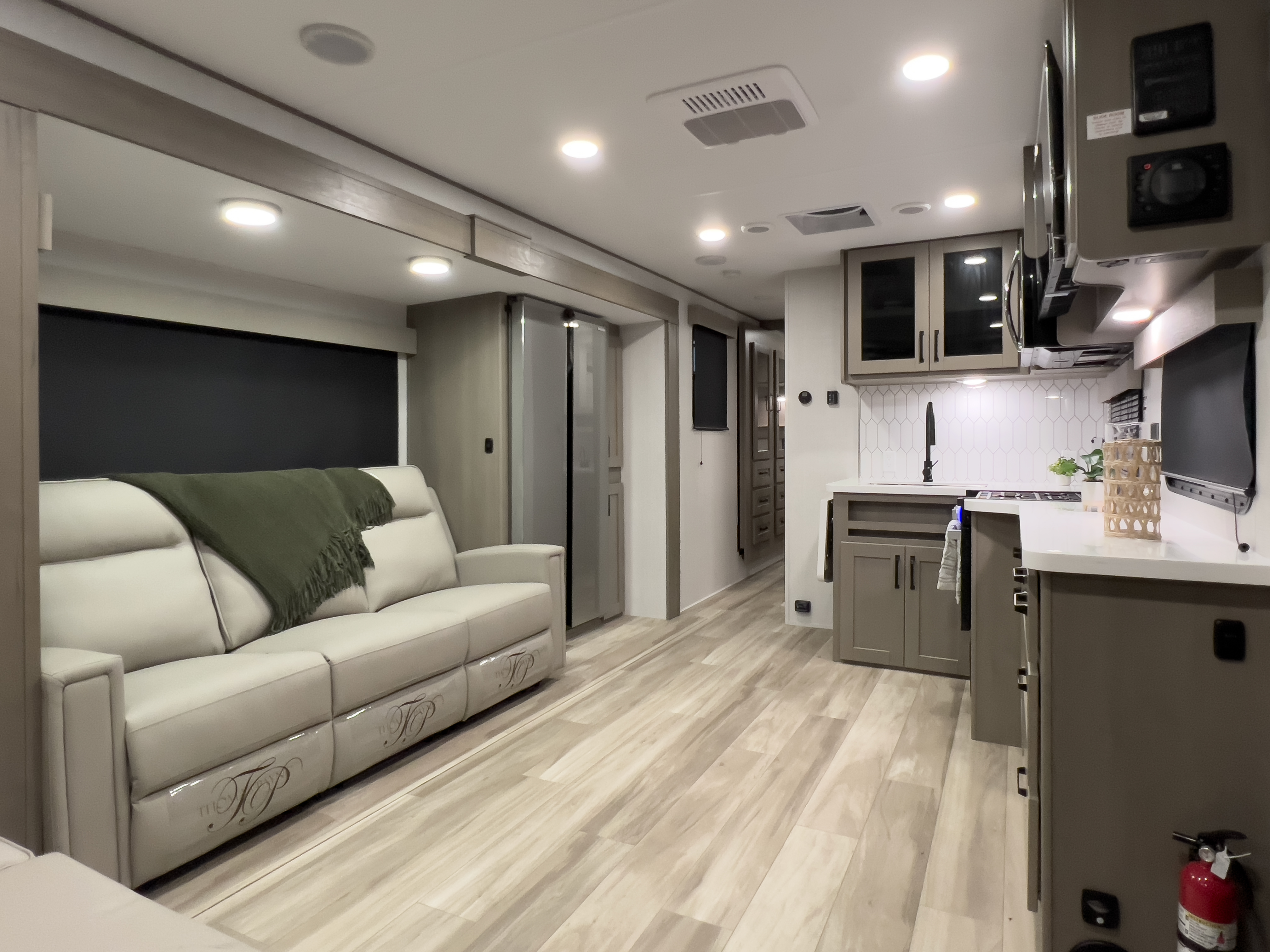 All are over 33 feet, so if you're looking for a compact trailer, you'll need to check out a different brand.
Here is an overview of the Reflection Travel Trailer specification range:
| | |
| --- | --- |
| Length: | 33′ 10″ – 37′ 11″ |
| UVW: | 7,808 lb. – 9,443 lb. |
| GVWR: | 9,995 lb. – 11,295 lb. |
| Sleeps: | 4 to 6 |
| Price: | $67,432 – $79,594 |
Reflection Fifth Wheels
There are eight Reflection Fifth Wheels, with two additional dealer-stock-only floor plans. Again, this is a small selection of floor plans, but using multiple slideouts per unit increases interior living space.
Here is an overview of the Reflection Fifth Wheel specification range:
| | |
| --- | --- |
| Length: | 32′ 9″ – 41′ 6″ |
| UVW: | 9,854 lb. – 12,552 lb. |
| GVWR: | 11,995 lb. – 14,995lb. |
| Sleeps: | 4 to 8 |
| Price: | $85,184 – $102,640 |
Reflection 150 Series Fifth Wheels
There are seven Reflection 150 Series Fifth Wheels, with one additional dealer-stock-only floor plan. These units are shorter and lighter, with a 90-degree turning radius, perfect for towing with half-ton and short-bed trucks.
Here is an overview of the Reflection 150 Series Fifth Wheel specification range:
| | |
| --- | --- |
| Length: | 26′ 11″ – 35′ 9″ |
| UVW: | 7,204 lb. – 8,995 lb. |
| GVWR: | 9,995 lb. – 10,995lb. |
| Sleeps: | 3 to 10 |
| Price: | $66,307 – $77,696 |
Grand Design Reflection Travel Trailer and Fifth Wheel Standard Features
The Grand Design Reflection fifth wheels and travel trailers include many standard features. Visit granddesignrv.com for the complete list, but here are some noteworthy items:
16 cu. ft. Refrigerator with Glass Door Fronts
35,000 BTU Furnace
15,000 BTU Air Conditioner
Insulation R-40 Roof, R-30 Floor, R-9 Walls and Slides
Full-size Pantry
Power Awning
Outside Shower
One-Piece TPO Roof Membrane and Walk-on Roof Decking
Aerodynamic Front Cap w/ Max Turn Radius and Integrated LED Lights
Oversized Bed Base Storage
Bedroom Heat Registers
In my opinion, all of these features improve the camping experience, especially the residential-style kitchens with full-size appliances.
Seeing so many beneficial standard features in the Reflection line is nice. Unfortunately, many RV brands list items that don't really impact camping efficiency or comfort for guests and only offer such amenities as an optional upgrade.
Now, let's dive into all the pros and cons of the Reflection line of recreational vehicles and what models I feel are the best for each RV type.
Grand Design Reflection Pros
Here are the things Grand Design did well with the floor plans and features in the Reflection camping trailers and how they benefit RVers during camping trips.
Ample Slideouts
Each Reflection unit has two to four slideouts that increase interior floor space. I love the models with wide slides on both sides of the central kitchen and living area, which is the closest you'll come to feeling like you're in a house, not a camper.
Having a few extra square feet to walk around makes it much easier to perform daily tasks, access storage, and allow guests to move around.
Sleeping Options
Even though the selection of floor plans is slim across all the Reflection camping trailers, they have bunkhouses ideal for family camping trips.
If you have the budget and plan to camp with kids, always choose a camper floor plan with stationary beds in a bunk area or separate room. These models provide the simplest way to prep for bedtime that doesn't require adults to vacate the main living area to convert a sofa or dinette to a bed.
Elegant Interior Design
The little touches in the finish of the interior furniture, flooring, walls, and upholstery make the Reflection look high-end. The colorway is soothing on the eyes and neutral enough to take on your choices for accent colors and decor.
The Reflection uses recessed cabinet panels, decorative backsplashes, under-cabinet lighting, and modern window valance styles that add value to the camper.
Great Kitchen Flow
The kitchen layout lets users cook, clean, and stow items with minimal movement, a wonderful design element. Most RVs offer all the standard kitchen appliances but don't place them in a location that provides natural flow, nor do they include enough counter space.
My "test" of pretend cooking and washing dishes in several Reflection models passed with flying colors. I didn't encounter any issues with awkward movements or a lack of a place to store dishes or food.
The kitchens have more than enough storage for even large families, and the fridge is enormous!
Almost all the kitchen areas in the Reflection line have a long countertop to provide extra room for food prep or serving. The 12 models with an island further increase functionality of the kitchen, which is a must-have for those who love to cook.
Another nice touch in the dining area is that many units have a freestanding dinette combo that uses a storage bench on one side, chairs on the other, or chairs all around so each guest can sit comfortably.
Bedroom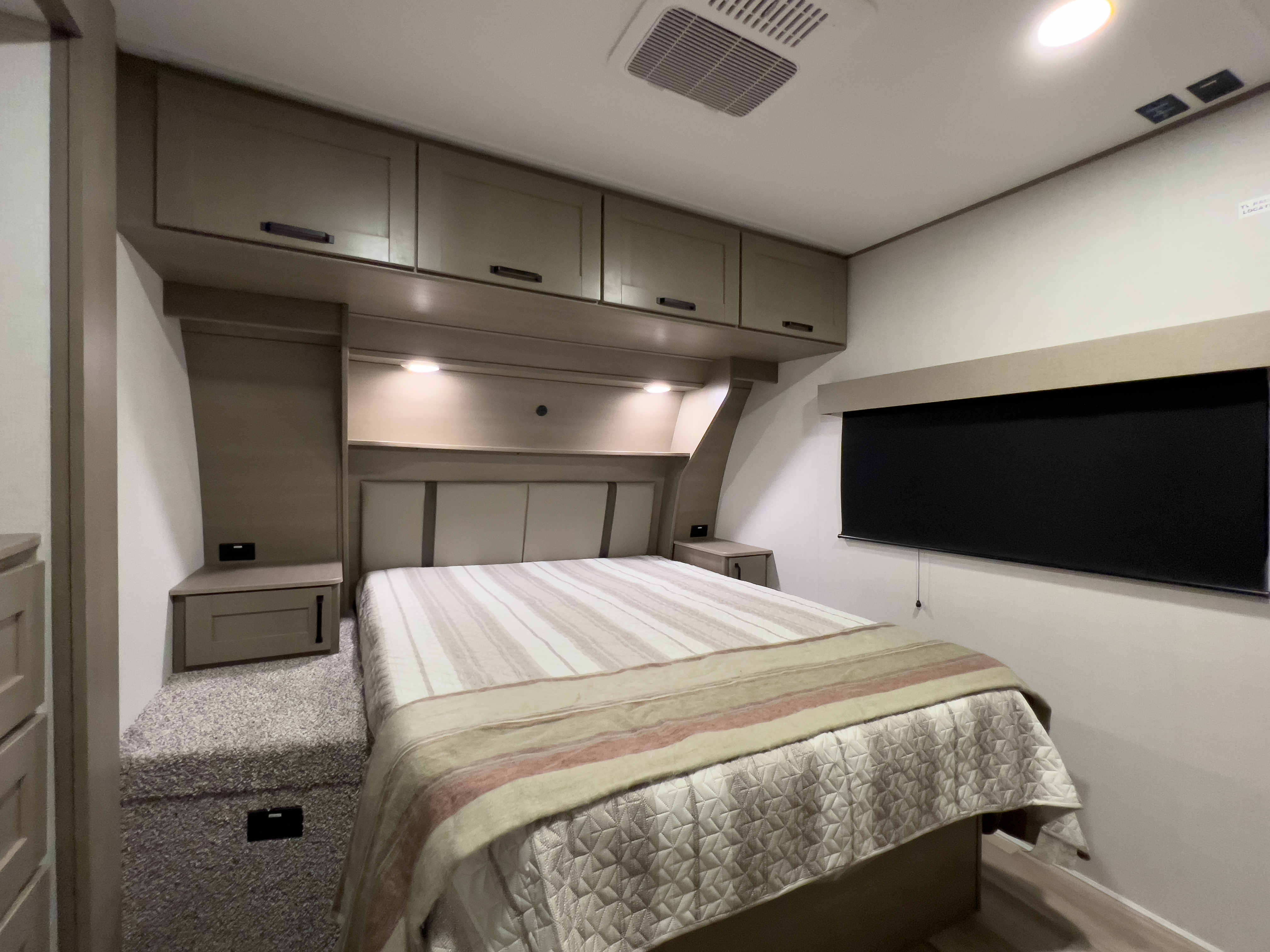 The Reflection trailers with a bedroom slide make the room feel less cramped and make it super easy to access the wardrobe closet and the washer and dryer (prepped for installation) if you put them in.
The non-slide bedrooms are just okay and similar in feel to any other RV brand.
Power Awning
Every awning in the Reflection line has integrated LED lighting and operates with the push of a button. I appreciate the ease of opening and shutting the canopy, especially when bad weather suddenly appears.
Insulated Walls, Floors, and Roof
The insulation in the Reflection does an excellent job of keeping the interior protected from extreme heat and cold.
As an unlucky full-timer in an RV with poor insulation, I know the extra R-value not only increases comfort but saves money because your furnace and air conditioner will operate more efficiently.
Grand Design Reflection Cons
While there are plenty of things Grand Design does right in their Reflection travel trailers and fifth wheels, there are some concerns that I must bring to your attention.
I am close friends with many Reflection owners and have first-hand knowledge of the problems they have encountered right after purchase and after regular use over several years.
Here are the most common Grand Design Reflection complaints:
Slide Component Malfunctions and Topper Leaks
A downside to buying an RV with slides is the extra components that will inevitably break, even in a higher-end camper like the Reflection.
For whatever reason, all of my friends had issues with one or more of the slide toppers leaking within a year or two of purchase. Two had the slide components stick or break within the first couple of camping trips.
As I dug into online forums and reviews of the Reflection, slide issues were a top complaint. One poor customer had their slide fall entirely out of the wall!
Cheap Pocket Door Hardware
Want to Connect With a Community of Over 1,078 RV Enthusiasts?
Sign up now and get access to our best content, absolutely free!
Another recurring complaint is that the pocket doors use cheap plastic tracks and hardware that breaks quickly, leaving the door swinging or unusable.
Poor Secondary Thermostat Placement
Many customers express extreme frustration over the fact that the secondary thermostat in the primary bedroom is mounted directly over a vent.
As a result, once the heat turns on, it blows on the thermostat, which quickly shuts off the unit instead of running and properly heating the room.
Tankless Water Heater Delay
Sale
Bestseller
You need to adjust how you use water in the Reflection, as it may require you to run the hot water tap for a minute or so to have hot water dispense.
With the limited space inside your wastewater holding tanks, this issue will cause you to fill the tanks sooner than expected. If you're boondocking, this will also drain your freshwater tank faster.
Customer Service Run Around
From what I hear and read about Grand Design's customer service and warranty coverage, you can ignore the company's marketing about how fantastic and customer-oriented they are.
For nearly every person who contacts the company about broken appliances or other RV plumbing or components, the first line of action is to direct the customer to contact the manufacturer of the defective part.
Instead of a caring agent setting up a service appointment for a Grand Design service dealership to fix the problem, you get the runaround and have to spend hours fighting with them to address the issue.
It doesn't matter if you have a brand-new unit that should operate correctly after spending $65K+. Grand Design seriously needs a reliable system for quality control and for assessing and fixing problems.
Poor customer service will detract from your camping experience when things go wrong. So if you buy a Reflection, plan to pay out-of-pocket to hire independent RV technicians to fix broken parts promptly or expect to battle with Grand Design customer service and wait weeks or months for them to make repairs.
Top Grand Design Reflection Models
If you're still interested in the Reflection series of travel trailers or fifth wheels, here are some you should check out. The following are the top models from the three Reflection lines.
Reflection 312BHTS Travel Trailer
This camper floorplan is very spacious in the main living space and comes with a bunkhouse that is ideal for kids or to use as an office or hobby room.
Grand Design Reflection 312BHTS (Video)
Reflection 150 Series 270BN Fifth Wheel
This floor plan has a rear kitchen, one of my favorite RV features, because it provides the most counter space and stands out from 99.5% of other recreational vehicles on the market. While it is best for solo or couple travel, it provides sleeping capacity for an extra guest.
Grand Design Reflection 150 Series 270BN (Video)
Reflection 367BHS Fifth Wheel
This model has one of the best layouts of any fifth wheel I have been inside and features four slides to expand the living space. The middle "office" with overhead bunk and tri-fold sofa provides the ultimate flexibility with sleeping quarters while keeping lots of room open for work, games, crafts, or other activities.
The bathroom in this model also delivers the largest shower and a linen closet. Lastly, the kitchen island, theater seating, dinette, and long sofa along the camper rear provide plenty of seating.
Grand Design Reflection 367BHS: Walkthrough (Video)
In Summary
The Grand Design Reflection travel trailer line is relatively expensive but does have features that make camping trips more comfortable and a look that is definitely on the "glamping" level.
Despite the downsides of poor quality control and customer satisfaction, I still feel that the Reflection is a good buy. Once you fix the inevitable problems specific to this travel trailer and keep up with regular maintenance, the unit should perform well for decades.
So if you're looking for a spacious and well-appointed fifth-wheel or travel trailer that tows well, look at the Reflection. It may be a good fit!
QUOTE:
"Man cannot discover new oceans unless he has the courage to lose sight of the shore."
-- Andre Gide