If you're thinking of buying a lightweight travel trailer, I'm sure the Grand Design Imagine is on your list.
The Imagine travel trailers are costly, but are the quality and features worth the price? What do owners have to say about how the Imagine trailers perform, and how reliable is Grand Design customer support?
I will answer these questions, and more in this guide to Grand Design Imagine travel trailers, so you can compare it to other brands and pick the perfect camper for your needs!
Grand Design Imagine History
Grand Design started in 2012, with Ron and Bill Fenech and Don Clark as co-owners. The brand did so well in its first years that it caught the attention of Winnebago, who bought the company in 2016.
However, Winnebago didn't want to mess with success and let the management of Grand Design remain in the hands of the original owners.
Grand Design makes five camping trailers lines: Imagine, Reflection, Solitude, Momentum, and Transcend.
The Imagine line of camping trailers came to market in 2016 and currently offers three model lines – the Imagine AIM, the Imagine XLS, and the Imagine.
Grand Design Imagine Travel Trailer Models
Imagine Aim Travel Trailers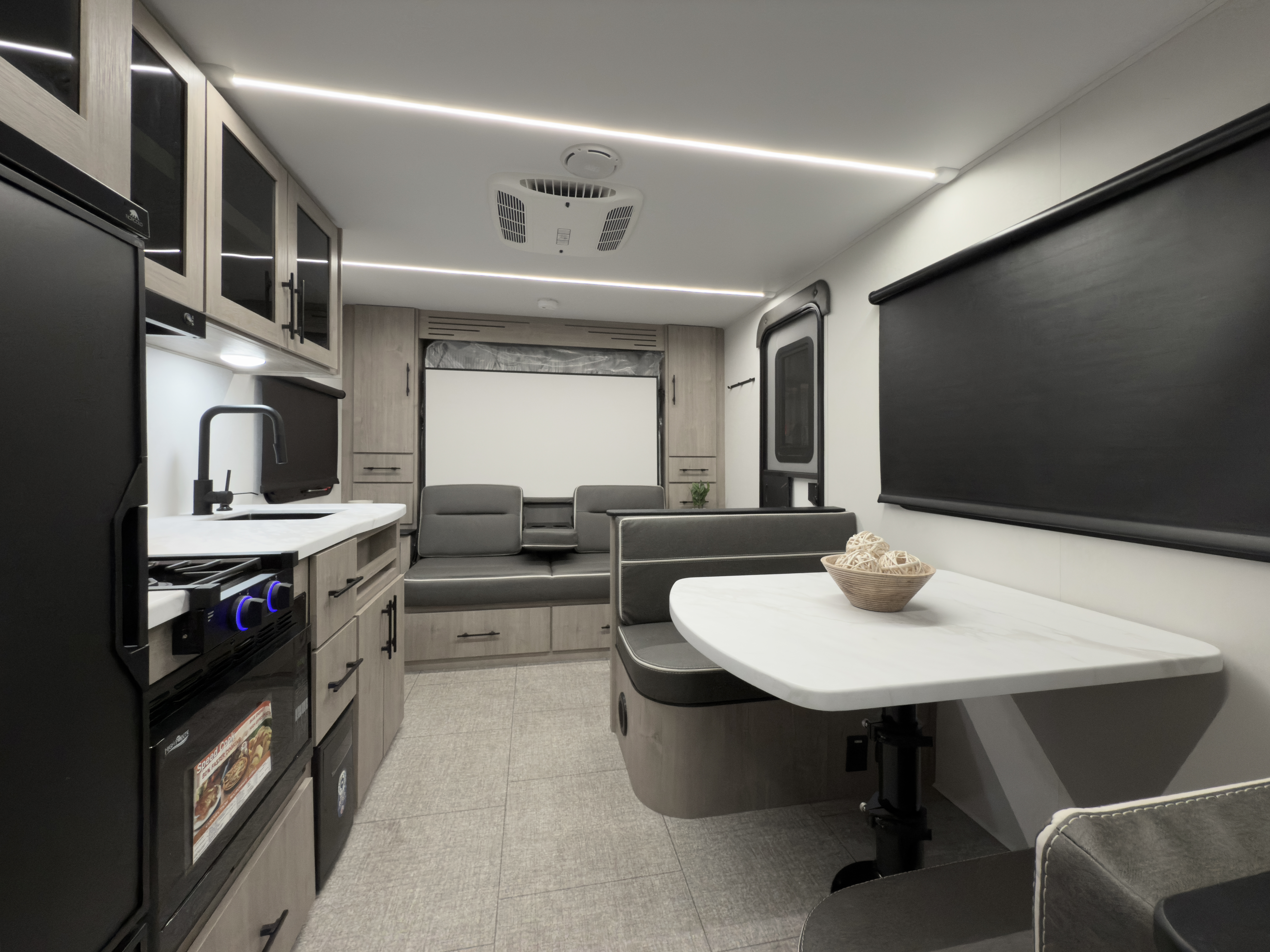 The Grand Design Imagine AIM Travel Trailer line offers four floor plans. The line has the lightest and smallest of the Grand Design camping trailers.
Here is the Imagine AIM Travel Trailer specification range:
| | |
| --- | --- |
| Length: | 19′ 11″ – 21′ 11″ |
| UVW: | 3,560 lb. – 4,064 lb. |
| GVWR: | 4,795 lb. – 5,495 lb. |
| Sleeps: | 2 to 4 |
| Price: | $32,282 – $36,553 |
Imagine XLS Travel Trailers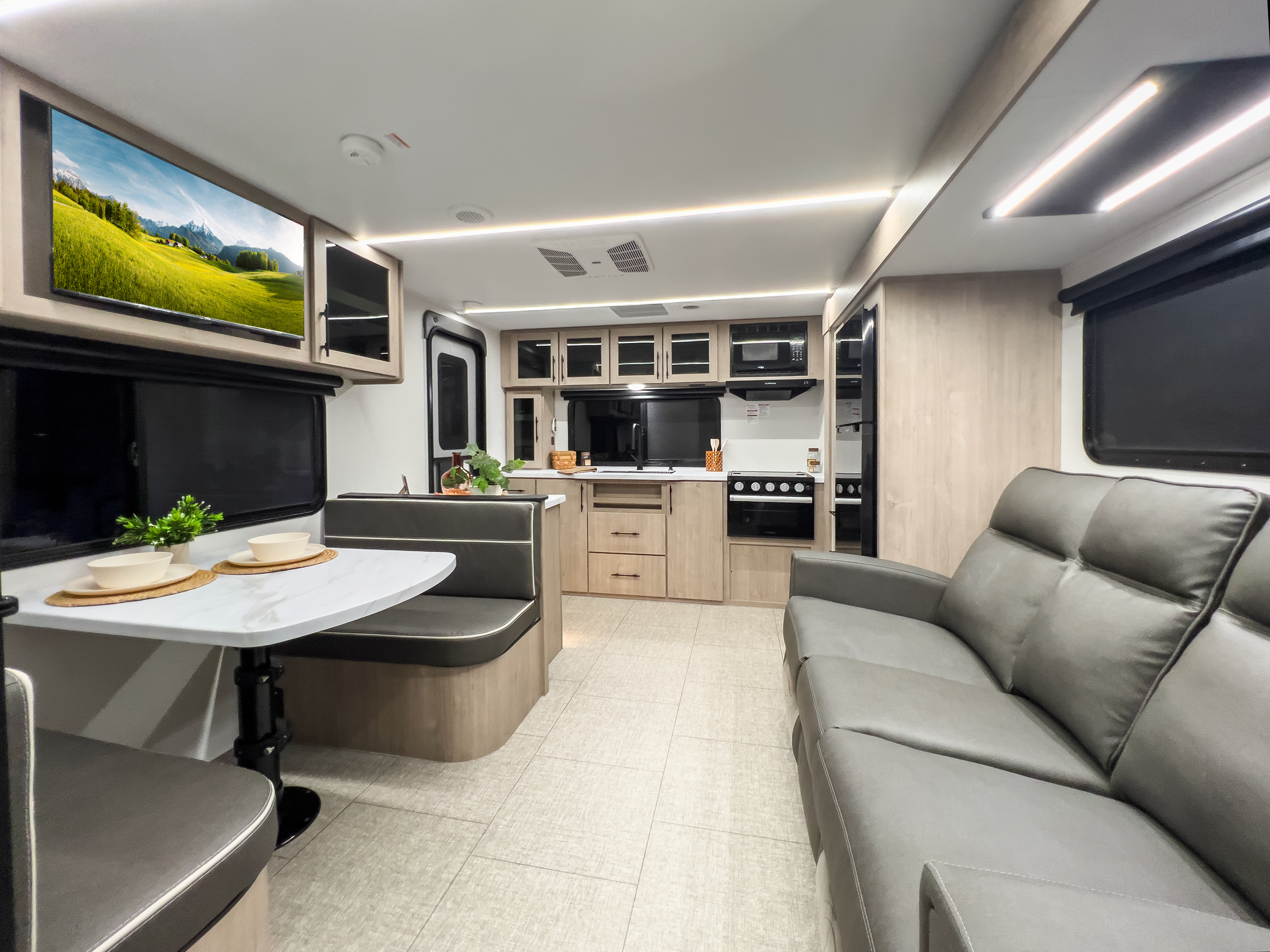 There are seven Imagine XLS travel trailers. This line is lightweight but offers longer trailers with more amenities.
Here is the Imagine XLS specification range:
| | |
| --- | --- |
| Length: | 21′ 11″ – 29′ 11″ |
| UVW: | 4,674 lb. – 6,356 lb. |
| GVWR: | 6,395 lb. – 7,395 lb. |
| Sleeps: | 4 to 8 |
| Price: | $42,068 – $48,702 |
Imagine Travel Trailers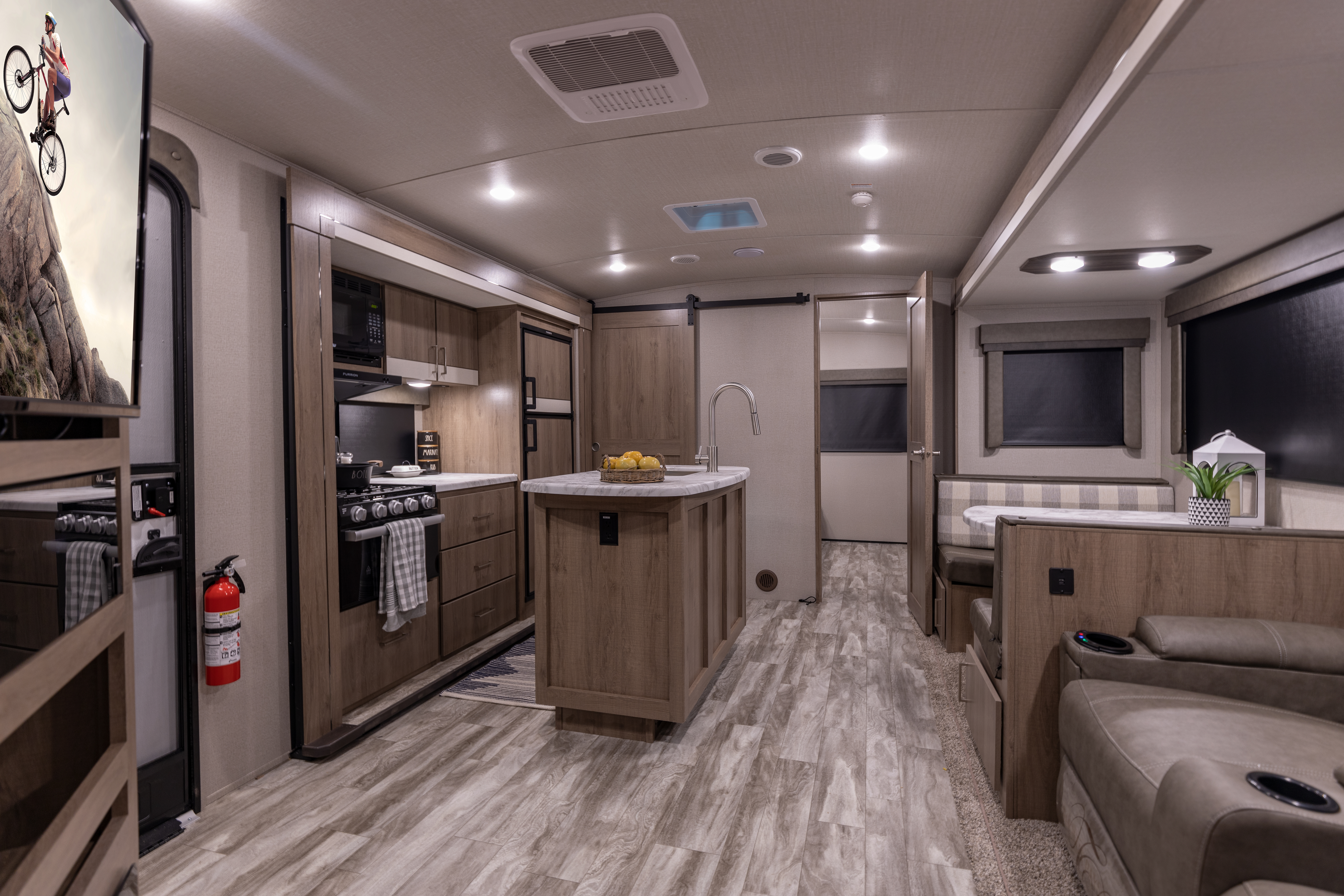 There are nine Imagine floor plans, with an additional dealer-stock-only option. The travel trailers are spacious and ideal for family camping trips, yet they are fairly lightweight for their size.
Here is the Imagine specification range:
| | |
| --- | --- |
| Length: | 28′ 11″ – 36′ 11″ |
| UVW: | 5,725 lb. – 8,494 lb. |
| GVWR: | 7,850 lb. – 10,195 lb. |
| Sleeps: | 6 to 10 |
| Price: | $50,849 – $65,451 |
Grand Design Imagine Travel Trailer Standard Features
The three Grand Design Imagine travel trailer lines include plenty of features, which you can view at granddesignrv.com. Here is a highlight list of the Imagine standard features that will make camping trips enjoyable and efficient:
On-Demand Tankless Water Heater
12V Refrigerator
High Capacity Furnace
Ducted Main AC
Heated and Enclosed Underbelly with Suspended Tanks
30″ x 36″ Residential Walk-In Shower with Skylight
Adjustable Power Awning w/ LED Lights
One-Piece TPO Roof Membrane with 18-year Warranty
Power Tongue Jack
These features help increase comfort and function while camping and reduce roof leaks, which is a common problem in most recreational vehicles.
Next, I'll detail the pros and cons of the Imagine line of travel trailers and what models stand out for having the best floor plans.
Grand Design Imagine Pros
Here are the things I think Grand Design did well with the floor plans and features in the Imagine travel trailers and how they benefit RVers while camping.
Slideouts
While a few units in the AIM and XLS campers do not have slideouts, Grand Design did include them in most models. The extra space provides better traffic flow and makes the smaller units more livable.
Counter Space
Nearly all the Imagine models provide more counter space in the kitchen and bathroom than in many other RV brands. In addition, the inclusion of an island in some floor plans makes food prep, cooking, and washing up much more manageable.
Having a large flat surface to put down toiletries or dishes is wonderful because RVs that don't offer it quickly become frustrating to use.
Queen Bed
Every unit in the three Imagine lines has a 60″ x 80″ queen mattress, so adults can sleep comfortably and not have to bother converting a sofa or dinette into sleeping quarters.
Better yet, each bed has a lift system so you can store tons of camping gear and supplies safely underneath.
Upgraded Interior Design
The interior of the Imagine travel trailers is surprisingly nice for being Grand Design's "low-end" recreational vehicle, and whoever is responsible did a great job. Even the AIM trailers have a modern look that exceeded my expectations.
I think the company uses the same materials and furniture sources in the Imagine as they do their higher-end campers and changes the color scheme and furniture design a bit.
Storage
There are drawers, cabinets, and shelving nooks everywhere in the Imagine trailers, which gives you ample space to store belongings, food, and gear inside.
The exterior storage bays, one of which is a full pass-through, makes hauling long or bulky camping or sports equipment a breeze.
Anyone with RV experience knows how important it is to keep items tucked away to alleviate clutter and keep things from breaking when driving. I also appreciate the solid cabinet door fronts so you can't see what's inside like you can in RVs with dated, glass-insert doors.
Power Awning
Each Imagine trailer comes with an adjustable power awning to protect guests from sun or rain while hanging out on the campsite patio.
The quick-closing operation reduces stress when you need to shut the awning quickly due to high winds or severe storms.
Insulated Walls, Floors, and Roof
The insulation in the Imagine isn't as robust as in the other Grand Design RV lines, but it still is an improvement over other travel trailer brands. With R-40 in the roof, R-30 in the main floor, and R-7 in the walls and slides, you'll remain comfortable during cold or warm-weather camping.
Enclosed and Heated Underbelly
Having an enclosed and heated RV underbelly is crucial for several reasons. The first is that it protects your waste tanks, wiring, and plumbing lines from damage from road debris.
Secondly, keeping the plumbing lines and waste tanks warm will prevent them from cracking and leaking during freezing temperatures and leave you with a hefty repair bill.
Lastly, enclosing the underbelly helps keep critters from entering your RV, especially during storage.
Quality Construction
The build of the Imagine trailers' frame, exterior, and interior components is better than those of even other Grand Design RV lines.
I assume this is because the plant where they make the RVs uses workers with more skill, and they follow quality-control standards more closely. Whatever the reason, the Imagine travel trailers exceed in providing a sturdy camper with reliable appliances and durable furniture that should last for decades of fun adventures.
Grand Design Imagine Cons
There are some drawbacks to choosing an Imagine travel trailer versus other brands. Here are the things that bother me for either being hard to use or that may need repair:
Small Bathrooms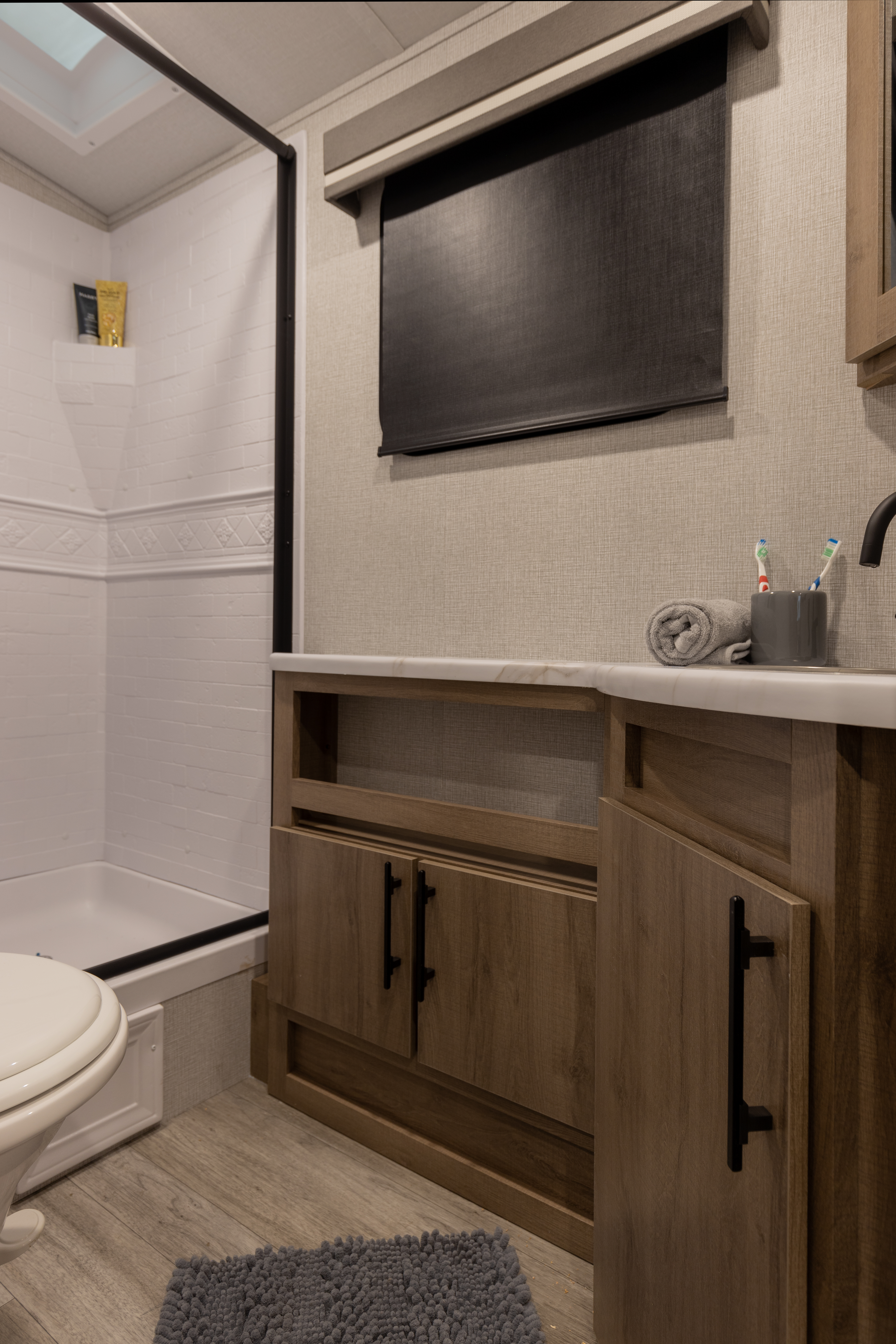 Most of the bathrooms in the Imagine lines are compact, even in the larger units. So while I like the skylight and extra counter space, you'll still be cramped when using the toilet, shower, or doing daily tasks like drying your hair or brushing your teeth.
If you love the Imagine camper, please choose a floor plan with an RV-wide bathroom layout because it will give you the extra space you'll need to use the room without banging into things.
Poor Finish Work
A consistent comment found in RV forums discussing the Imagine trailers is the messy finish work, such as failure to clear away excess glue or nail-hole filler before it dries.
Many customers also complain that the thin trim where wall panels meet or the framing around doors comes loose or falls off due to travel vibrations and attachment with short construction staples.
Want to Connect With a Community of Over 1,078 RV Enthusiasts?
Sign up now and get access to our best content, absolutely free!
While this issue is easy and cheap enough to DIY repair with a few long nails, it seems like an unnecessary task after spending thousands of dollars on the travel trailer.
Faulty Waste Tank Valves
There are too many customers who mention their waste tank valves either sticking, leaking, or breaking not long after purchase. While an experienced RVer may tackle swapping out the bad valve for a new one, less handy owners will need to deal with setting up a warranty repair through Grand Design.
Although Grand Design states they strive to be the best in customer service, it's common for owners looking for warranty repairs to get the runaround when they call the company.
If you take your RV to a repair shop, it could easily be out of commission for weeks or even months while the shop waits for Grand Design's warranty branch to approve the work.
Cheap Factory Tires
Grand Design appears to follow suit with other RV manufacturers in using cheap "China bomb" tires on the Imagine trailers. These new tires blow under little stress, leading to possible catastrophic damage to your camper or people.
If you plan to buy an Imagine, please install quality tires rated for your camper's GVWR as soon as possible after purchase to avoid problems.
Top Grand Design Imagine Models
If you're wondering which of the Imagine travel trailers stand out as having the best floor plans, here are my top picks and why they are worth checking out:
Imagine AIM 16ML Travel Trailer
This camper floorplan has a full-width rear bathroom, a permanent queen bed turned sideways to ease traffic flow, a small closet, and a roll-over sleeper sofa for guests. Outside is a camp griddle, an LP quick-connect, a spray port, and a 12.5-foot awning.
I appreciate the lack of a booth dinette, as most RVers eat or work from the sofa by setting up tray tables. Lastly, the kitchen offers all the appliances and counter space for even gourmet camp cooking.
Grand Design Imagine AIM 16ML Travel Trailer (Video)
Imagine XLS 23LDE Travel Trailer
This floor plan has my all-time favorite rear kitchen, a full-width bathroom, and a private main bedroom.
The dual entry doors, built-in shoe rack, and slideout that holds the fridge, pantry, and theater seats are great features that make traveling easier. In addition, you can convert the dinette to a double bed if you have guests.
Outside you'll enjoy the spray port for washing pets or camping gear, an LP quick-connect for grilling, a cable connection, and a 20-foot awning.
Grand Design Imagine XlS 23LDE Travel Trailer (Video)
Imagine 3210BH Travel Trailer
This model is the longest Imagine travel trailer but has the best layout for family camping adventures. First, of course, it has a full-width bathroom but also a private main bedroom and a rear bunkhouse that gives up to four kids their own twin bed instead of sharing a double.
The two slides on both sides of the central kitchen and living area make the interior feel very spacious, and the island adds function and gives the camper a residential touch.
Outside are two 9.5-foot awnings, an LP quick-connect, an outdoor kitchen with griddle and mini fridge, a spray port, a rear baggage storage bay, a pass-through compartment, coax TV connection, and dual entries.
Grand Design Imagine 3210BH (Video)
In Summary
I say the Grand Design Imagine travel trailer is a good buy, with relatively few complaints about the quality and plenty of praise for functional floor plans and features. I also like that the lower cost and fuel-efficient lighter weight will keep more money in your pocket.
While the selection of Imagine travel trailer models is slim, they provide the storage, traffic flow, amenities, and sleeping capacity to suit most RVers, plus extras that will upgrade your camping experience.
I suggest you check out the Grand Design Imagine travel trailers at a dealership near you. Give it a walkthrough and see if it fits the needs of your RVing style!
QUOTE:
"Man cannot discover new oceans unless he has the courage to lose sight of the shore."
-- Andre Gide