If you're ready to shop for a new or used RV, it helps to know which RV manufacturers are best and what types of RV models they make. That's why I'm bringing you all the info on the top brands and which models are ideal for couples, families, and full-timers.
What is the most popular RV to buy? Travel trailers top the list for the highest sales, but motorhomes, fifth wheels, pop-ups, teardrops, and other RVs may be better suited to your camping style. I'll discuss these later in the article.
I also include answers to frequently asked questions, including which RV brands are the most reliable, provide a high level of comfort, and retain the most value.
Before you head to your nearest RV dealership to check out all the new RVs, it will be helpful to know which brands are best and which RVs to avoid, so keep reading till the end for all the answers!
Who Are the Big 3 RV Manufacturers
The three largest RV manufacturers based on revenue are Forest River, Inc., the REV Group, and Winnebago Industries, Inc., which all have sales of over $2.2 billion annually.
These top RV manufacturers sell many different brands of RVs under the company umbrella, which helps explain the high number of sales.
However, the designation of being a top-three manufacturer doesn't necessarily mean they offer the best RV brands. Certain RV models from these companies get low marks for quality, reliability, and durability.
That's why I'm streamlining the best RV brands along with the models that deliver the best overall value and ratings. The list below will help you avoid wasting time looking at poor-performing motorhomes, fifth wheels, and travel trailers, no matter how stunning they look on the showroom floor.
Top 5 RV Brands
Tiffin
Tiffin is a luxury-level RV brand that makes Class A motor coaches, Class C and Super C motorhomes, as well as a Class B campervan made for off-grid camping adventures.
Only the highest quality engines, materials, craftsmanship, appliances, and amenities go into Tiffin RVs, with customer satisfaction ratings proving the motorhomes stand the test of time and retain their value.
A Tiffin Motorhome is a significant investment, but if you have the budget and desire the most comfortable and reliable RV experience for both road travel and camping, you can't go wrong with this brand.
Best Tiffin For Solo or Couple RVers
The Tiffin Cahaba Class B motorhome starts with a Mercedes-Benz 2500 Sprinter base and includes a wet bath, compact kitchen, and sleeping quarters. Starts at $165,685.
Tiffin Cahaba B-Class RV (Video)
Best Tiffin For Small Families (2-3 Kids)
The Tiffin Wayfarer 25 SW is a compact motorhome that provides a great floor plan for a small family. Starts at $205,673.
Floor Plan for the Tiffin Wayfarer 25 SW
Mercedes Sprinter Wayfarer 25 SW Class C Motorhome by Tiffin RV (Video)
Best Tiffin For Large Families (4-8 Kids)
While the Tiffin Allegro Bay Super C on a Freightliner chassis is a top contender, I still think the Phaeton 44OH provides the extra living and sleeping space a large RVing family requires. Starts at $540,567.
Floor Plan for the Phaeton 44OH
Tiffin Phaeton 44OH Motorhome (Video)
Best Tiffin For Fulltime RVers
Floor Plan for the Tiffin Open Road Allegro 36 LA
Open Road Allegro 36 LA (Video)
DRV Luxury Suites
DRV Luxury Suites build stunning fifth wheels and toy hauler RVs suitable for extreme camping and outdoor enthusiasts who want all the comforts of home no matter where you travel.
The roomy floorplans, interior finishes, and tons of options allow you to customize your camper to suit your needs perfectly. With excellent balance and the industry's widest and most rigid framing, DRV fifth-wheel trailers tow like a dream.
Customers rave about the quality of the amenities and the long-term durability of the interior and exterior finishes. DRV Luxury Suites lives up to its excellent reputation and is a must-see brand when RV shopping.
Best DRV Luxury Suites For Solo or Couple RVers
The DRV Mobile Suites 36 RSSB3 floorplan provides a private master suite and cozy living and kitchen area in a shorter, easier-to-maneuver trailer length. Starts at $189,000.
Floor Plan for the DRV Mobile Suites 36 RSSB3
DRV Mobile Suites Luxury 36 RSSB3 (Video)
Best DRV Luxury Suites For Small Families (2-3 Kids)
Floor Plan for the DRV Mobile Suites 43 Manhattan
DRV Mobile Suites 43 Manhattan (Video)
Best DRV Luxury Suites For Large Families (4-8 Kids)
The DRV Full House MX 450 has sleeping for four in the main trailer, along with a queen bed in the garage or you can customize the space with bunks or sofa sleepers. With the rear ramp/deck you'll have more than enough room for the whole family. Starts at $200,000.
Floor Plan for the DRV Full House MX 450
DRV Full House MX 450 Toy Hauler Fifth Wheel (Video)
Best DRV Luxury Suites For Fulltime RVers
The DRV Mobile Suites 41 FKMB floorplan provides excellent separation of living areas for comfortable daily living and camping. Starts at $180,000.
Floor Plan for the DRV Mobile Suites 41 FKMB
Mobile Suites 41FKMB (Video)
Northwood Manufacturing
Northwood is known for the Arctic Fox and Wolf Creek line of four-season travel trailers, fifth wheels, toy haulers, and truck campers that are high-quality and hit a more affordable price range.
Northwood RVs get high ratings from satisfied customers for excellent insulation, heated underbellies and holding tanks, and in-house welding of the heavy-duty steel off-road chassis and framing for rock-solid performance year after year.
When you include the gorgeous interior cabinetry, furniture, appliances, fixtures, design, and a state-of-the-art entertainment center and RV control system, you have an outstanding package that will make every camping trip special.
Best Northwood For Solo or Couple RVers
The Northwood Nash 18FM delivers all the amenities you require in a lightweight, easy-towing travel trailer. Starts at $43,380.
Floor Plan for the Northwood Nash 18FM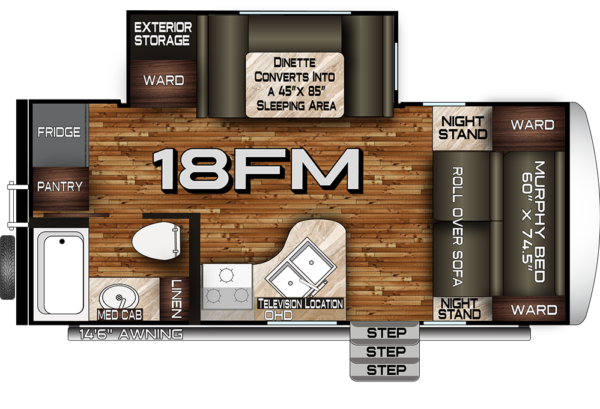 Northwood Nash 18FM Travel Trailer (Video)
Best Northwood For Small Families (2-3 Kids)
The Arctic Fox 32A travel trailer sleeps four and offers a large main living area for meals and family time. Swap the rear seats for a day bed to increase guest capacity. Starts at $64,476.
Floor Plan for the Arctic Fox 32A
Quick Tour of the New Arctic Fox North Fork 32A Travel Trailer (Video)
Best Northwood For Large Families (4-8 Kids)
The Northwood Nash 29S travel trailer has room to sleep up to ten and still provides all the camping comforts you need like a full kitchen and bath. Starts at $49,497.
Floor Plan for the Northwood Nash 29S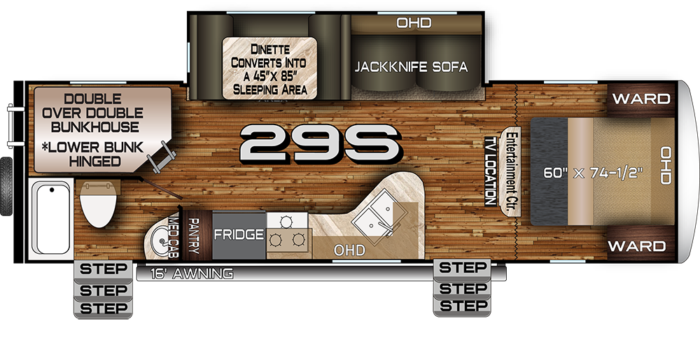 Quick Tour of the Nash 29S (Video)
Best Northwood For Fulltime RVers
The Arctic Fox 28-5C fifth wheel features an adult-friendly layout that includes a kitchen island and large dining and work table. Starts at $85,995.
Floor Plan for the Arctic Fox 28-5C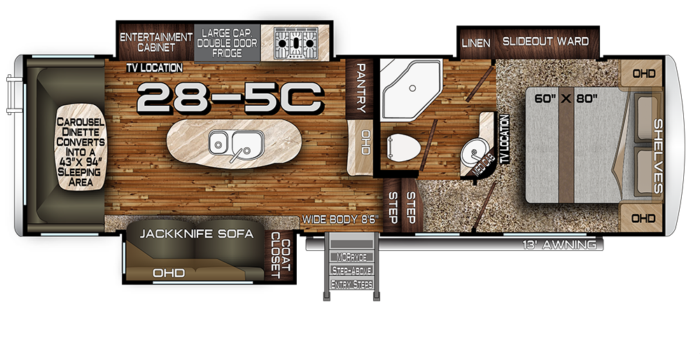 Quick Tour of the Arctic Fox Silver Fox 28-5C Fifth Wheel (Video)
Grand Design RV
Grand Design RV makes fifth wheels, toy haulers, and travel trailers with an excellent reputation for camping-friendly floorplans and durable finishes at an affordable price point.
The touch of luxury incorporated throughout each RV gives guests a high-end travel experience. Still, quality control and point-by-point inspections throughout the construction process set Grand Design far above its competitors.
The wood truss roof with a one-piece TPO cover is fully walkable. The aluminum-bonded framing and walls include the rear and slideouts, and clever ductwork tucks into the cabinet bases and keeps floors clear. With a variety of great floor plans to choose from, Grand Design covers every RVers needs.
Best Grand Design Model For Solo or Couple RVers
The Reflection 315RLTS travel trailer is spacious yet lightweight and lets you camp in comfort and style. Starts at $69,940.
Floor Plan for the Reflection 315RLTS
Full-Time in a Grand Design Travel Trailer RV! Reflection 315RLTS (Video)
Best Grand Design Model For Small Families (2-3 Kids)
The Transcend Xplor 265BH travel trailer floorplan keeps kids and parents separated for sleep and provides a roomy living area by day. Starts at $41,392.
Floor Plan for the Transcend Xplor 265BH
Transcend XPLOR 265BH by Grand Design (Video)
Best Grand Design Model For Large Families (4-8 Kids)
The Solitude 3950BH fifth wheel has two bathrooms, a large bunkhouse for the kids, and a residential kitchen with an island. Starts at $117,402.
Floor Plan for the Solitude 3950BH
Amazing Room in this Grand Design Solitude 3950BH Fifth Wheel RV (Video)
Best Grand Design Model For Fulltime RVers
Floor Plan for the Grand Design Reflection 150 Series 295RL
Reflection 295RL 150 Series Grand Design RV Fifth Wheel (Video)
Airstream
Airstream has been offering its iconic travel trailers for decades but now also offers Class B touring vans for streamlined camping trips to rural or urban settings.
The curved build of an Airstream travel trailer does sacrifice headroom along the walls, but the aerodynamic shape reduces towing drag and is always an eye-catching work of RV art wherever you roam.
The classic aluminum siding and retro design on the exterior hold the modern upgrades and high-end finishes and craftsmanship on the interior for endless seasons of camping fun. The pricing for Airstream trailers is also surprisingly competitive with other RV brands.
Best Airstream For Solo or Couple RVers
The Airstream Bambi 20FB travel trailer is the perfect size for comfy camping excursions that includes a bathroom. However, you also can't go wrong with the Atlas Murphy Suite touring coach that has everything you need in a small motorhome. Starts at $65,900 for the Bambi and $289,911 for the Atlas.
Floor Plan for the Airstream Bambi 20FB

First Look Airstream Bambi 20FB Front Bed Walk Through Camping (Video)
Best Airstream For Small Families (2-3 Kids)
The Airstream Globetrotter 30RB travel trailer sleeps up to six and offers a large lounge area for family games, meals, and more. Starts at $146,700.
Floor Plan for the Airstream Globetrotter 30RB

Airstream Globetrotter 30RB | Walk Through Tour (Video)
Best Airstream For Fulltime RVers
The Airstream Flying Cloud 30FB Bunk is a family-camping dream, with room for eight guests, plenty of storage, an efficient kitchen, and tons of windows for panoramic views and plenty of daylight. Starts at $124,500.
Floor Plan for the Airstream Flying Cloud 30FB Bunk

Airstream Flying Cloud 30FB Bunk Walkthrough (Video)
Best RV Manufacturer FAQs
What Are the 3 Best RVs across All Categories?
According to ratings and reviews from past and present owners, the Tiffin Phaeton, the Newmar Dutch Star, and the Grand Design Solitude are the best recreational vehicles to own. The Tiffin and Newmar are Class A coaches, while the Solitude is a fifth-wheel trailer.
Which RVs Hold Their Value Best?
Of all the RV types, the Class B motorhome or campervan retains its value the best because of fuel efficiency, ease of driving and parking, compact yet functional floorplans, and durable engines that can run upwards of 300,000 miles without issue.
What Is the Most Durable Travel Trailer?
Airstream takes the prize for reliable, high-quality travel trailers that withstand the test of time. In business for over 90 years, Airstream continually upgrades its designs and materials to increase performance and durability.
What is the most sold travel trailer? The Jayco Jay Flight is a top seller for affordable pricing and dependable construction.
Which travel trailer manufacturers are rated best? Airstream, Jayco, Grand Design, Happier Camper, and Winnebago get excellent ratings from owners.
Which Is the Most Reliable Motorhome?
Leisure Travel Vans beats out Tiffin by a hair when it comes to customer ratings for overall reliability and ease of service for regular maintenance. Leisure Travel Vans has been making Class B motorhomes for over 50 years.
Who builds the highest quality motorhome? The Marchi Mobile eleMMent Palazzo Superior is possibly the most precision-built motorhome available, but with a price tag starting around $2M, it's going to be out of the budget of most RVers.
What Type of RV Is the Easiest to Drive?
A Class B campervan or a truck camper are two types of RVs that are easy to drive. Both recreational vehicles are similar to driving an SUV, minivan, or truck, with driving, backing up, parking, and campsite set up much more manageable than other RV types.
What Is the Most Comfortable RV?
Most camping enthusiasts agree that a fifth wheel is the most comfortable RV to own. The interior has the most residential fixtures and furniture, while the exterior often boasts an outdoor kitchen, two awnings, and substantial storage bays.
Towing a fifth wheel is also very stable due to the location of the hitch connection inside the truck bed.
What Is the Average Lifespan of an RV?
Want to Connect With a Community of Over 1,078 RV Enthusiasts?
Sign up now and get access to our best content, absolutely free!
The average lifespan of an RV is about 200,000 miles or around 20 years. However, many RVs last much longer with basic maintenance and upkeep, so the engine and exterior remain in good shape.
How Do I Choose an RV to Buy?
Trying to buy an RV without testing out several types on real-life camping trips can lead to disaster and disappointment.
Many new RV shoppers flock to the largest and fanciest model they see but don't think about what it takes to drive, tow, park, or maintain such a big recreational vehicle. Many also lean toward a compact and low-maintenance Class B or campervan, not thinking about what it'll be like if you're stuck inside for days due to bad weather.
My biggest suggestion if you're considering an RV purchase is to rent different sizes, and types of campers from places like RV Share, and see how well they work for your camping style and family size.
After a few trips, you'll have a much better understanding of what type of RV you should own.
For tips and advice on this topic, read our article on how to buy an RV in today's market.
For tips on how to finance an RV, read our article on Financing an RV – What You Need to Know.
Which RV Brands to Avoid
Some RV manufacturing brands, even those once known for top-quality recreational vehicles, just aren't up to par with the industry leaders.
From mechanical or structural issues to engine breakdowns and poor customer service, you should try to avoid shopping these RV brands:
Gulfstream
Hurricane by Thor
Forest River
Coachmen
Keystone
Fleetwood
Coleman
While not every model within these RV brands is terrible, it pays to research any camper that interests you for reviews from customers after putting the RV to the test on actual road trips.
There's a reason those RVs look amazing on the showroom floor; they haven't been driven for thousands of miles which will literally shake free any hidden problems in construction or components.
If this topic interests you, check out our RV brands to avoid and why article for more information.
Final Thoughts
Camping trips in an RV should be about new adventures and time with friends and family, bonding over shared experiences.
Any RV purchase is a considerable investment in money, time, and mental stress, so it helps to avoid additional problems by steering clear of brands and models that get bad reviews.
When you stick to the best RV brands that deliver the quality and reliability you deserve, you'll be one step closer to enjoying many years of camping fun!
QUOTE:
"Man cannot discover new oceans unless he has the courage to lose sight of the shore."
-- Andre Gide