Are you ready to shop for an RV but aren't sure if it's worth your time to look at mid-size RV models?
Most people love the roominess and luxury amenities found in a large travel trailer, motorhome, or fifth wheel, but there are many reasons a mid-size RV is a better choice.
To help you learn more about the benefits of a mid-size RV, we put all the details right here. We also highlight the best three mid-size RV models and explain what features make them great for all types of camping adventures.
Mid-size recreational vehicles are ideal for couples or small families, so check out our guide and see if it's the best fit for your camping needs.
What Is a Midsize RV?
There are many lengths of recreational vehicles, from 12-foot-long teardrop travel trailers to 45-foot-long Class A motorhomes and fifth wheels.
However, most RVers and recreational vehicle dealers consider a mid-size RV to be in the 22 to 29-foot range, with small campers anything 20-foot and under and large RVs 30-foot-plus.
There really isn't any hard-and-fast rule on what length RV is small, medium, or large, and different types of RVs will have a diverse range of sizes.
For example, motorhomes can be as short as an 18-foot Class B campervan and stretch to a 45-foot motorcoach. By these stats, a mid-size model will be around 31.5-feet long. This length is around the size of the top-selling Class C models, while 40-foot is a top seller in the Class A category.
Traditional travel trailers can be as small as a 13-feet or reach just over 41-feet in length, but the average or "mid-size" of this RV type is 27 feet. Most customers buy camping trailers in the 22 to 28-foot range.
Fifth wheels start at 19-feet and range up to 45-feet, making the mid-size models 32-feet long for practical purposes. However, most customers purchase fifth wheels in the 35 to 40-foot range.
The Benefits of a Mid-Size RV
There are plenty of reasons a mid-size RV is an ideal camping vehicle, starting with a roomy length for a full-time RV couple or a small family for weekend getaways or extended trips.
Midsize RVs provide most, if not all, of the amenities you need, with brands that offer luxury details and design or more basic styles for low-maintenance camping enthusiasts.
Midsize RVs are spacious, without being a hassle to drive, park, and maintain like a larger recreational vehicle. RVs in the mid-range of length also offer full bathrooms and bigger kitchens vs. a small Class B or Class C motorhome or travel trailer.
Dropping down to a mid-size RV also reduces the cost of a new camper by tens of thousands of dollars, leaving more money in the bank to spend on camping adventures and new experiences. The shorter length and lighter weight of mid-size campers also reduce fuel expenses.
Another benefit of a mid-size RV is that it provides greater camping flexibility. Many off-grid camping locations or older or more rustic campgrounds don't have the infrastructure to support large RVs. Most state and national park campgrounds limit RV length to around 27-feet and rarely have more than a handful of campsites to offer large RVs.
3 Best Mid-Size RVs
If you're wondering what the best mid-size motorhome, travel trailer, and fifth-wheel models look like, the following are the top brands in each category to give you an idea of what amenities and features to expect in this size RV.
1. Renegade Vienna 25FWC Motorhome
| | |
| --- | --- |
| Length | 24 feet 11 inches |
| Sleeps | 5 |
| Dry Weight | 10,200 pounds |
| GVWR | 11,030 pounds |
| Price | $172,995 |
Renegade RV is part of the REV Group, which makes Fleetwood, Lance, and other recreational vehicles, so they know what customers want. In addition, the Renegade brand prides itself on superior quality in construction materials and appliances put together by skilled craftspeople, so each RV will reliably function for decades.
Floor Plan for the Renegade Vienna 25FWC Motorhome
What makes the Renegade 24FWC Class B+ model a top pick is the mix of a convenient mid-size length, tons of features, great floorplan, luxury design elements, and the Mercedes chassis and engine that upgrades the look and road performance. Driving and parking this motorhome is exceptionally comfortable, with excellent handling and all the driver-assist features you could ask for, including cameras and a large display to easily see your status.
The interior design is sleek, with Maple hardwood cabinetry, solid-surface counters, ultra-leather furniture, LED lighting, and a neutral color scheme that's the ideal backdrop to showcase your decorating style.
The floor plan features a large slideout for the convertible booth dinette and queen bed. This model also has a roomy cabover bunk, making it perfect for sleeping up to five guests.
If you're a traveling couple, you can leave the dinette in place and use the cabover area as extra storage for bulky camping gear. Swivel the captain's chairs toward the living space, and you have plenty of seating for your traveling party.
The other standouts are the full bathroom that places the sink and vanity outside the toilet and shower room, making it more functional for guests. The kitchen has a refrigerator, microwave, two-burner stove with cover, slideout pantry, and a deep round sink with a high-neck faucet.
Other Top Features:
Multiplex control system with app control
Heated holding tanks
13,500 BTU A/C – 18,000 BTU ducted furnace – Truma tankless water heater
Woven vinyl flooring
Rear and side view cameras
Wireless charging capabilities
Power awning with LED lighting
Attention, brake, lane, and traffic sign assist
8.0 CF 12V refrigerator
Lateral awning with wind sensor and LED lights
Porcelain macerator toilet
Exterior shower and spigot
Renegade Vienna 25FWC Motorhome (Video)
Class B and Class C Mid-Size Motorhome Honorable Mentions
If the Renegade isn't quite what you're looking for, check out these other favorites with top owner ratings:
2. Jayco Jay Feather Micro 199MBS Travel Trailer
| | |
| --- | --- |
| Length | 23 feet 2 inches |
| Sleeps | 8 |
| Dry Weight | 4,695 pounds |
| GVWR | 5,750 pounds |
| Price | Starts at $47,918 |
The Jayco Jay Feather Micro 199MBS is the most expansive floorplan in the Micro series of lightweight travel trailers, coming in at just over 23-feet in length. However, this travel trailer is budget-friendly and doesn't skimp on features that make it an excellent camper for any RV trip, even for large families.
Floor Plan for the Jayco Jay Feather Micro 199MBS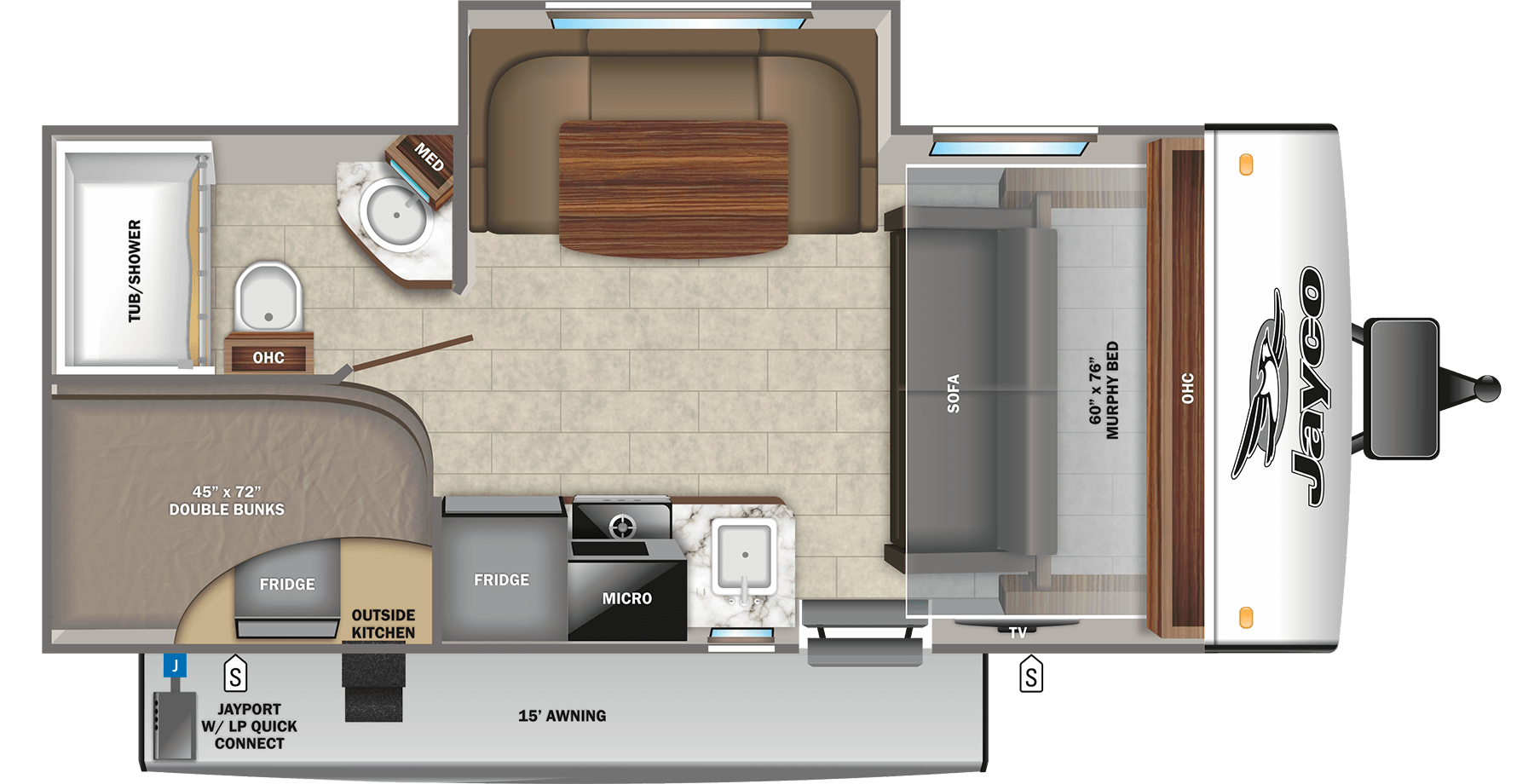 Sleeping quarters abound in this camping trailer, with full-size bunks, a sofa sleeper, and a convertible dinette in the slideout that keeps the interior feeling roomy. A full bathroom in the rear, large holding tanks, and an efficient kitchen with a large sink and three-burner gas stove top with cover complete the necessities that allow you to camp on or off-grid in comfort.
The interior design options for walls, furniture, and fabric are modern with a rustic touch. With Jayco upgrading all the hardware and fixtures in the Micro series, the final look is clean and classy.
Storage is everywhere you look inside, from drawers, overhead cabinets, and large spaces under the dinette and rear bunk. In addition, two roomy outdoor storage compartments are ideal for grab-and-go grilling, sports, or camping equipment.
The optional outdoor kitchen is worth the investment and is a great way to grab a cold drink or some snacks without tracking dirt inside. Hook up a gas grill to the LP port under the awning to enjoy outdoor meals, rain, or shine.
The build of this trailer is super lightweight, allowing you more towing control and fuel savings by using a mid-size truck. In addition, the Micro series includes 16″ Goodyear off-road tires and self-adjusting electric brakes to increase safety on travel days.
The materials and construction, such as Azdel composite, steel frame chassis, and the Stronghold VBL vacuum-bonded floors and walls, are ultra-durable and can withstand years of use and weather extremes without failure.
Other Top Features:
Outdoor shower
Power tongue jack and 4 manual stabilizer jacks
14,500 BTU A/C
Jayco Teddy Bear soft-touch bed mats
Solar and rear and side view camera prep
Keyed-Alike lock system
G20 tinted safety-glass windows
6-gallon gas/electric DSI water heater
32-inch 12V LED TV with soundbar and AM/FM/Bluetooth
Exterior LP quick-connect
15-foot power awning with LED lights
Magnum Truss Roof System with seamless membrane
Jayco Jay Feather Micro 199MBS (Video)
Mid-Size Travel Trailer Honorable Mentions
If the Jay Feather Micro 199MBS isn't quite what you're looking for, check out these other favorites with impressive ratings:
3. Northwood Fox Mountain 235 RLS Fifth-Wheel
| | |
| --- | --- |
| Length | 27 feet 10 inches |
| Sleeps | 6 |
| Dry Weight | 8,761 pounds |
| GVWR | 12,000 pounds |
| Price | Starts at $62,970 |
The Northwood Fox Mountain 235RLS fifth wheel has a residential feel with high ceilings and steps to enter the private master suite. The interior has a deep slide for the roomy booth dinette, super comfortable seating and beds, beautiful woodwork and cabinets, and a fantastic layout.
Floor Plan for the Northwood Fox Mountain 235 RLS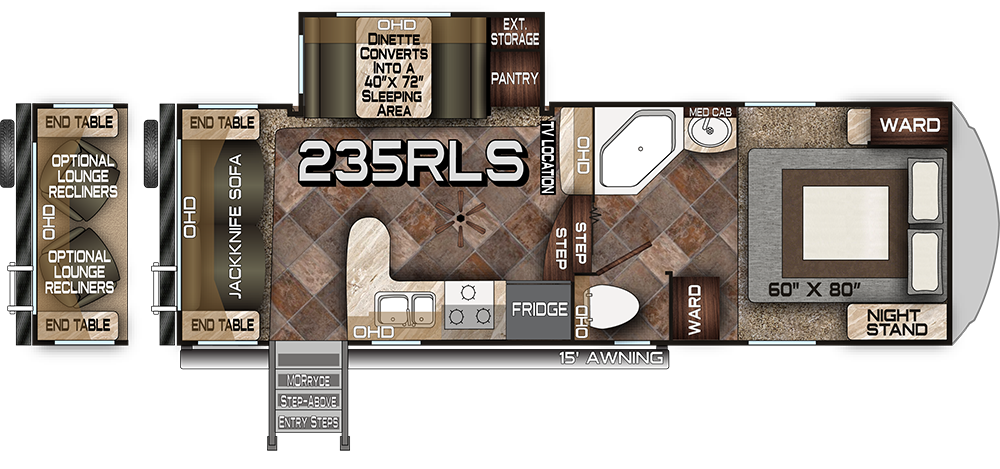 Want to Connect With a Community of Over 1,078 RV Enthusiasts?
Sign up now and get access to our best content, absolutely free!
Cooks will love the kitchen with an L-shaped counter, gas stove and oven, plenty of drawers and cabinets, a built-in residential microwave, dual-basin sink, and an extra-large refrigerator. You'll find a corner shower in the bathroom with a textured glass door, plus a skylight, exhaust fan, vanity, and sink. The flush toilet is in a separate room with a door for added convenience.
The four-season build of this fifth wheel is what makes it a top choice. The insulation is R-15 reflective foil in the walls, with R-18 in the domed ceiling. Add in heated holding tanks and dump valves, and you'll be ready for cold-weather camping whenever the mood strikes.
All that insulation works wonders to keep the unit cool during the summer camping season, and the ceiling fan keeps air circulating for freshness and humidity control.
This fifth wheel provides a long list of standard features, plus it's easy to tow, park, set up, and store, making it one of the best values in the RV market. While this mid-size fifth wheel can sleep a family, it's an ideal choice for full-time RV couples who want the convenience of taking it to any camping destination while enjoying luxury amenities.
Other Top Features:
Interior Command Center and Battery Charging Wizard
Heated holding tanks
13,500 BTU A/C – 18,000 BTU ducted furnace – Truma tankless water heater
Solid surface countertops
FanTastic Vent with Remote/Tstat/Rain Sensor in bedroom
12-volt power landing gear
Carefree Travel'R LED awning w/adjustable pitch
Fabric day/night shades
10 CF refrigerator with cold-weather kit
Independently-certified off-road chassis
USB charging ports
Generator/Satellite/Solar Ready
Powered dual-motor rear sliding stab jacks
Black Water Flush System
Exterior shower and convenience center
Northwood Fox Mountain 235 RLS (Video)
Mid-Size Fifth Wheel Honorable Mentions
If the Fox Mountain 235 RLS doesn't quite suit your needs, check out these other fifth wheels with excellent owner ratings:
The Disadvantages of a Mid-Size RV
We can't put out a comprehensive guide to mid-size RVs without discussing some of the disadvantages of ownership.
The first disadvantage of a mid-size RV is the lack of privacy versus a larger recreational vehicle. While most mid-range RVs have a bedroom, it's often behind a curtain and not a door you can lock. It will also always be close enough to other sleeping quarters or living spaces to hear everything going on.
Many larger RVs offer one and a half or even two full bathrooms, making it much easier for large families to camp in comfort. Expect functionality if you want to camp with four or five people in a mid-size RV, but also expect to be tripping over each other when you're indoors during waking hours.
Storage space will be less in a mid-size RV, especially if you need those big pass-through storage compartments on large fifth wheels and Class A motorhomes to fit your bulky camping gear.
On the flip side, if you're efficient and minimalistic, you may find the nice amenities in a mid-size RV, such as a bathroom and full kitchen, not worth hauling around after a while.
You may prefer to use campground bathrooms and showers and do all your cooking on the grill, so all the extra RV features aren't put to use. You may also find worrying about filling waste tanks or running out of propane a continual hassle, so a small RV with fewer amenities may better suit your camping style.
Your final RV size decision will play a significant role in where and how you like to camp. If you want to stay at fancy RV resorts, you'll need to get a large Class A. If you love to camp off-grid, a small Class B, teardrop trailer, or pop-up camper will be much easier to get into tight campsites or under tree canopies.
Final Thoughts
A mid-size RV is a great balance between enough amenities and space to keep guests happy and better handling, parking ability, and fuel economy, making it less stressful to drive.
I hope you take a look at all the mid-size motorhomes, travel trailers, and fifth wheels above and see what benefits they can add to all your future camping adventures!
QUOTE:
"Man cannot discover new oceans unless he has the courage to lose sight of the shore."
-- Andre Gide